Lightened-Up Walnut Apple Crisp for Two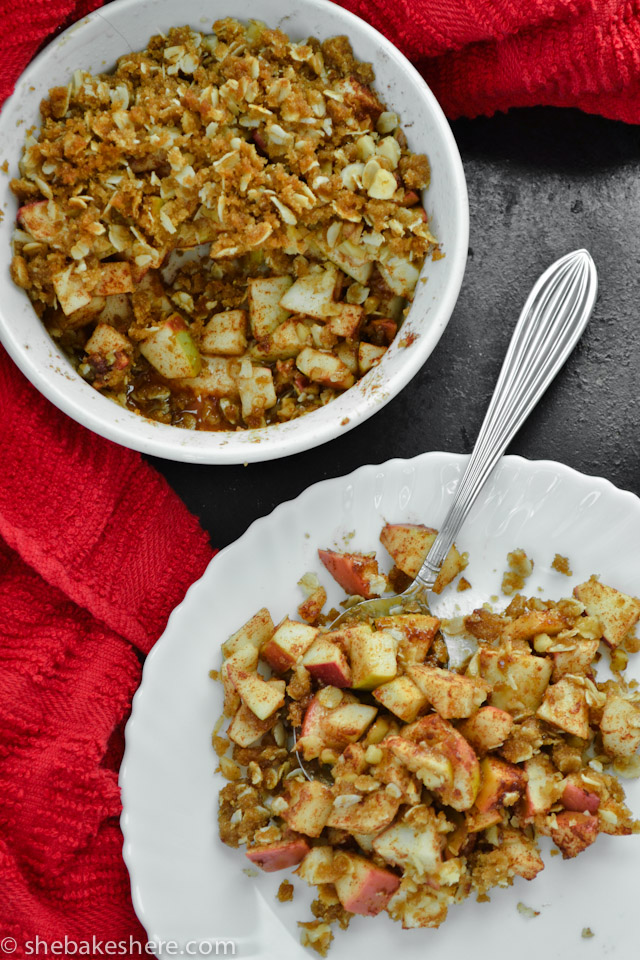 I'm always completely giddy this time of year. It probably has to do with wearing sweaters and boots all the time, walking through parks that are sprinkled with colourful, falling leaves and eating lots of apples, squash, and pumpkins. This season is so short (at least in my opinion), so I try to make the most of it and soak up everything all at once.
Lately, Trevor and I have been taking lots of walks through the parks near our downtown condo building. The closest one is pretty large with a huge gated dog park, lots of tall trees and plenty of benches to sit. For the last couple of months, we've been tossing around the idea of getting a dog and part of that research has involved checking out what kind of dogs live in our area. Our building is pet-friendly and there are always dogs and their owners coming and going in the lobby area. Another big appeal is that although we both work away from home, the company Trevor works for is pet-friendly so he could bring a dog to work if he wanted to.
Having grown up with dogs all my life (but not in a city), this is a decision that we're not taking lightly. Our condo itself is a bit on the small side, so we're likely to go with a smaller, less energetic breed. I'm also open to any suggestions or advice people may have on having a dog in the city, especially in a condo building.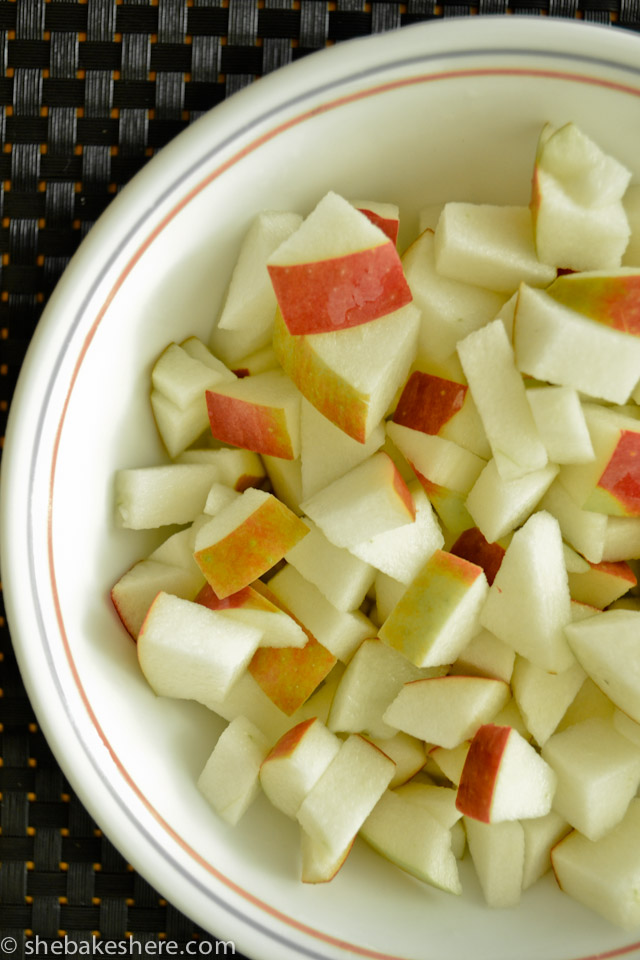 The walnut apple crisp recipe I'm sharing today is something I've made a couple times over the last few weeks. I'm all about the individual and two-person sized servings right now because it's easy to throw together and right now our fridge is still bursting at the seams with Thanksgiving leftovers. Anything to prevent adding more leftovers to an already stocked fridge.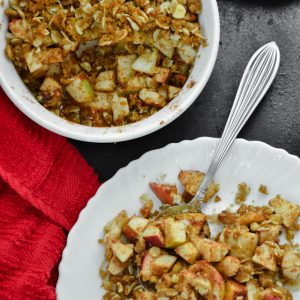 Lightened-Up Walnut Apple Crisp for Two
Ingredients:
Large apple, cored and diced
1 tsp lemon juice
1 tsp flour
1 tsp cinnamon
1 tsp brown sugar
2 tbsp chopped walnuts
Crumb Topping
2 tbsp brown sugar
2 tbsp old-fashioned oats
3 tsp flour
3 tsp coconut oil
Directions:
Preheat oven to 350*F. Spray a small baking dish with no-stick spray.
In a small bowl, gently toss diced apple and lemon juice. Add flour, cinnamon and brown sugar and toss again until the apples are coated. Add the apples to your baking dish and sprinkle with chopped walnuts.
In the same bowl, whisk together the remaining 2 tbsp brown sugar, old-fashioned oats, and flour. Cut in the coconut oil using your fingers or a fork until the coconut oil is in small, pea-sized clumps.
Sprinkle the crumb topping on top of the apples and bake for 15 minutes. Serve immediately plain or with a scoop of vanilla ice cream.