Baked Peaches with Oatmeal Crumble for Two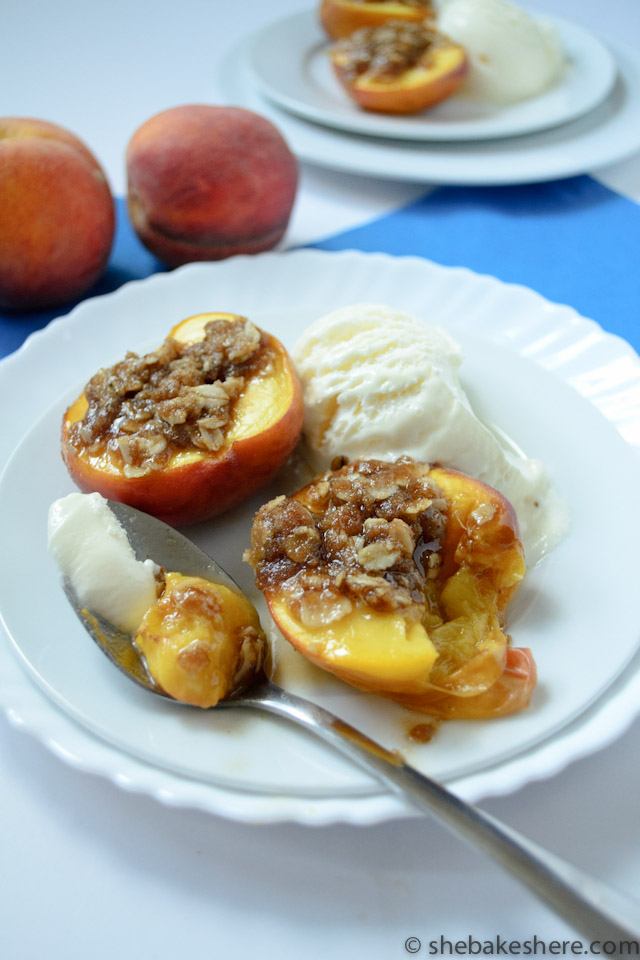 August is one of my favorite months of the year. Besides this being the month that Trevor and I were married, I also consider it to be the best time to check out the farmer's markets. I've been visiting the market behind the St. Lawrence Market every Saturday since early July and each week I end up coming home with more items than were on my list (thank goodness for the bus stop beside our building). Last weekend, though, I had to hold back because in a few days we'll be flying out to visit my parents. I stocked up on a few things we had run out of and in the end, I caved and bought one large basket of peaches. After making a small batch of jam (the obsession continues), I had a couple little guys left over. Not enough for anything really fancy, but enough for this cute little dessert.
One of my favourite fall time desserts is peach crumble pie, but I really bad at planning ahead to make, chill and roll out pie dough. I also have an ongoing feud with making my own dough. Sometimes it plays nice, but other times I end up cursing my rolling pin and peeling sticky dough off my fingers, the counter and my clothes. I've tried over a dozen recipes and while I've had luck with some, I can never re-create the magic a second time with the same recipe. This dessert, while not true peach crumble pie, nicely captures the essence of baked peaches and oatmeal crumble, but without all the hassle of making pie dough.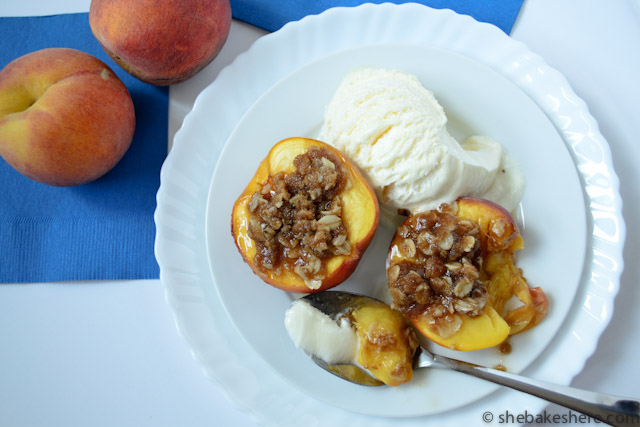 It's also nice because it all comes together in twenty minutes. Who doesn't love a dessert made with local, in-season fruit that can be made in twenty minutes and eaten alongside a scoop of vanilla ice cream? My battle with making my own pie dough will have to be settled on another day.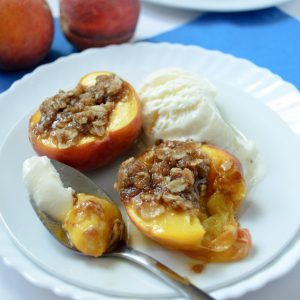 Baked Peaches with Oatmeal Crumble for Two
Ingredients:
2 tbsp brown sugar
1 tbsp rolled oats
1/2 tbsp flour
1/2 tsp cinnamon
1 tbsp cold butter/margarine
2 peaches, halved and pits removed
Directions:
Preheat oven to 350*F.
In a small bowl, mix together brown sugar, rolled oats, flour, and cinnamon. Using your fingers or the back of a fork, crumble the butter/margarine into the mixture until large clumps form.
Arrange your peach halves in a lightly greased oven-safe container and sprinkle the brown sugar mixture onto each half. Bake for 12-15 minutes until the peaches are soft and fragrant. Remove from the oven and service immediately with a scoop of ice cream.