Classic Pecan and Raisin Buttertarts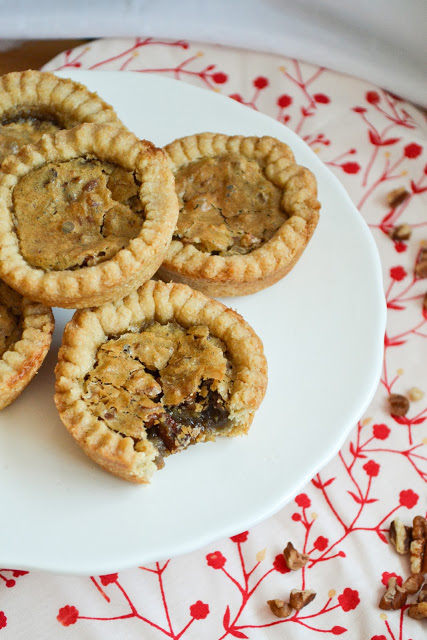 Growing up, whenever my family would go and visit Grandma, she always had some baking ready for us. My mom would always rave about her buttertarts, which is something I never understood until I was in my early teens. Up until then, I did not like pies or tarts of any kind.
I mourn those lost years of missing out on these irresistible tarts.
I'm not sure what the best part is of my Grandma's recipe. It could be the end result of a light, flaky crust which I just found out is her rendition of the Tenderflake crust recipe found on most Tenderflake packages. It could also be the rich, gooey, buttery filling that puffs up and crisps slightly to a golden brown when baked.
However, I think it could also be the crunchy, chewy addition of pecans and raisins. Everyone has their own preferences when it comes to what goes in a buttertart, but I find that I'm partial to pecans and raisins.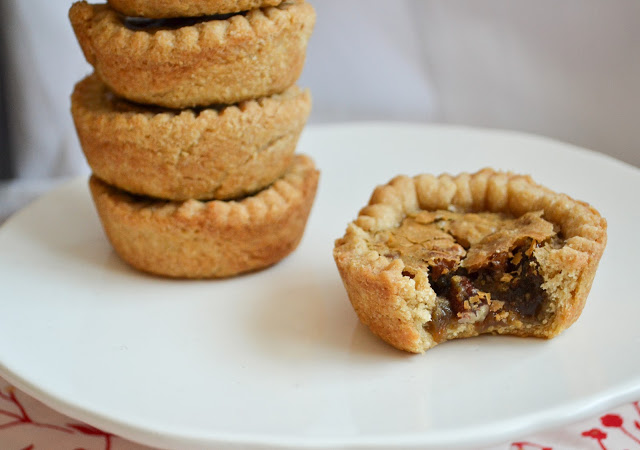 Whenever my Grandma would make the recipe, she would use a large, round cookie cutter with flower petal edges. I have fond memories of picking off the petals from my tart, one by one and eating them before I would devour the entire thing. I wasn't able to find a similar cookie cutter, but I did find one with small ridged edges that came in a pack of 6 from Dollarama.
This isn't an important part of the recipe, but I find that it helps with the end presentation. 🙂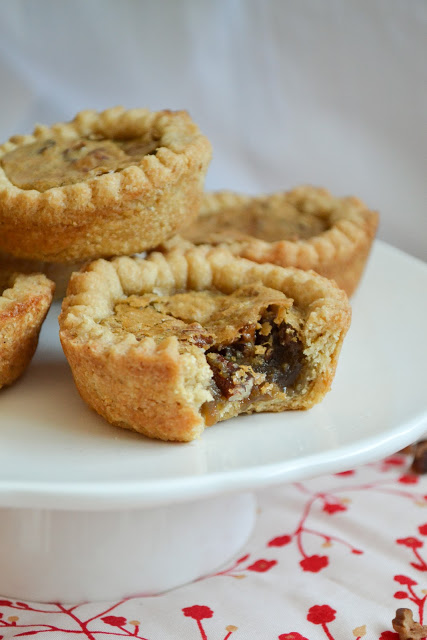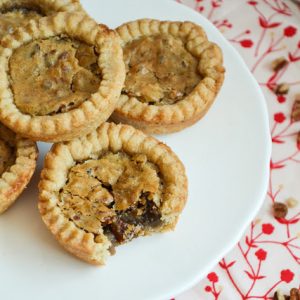 Classic Pecan and Raisin Buttertarts
Ingredients:
Tarts
2 1/2 cups flour
1 1/2 tbsp brown sugar
1/2 tsp salt
1/2 tsp baking soda
1/2 lb lard (around 1/2 of a standard package, can also substitute shortening)
1 egg mixed with 3/4 cup cold water (use only half of this mixture!)
Filling
1 cup brown sugar
3 tbsp butter
2 tbsp flour
1 egg
1/4 cup pecan pieces
Optional:
Directions:
With a wooden spoon, mix together flour, brown sugar, salt and baking soda in a large bowl. Using a pastry cutter, cut in lard until it resembles fine crumbs in the flour mixture.
Add half of the egg/vinegar mixture. Discard the remaining amount.
Knead the dough on a floured surface and roll out with a rolling pin until the dough is a little less than the thickness of a CD case. Using a round cookie cutter (or can of tomatoes as a size reference), cut out discs of dough and place in a greased muffin tin. Sprinkle optional raisins around the bottom of the shells.
Over low heat, combine brown sugar, butter and flour in a small pot. As the butter melts, stir this mixture constantly to prevent it from burning and sticking to the bottom. Once the butter has melted, break the egg into the pot and stir, stir, stir quickly to prevent the egg from cooking. The end result will be a sweet and sticky mixture. Add pecans.
Preheat your oven to 350*F.
Gently fill up the unbaked shells with this sticky, buttery pecan mixture until just under the rimmed edge of the tart. Bake for 15 minutes until the tart shells are a light brown and the mixture is puffy with a slight overlaying crust.