Orange Cranberry Loaf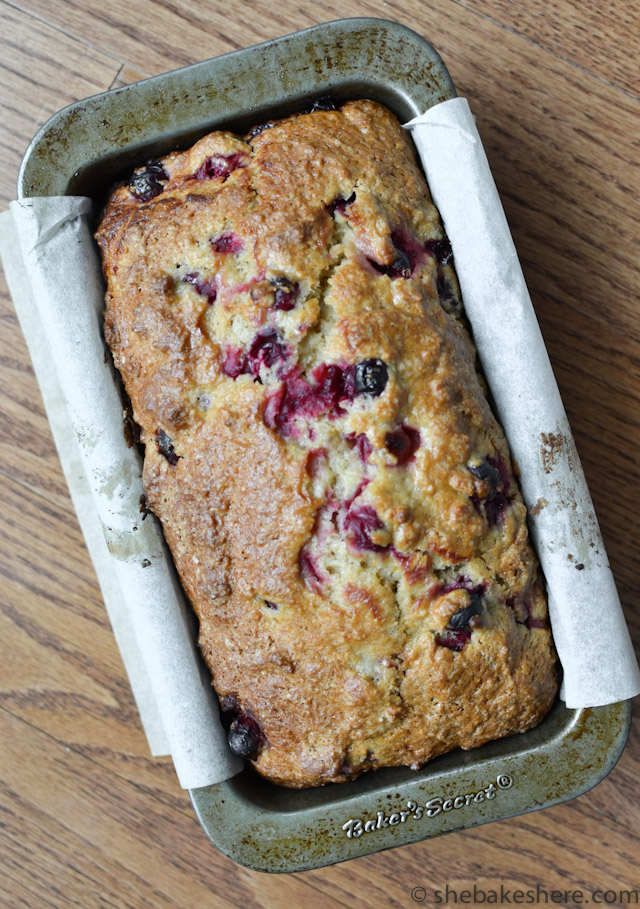 The weather is ever so slowly warming up here and I'm already in full-on spring cleaning mode. No closet is safe, my friend. On the kitchen front, I've spent a good part of this past week tackling the freezer. Our main goal right now is, before our next big grocery trip, we need to use up all of the random, half-eaten items that were shoved into the back, forgotten corners of the freezer. Random mostly eaten bags of frozen fruits and vegetables, a half consumed package of farmer's market pierogies, singles of flatbread and tortilla shells, scattered trays of ice cubes, frozen bread ends (for breadcrumbs!), broken squares of half-eaten dark chocolate bars and endless twist-tied mini baggies of sliced almonds, pecans, walnuts, sunflower seeds and pepita seeds are just some of the many treasures I've uncovered.
A half eaten, folded bag of frozen cranberries were one of the first items I extracted from the back freezer. I portioned out most of the frozen berries for breakfast smoothies, but reserved a solid two cups to make this orange cranberry loaf. The original recipe makes 12 muffins, but even after a quick Google search, the origin of this recipe is completely unknown. For the past few years, I've come to know this as a Christmas morning breakfast staple at my parents' house, but if the recipe components look familiar to you, please leave a comment and hopefully we can track down the original source together.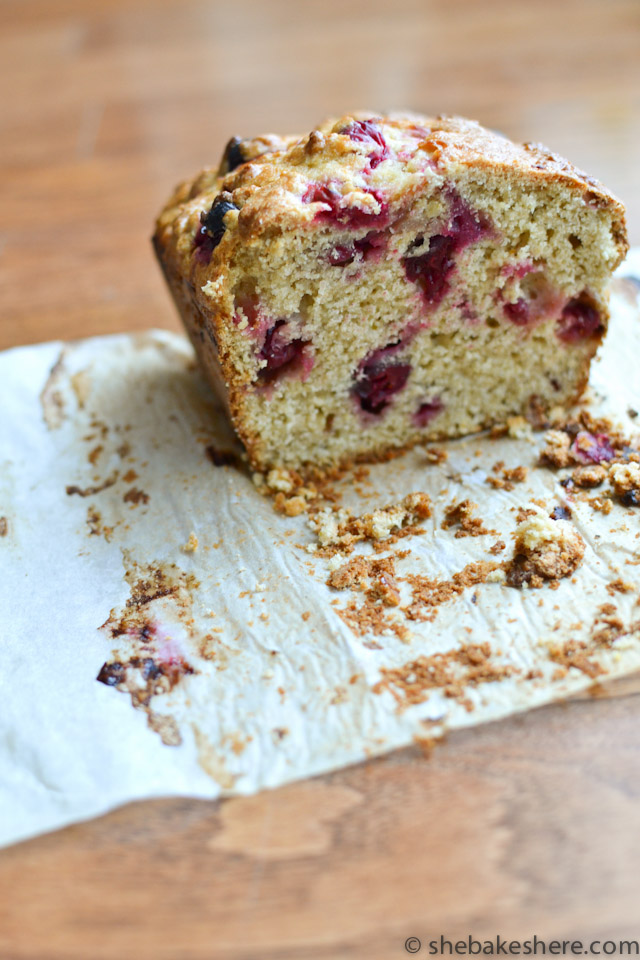 I held off on making a glaze because I didn't want any unnecessary sweetness to overshadow the sharp flavour of the tart cranberries (plus my mom doesn't make a glaze when she makes the muffins). I'm not a huge fan of overly sweet quick breads, so if you're not like me and glazes are your thing, go nuts. Personally, I thought the loaf was perfect on its own and the cranberries and orange zest are a nice flavour combination.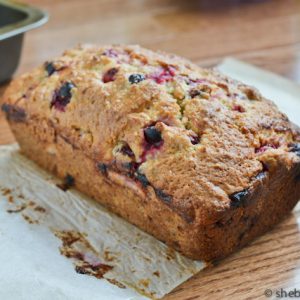 Orange Cranberry Loaf
Ingredients:
1 cup all-purpose flour
1 cup whole-wheat pastry flour*
1 1/2 tsp baking powder
1/2 tsp sea salt
3/4 cup sugar
1 tsp cinnamon
1 egg
1/4 cup vegetable oil
3/4 cup pure orange juice
2 tsp orange zest
2 cups frozen cranberries
Directions:
Preheat your oven to 375*F. Spray your loaf pan with non-stick spray or line with parchment paper.
In a large bowl, whisk together all-purpose flour, whole wheat pastry flour (if using), baking powder, sea salt, sugar, and cinnamon. Set aside.
In a small bowl, beat the egg and add oil, pure orange juice, and orange zest.
Create a well in the dry ingredients bowl and pour in the wet ingredients mixture. Using a wooden spoon, stir together until no flour is visible. Gently fold in frozen cranberries.
Spoon the mixture into your prepared loaf pan and bake for 1 hour, or until a toothpick inserted in the middle comes out clean (I checked after 45-50 minutes). Remove pan from the oven and let cool on a wired rack.
*Can substitute whole wheat pastry flour for more all-purpose flour.