Dried Cranberry & Pepita Seed Breakfast Cookies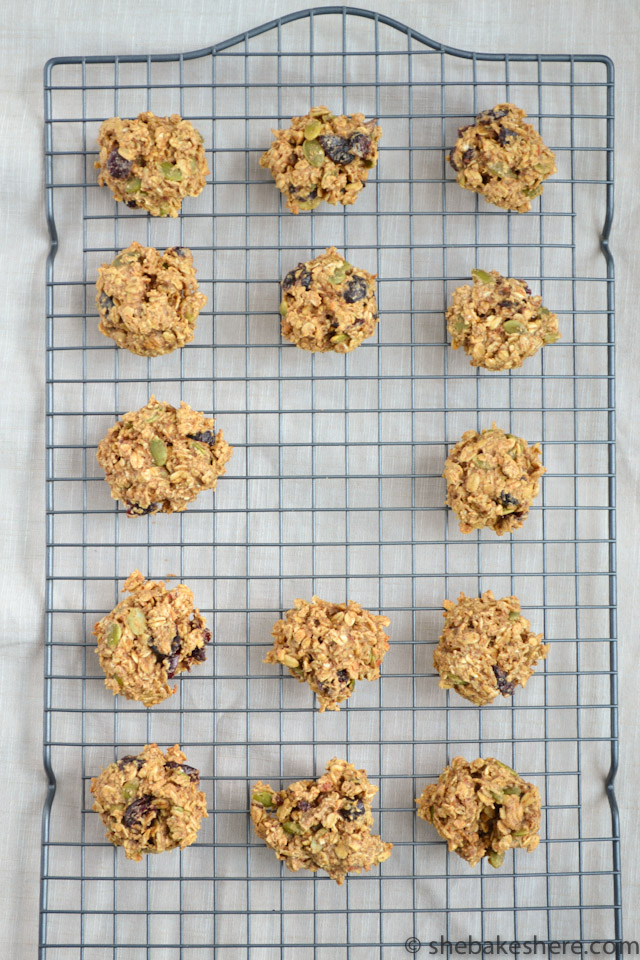 The urge to hibernate has been hitting me really hard as the winter days are getting colder and the nights continue to be dark. Some days I feel like I have energy to burn (do ALL the things!) and other days I just want to wrap myself in a warm blanket and plant myself on the couch. Preferably in front of the TV or with a good book and a large mug of tea.
Along with this urge to lounge around comes the desire to eat all things sugary and starchy. We're really big on comfort food kick right now, with pasta and casseroles being our favourite go-to for supper. Most nights I try to pair it with a kale salad to keep up our vegetable intake, but it's not always the case. Winter is a weird time and I seem to have misplaced my desire to eat my vegetables even when I know I should be. I've even been turning my nose up at the idea of making green smoothies. Who am I and where did the real Jessica go?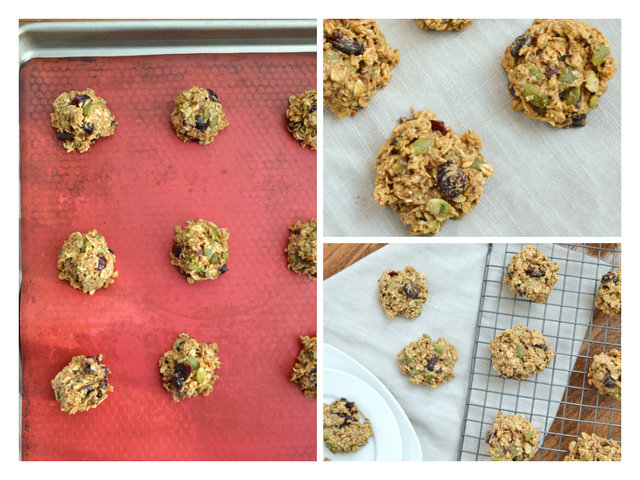 While our suppers have started to lean towards the heavier side, I've been trying balance everything out by eating healthier during the day. This way I don't find myself with my head on my desk at 3pm. To start the day off right, we're really enjoying these oatmeal breakfast cookies in the morning, especially me because I'm all about grab and go food. I was originally envisioning a cookie made with mashed bananas, but our banana situation was low and so I reached for my next favourite cookie binder – almond butter!
I made these cookies with dried cranberries and pepita seeds (shelled pumpkin seeds) but the add ins are pretty flexible and you are welcome to throw in whatever your heart desires. I think in my next batch I'm going to try cocoa nibs and shredded coconut. Another beautiful thing about this recipe is that everything can be thrown together into one bowl – no need to dirty any more dishes that you need to!
Lastly, the cookies won't change much during baking so if you want a flatter cookie you may want to lightly press down on each cookie with the back of a spoon. The above photo with the red baking mat was taken during my first trial when my cookies were still round-shaped.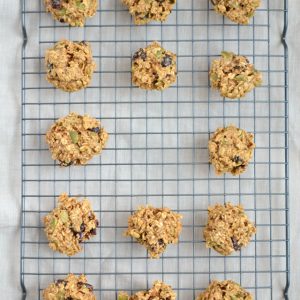 Dried Cranberry & Pepita Seed Breakfast Cookies
Ingredients:
1 tbsp coconut oil, melted
4 tbsp brown sugar
1/4 cup almond butter
1/4 cup almond milk
1 egg
1 tsp vanilla
1 1/2 cup rolled oats
1 tsp baking powder
1 tsp cinnamon
Pinch of salt
1/4 cup dried cranberries
1/4 cup pepita seeds
Directions:
Preheat oven to 350*F and line your baking sheets with parchment paper or a silicone baking mat.
In a large bowl, stir together melted coconut oil and brown sugar with a wooden spoon. Add almond butter, almond milk, egg and vanilla and stir until just combined.
In the same bowl, add rolled oats, baking powder, cinnamon, salt, dried cranberries and pepita seeds. At some point, the mixture will be sticky and difficult to stir. (arm workout!)
Using a cookie scoop, scoop the dough into roughly 2-tablespoon sized mounds on the prepped baking sheets and flatten slightly with the back of a spoon. Bake for 10-12 minutes until the cookies are set and the tops are a light golden brown. The cookies will still be soft, so let them cool on the baking sheet for 5 minutes before transferring to a wired rake. Cool completely and store in an air-tight container.
If you don't have almond butter on hand, you can substitute any other nut butter (i.e. peanut butter).
Regular milk can be used in place of almond milk.