Vegan Pumpkin Spiced Walnut Pancakes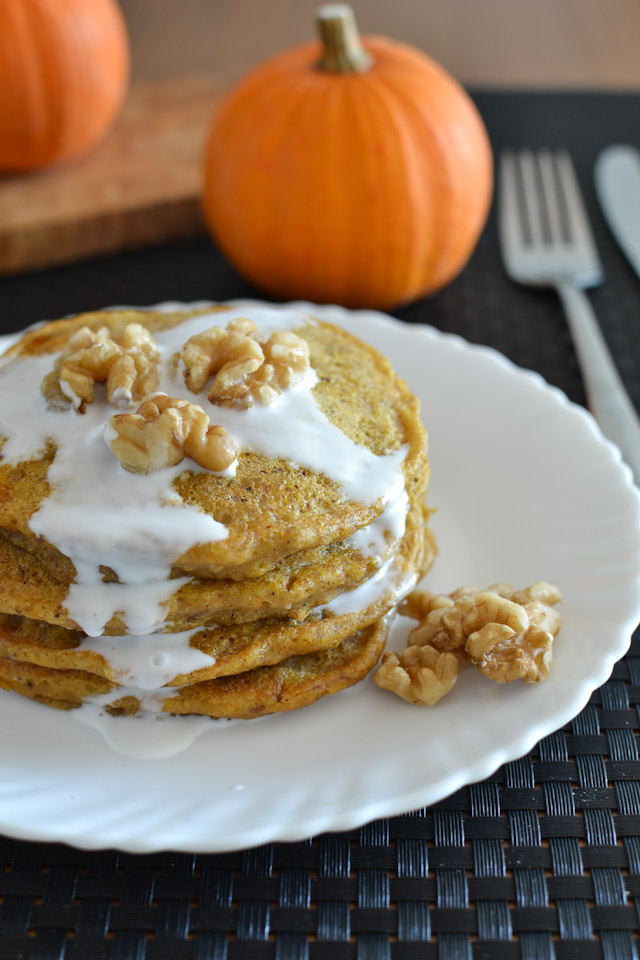 I've been on an comfort food kick as of late, what with the weather turning colder and the days being shorter. Over the weekend, Trevor and I went to Nuit Blanche which is an all-night art event held in downtown Toronto and it was so cold that I was kicking myself for not bringing my mitts, toque and a scarf. The streets were literally packed with people, but that didn't stop the wind from picking up at random intervals and making me a miserable, shivering person. The event was all-night, but we ended our evening early just before 11pm and made a stop over at the food trucks that were parked conventionally across the street from our condo. Street food, warm pjs and late night television. Call me Grandma Jessica, but it was the perfect end to our Saturday night.
My longing for comfort food continued into the next morning when I swear these pancakes were calling my name. Normally I can't even function first thing in the morning without my coffee, but for some reason I knew I was going to make spiced pumpkin pancakes before I had even crawled out of bed. 'Tis the season I guess, because if it isn't apples, apples and more apples, it's pumpkin. I'll probably be sick of both by the end of the month, but for now I'm embrace it while it's here. Fall is such a short season and the fall produce season is even shorter.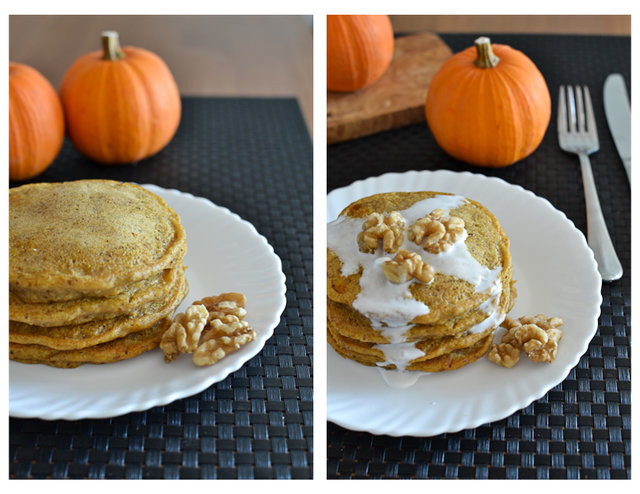 It should be worth noting that I tried to be fancy and making some coconut whipped cream to go with the pancakes, but as you can tell it melted before I was able to take my first photo. Hot pancakes + coconut whipped cream = milky puddle. Maybe I should have had that coffee after all.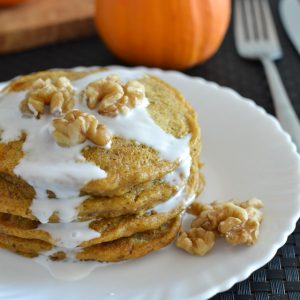 Vegan Pumpkin Spiced Walnut Pancakes
Ingredients:
1 tbsp ground flax seed + 3 tbsp water
1 1/4 cup whole wheat pastry flour
2 tbsp brown sugar
2 tsp baking powder
2 tsp cinnamon
1 tsp nutmeg
1/4 tsp pumpkin pie spice
1/4 tsp salt
1/2 cup finely chopped walnuts
2 tbsp coconut oil
1 cup almond milk
1/3 heaping cup pumpkin puree*
Directions:
In a small bowl, mix together ground flax seed and water to make a "flax egg." Set aside to gel while you assemble the other ingredients.
In a separate bowl, whisk together whole wheat pastry flour, brown sugar, baking powder, cinnamon, nutmeg, pumpkin pie spice, salt and chopped walnuts.
In a small saucepan, combine almond milk and coconut oil. Gently heat until the coconut oil is melted and promptly remove from heat. Add pumpkin puree and flax egg and stir until well mixed.
Make a well in the floured mixture and add the wet mixture. Stir until just combined.
Preheat your pan or skillet to medium heat. Apply butter or non-stick cooking spray if required.
Ladle out 1/4 cup of batter onto the heated pan and flip when the pancake has bubbles on the surface. Cook until the other side is light brown.
Remove from heat and serve immediately with your choice of toppings.
* Use pure pumpkin, not pumpkin pie filling.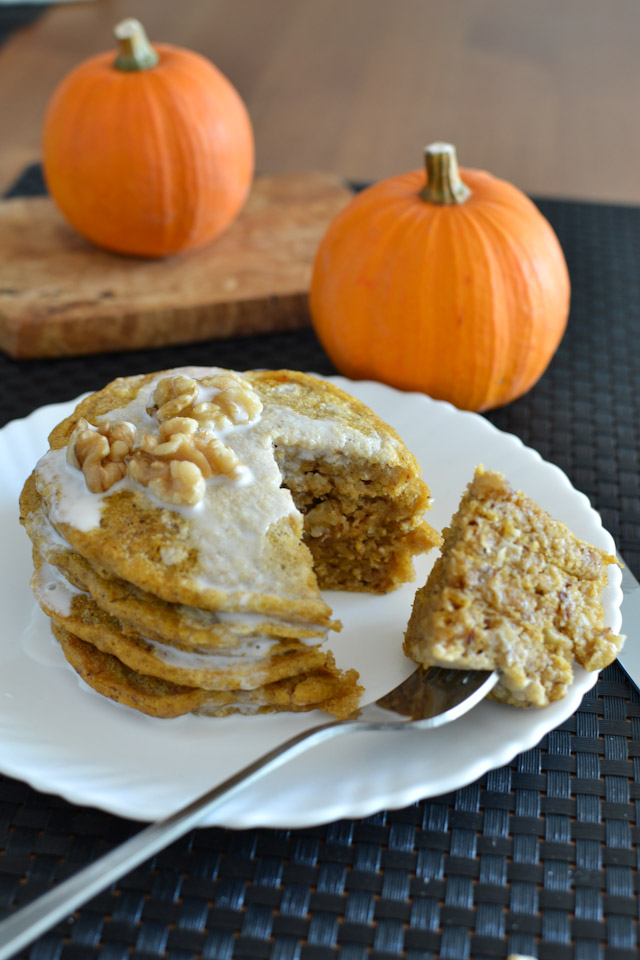 You can also make this the night before and let the pancake batter sit in the fridge overnight. Then in the morning, just roll out of bed and start heating your pan! Who doesn't love minimal-effort-in-the-morning pancakes?