Chocolate Chip Banana Quinoa Pancakes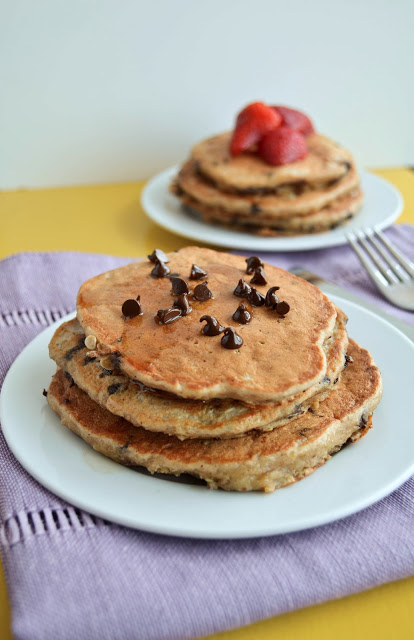 I really need to start eating better.
Case in point, we have not only surpassed the 100 day mark, I'm pretty sure we've recently passed 90 days until the wedding. This past long weekend, we also managed to eat through an entire Japanese cheesecake. (Both events were not related).
I say "we" but you all know better. Trevor had a slice, maybe two. I couldn't help it though. I discovered a fantastic new bakery on Spadina Avenue, (near China Town) and the cheesecakes were on sale for $3.50. Having paid double this price the last time I had Japanese cheesecake, I couldn't pass it up. This was Friday and the cheesecake was non-existent by Sunday night.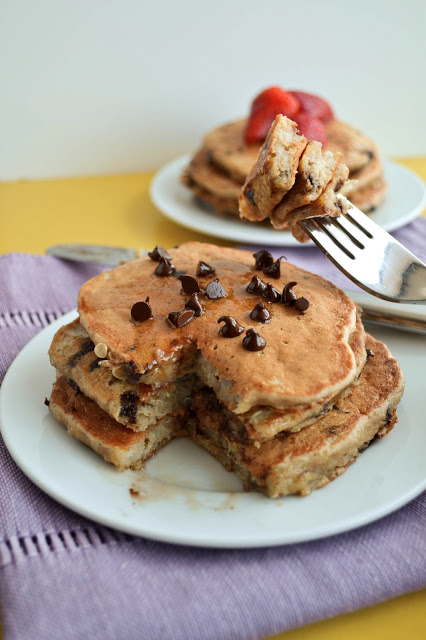 So when Monday morning rolled around, I was feeling the sluggish affects of a cheesecake hangover. I stumbled bleary-eyed into the kitchen and the first thing I saw resting on the counter was my big bag of quinoa. Normally I would have made my usual breakfast quinoa, but since it was the last day of my long weekend, I wanted to make something special. Enter guilt-free chocolate chip banana quinoa pancakes!
These pancakes were a fantastic cure for my cheesecake-fused hangover. Fluffy and moist from the bananas, wholesome and nutty from the quinoa, and the perfect amount of chocolate chips to satisfy my constant sweet tooth. Trevor even gave me a thumbs up before quickly devouring his portion.
Take that, cheesecake!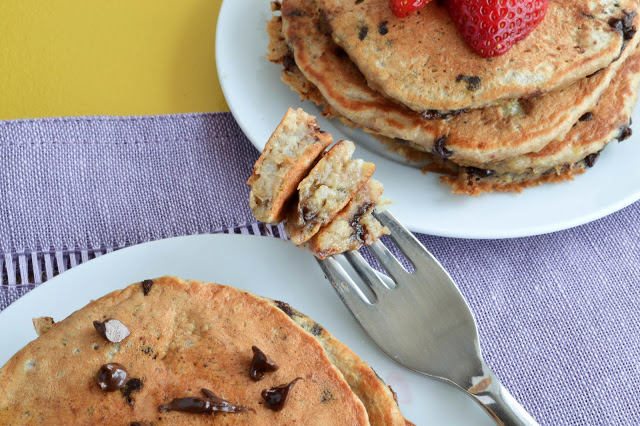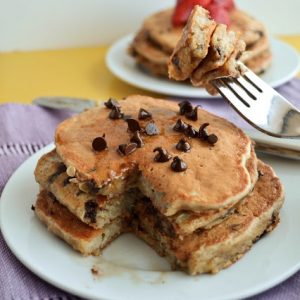 Chocolate Chip Banana Quinoa Pancakes
Ingredients:
1 cup cooked quinoa
3/4 cup whole wheat pastry flour
1/2 tsp cinnamon
1/4 tsp nutmeg
1 1/2 tsp baking powder
1/4 tsp salt
3 large egg whites
1 individual sized vanilla yogurt (100g)
2 tbsp milk (I used almond milk)
2 tbsp maple syrup
1 tsp vanilla extract
2 large ripe bananas, mashed
1/4 cup mini chocolate chips
Directions:
In a large bowl whisk together quinoa, flour, cinnamon, nutmeg, baking powder, and salt. Set aside.
In a separate bowl, mix together egg whites, yogurt, milk, maple syrup and vanilla extract. Make a well in the flour mixture and add egg mixture. Stir until just combined.
Gently fold in mashed bananas and mini chocolate chips.
Begin to preheat your pan or skillet to medium heat. Apply butter or non-stick cooking spray if required.
Ladle out 1/4 cup of batter onto the heated pan and flip when the pancake has bubbles on the surface. Cook until the other side is brown.
Remove from heat and serve immediately with your choice of toppings.