Wheat-Free Confetti Pancakes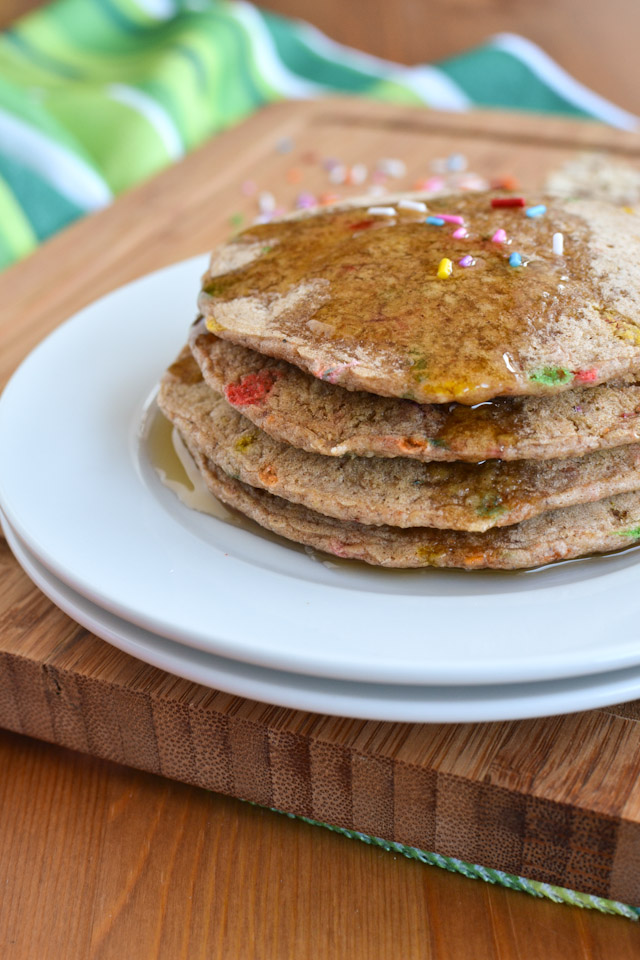 One of my personal goals this year is to not stress myself out over things I cannot control. This was tested at the end of February when things got a little busy and I couldn't find the time to bake or think up something to write about. I normally maintain a pretty good routine of posting once a week, and I'm not going to lie, I did get a little twitchy. Rather than stress myself out over not having a recipe to share (or worse, throw something together in a panic), I decided to shrug it off and start fresh again this week.
Another thing that happened was that I fell in a food rut and I managed to dig myself out by purchasing one of my favourite bloggers, Angela at Oh She Glows, first cookbook. I've been following Angela's vegan food blog for years, long before I started blogging, and none of her recipes have disappointed me. Normally I avoid using cookbooks for my everyday cooking and like to save them for special occasions (I know, weird), but since this book arrived in my arms, I've made a point to make a new recipe every few days. If you follow me on Instagram, you've probably seen the photos and it's been great trying new recipes and buying ingredients I've never purchased before.
I've been having so much fun that now I'm finding myself flipping through my other cookbooks and making notes on other recipes I've been meaning to try, but just haven't found (or made) the time. I've made more grocery trips in the last two weeks then I did for most of February and although we've found ourselves doing the dishes up to 2-3 times per day, our fridge and freezer are filled to the brim with new and delicious food. For a while, we were buying and eating a lot of frozen and pre-made meals for convenience and it was starting to show because I found that I was tired all the time and my mood would go sour in the moment's notice.
Once I realized what was happening, I knew something had to change. Buying Angela's cookbook was a great reminder to myself of how much I love real food. I love cooking and the art of following recipes, adding my own ingredients to suit our tastes and having a real, sit-down meal. Spending time in the kitchen and sharing food with people always puts a smile on my face and it was one of the main reasons I started this blog in the first place.
So in celebration of my re-kindled love of food, I decided to take on a challenge I received a couple months ago from my brother's girlfriend, Vanessa. She challenged me to post a gluten-free recipe for She Bakes Here and I have been putting it off for a while because, to be quite honest, I've never baked anything that is gluten-free. In fact, I'm technically cheating a bit because I dubbed these pancakes "wheat-free" rather than gluten-free. I decided to play it safe this time since I had some trouble finding certified gluten-free oats in the city and had to settle for wheat-free oats instead. Whether this is the same or not something I don't want to assume, so until I learn more about gluten-free baking, I'll stick with calling these pancakes "wheat-free" (sorry Vanessa!).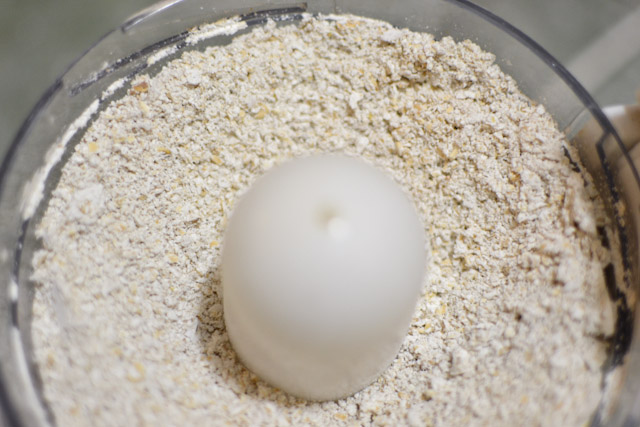 During my research, I discovered that there are a lot of different types of flours for gluten-free baking and many of these substitutes can yield undesirable results if you are like me and not familiar with the whole gluten-free process. One of the easier and most accessible flours I discovered is oat flour and this can be made easily in your own kitchen with gluten-free oats and a food processor or high speed blender. One cup of oats makes roughly one cup of oat flour, but this can vary depending on how fine you grind your oats. Oat flour is also great because it gives your baking a more wholesome and nuttier taste.
You'll notice from this recipe that there is a short resting period of 20 minutes to allow the batter to thicken. Once I finally managed to nail the right amount of wet ingredients (oat flour requires a bit more moisture to hold everything together), I discovered that the pancakes made at the end were always smoother and had less to zero surface cracks. Anywhere between 20-25 minutes should be more than enough time.
As always, be sure to read ingredient labels on everything to avoid cross contaimination.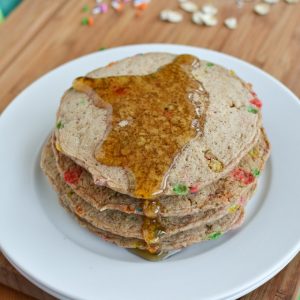 Wheat-free Confetti Pancakes
Ingredients:
1 cup oat flour (the brand of oats I used was Only Oats, which is wheat-free)
1 tbsp brown sugar
2 1/2 tbsp baking powder
1/2 tsp cinnamon
1/2 tsp nutmeg
Dash of salt
2 tbsp sprinkles
2 tbsp vegetable oil
1 cup almond milk
1 egg, beaten
Directions:
In a medium sized bowl, whisk together oat flour, brown sugar, baking powder, cinnamon, nutmeg, and sprinkles. Stir in vegetable oil, almond milk and beaten egg. The mixture will seem very thin and this is normal.
Leave bowl to rest for about 20-25 minutes to let the batter thicken (I found that this was the perfect time to do the dishes). After 15 minutes, beginning pre-heating your pan to medium-high heat.
Ladle out 1/4 cup of batter onto the heated pan and flip when the edges are brown and the middle of the pancake has bubbles.