Apple Cheddar Scones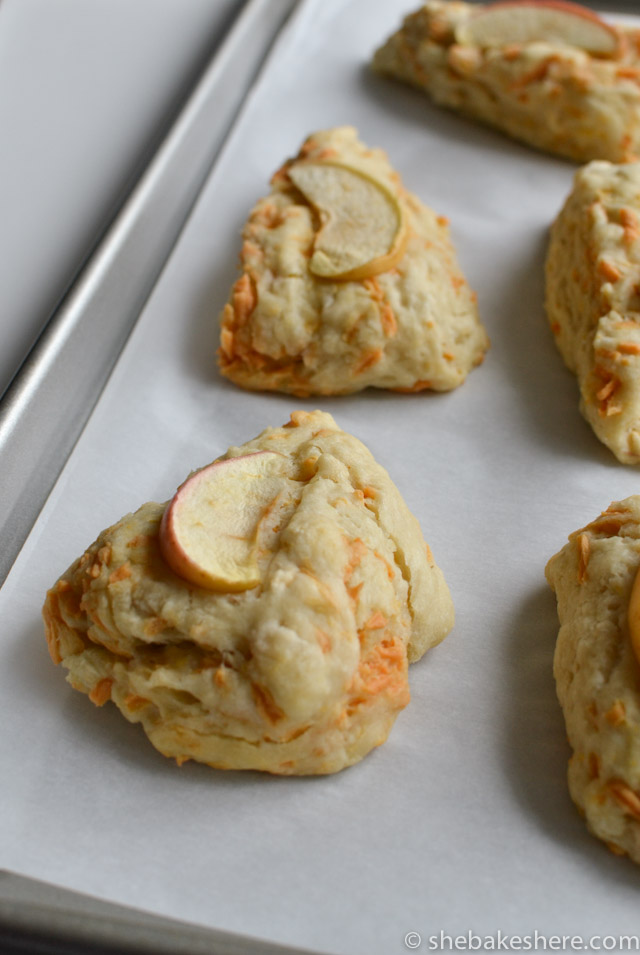 A couple weeks ago, I received a large bag of gala apples from my cousin's apple farm near Port Elgin. To say that I was excited was a complete understatement. Work commitments and a lack of vehicle options (I recently sold my car) have made it nearly impossible to leave the city, so I was a little bummed out that there would be no apple farm visit this year. To make up for it, we've been purchasing the locally grown apples from the busy St Lawrence Market Saturday farmer's market, but as delicious as those apples were it never felt the same. Half the experience is definitely picking your own apples fresh from the tree and I can't say I get the same thrill when choosing an apple basket from a sea of other identical apple baskets at the crowded market.
Another big draw I'm currently missing from apple farm is their in-house bakery. While I love their streusel top apple pies (so.much.apple), my mom is more partial towards the apple cheddar biscuits. In fact she is such a fan that she makes them herself using this apple cheddar scone recipe. Although it's not the same recipe used by the apple farm (which makes hundreds at a time), it's good for when the mood strikes, they will make a great last-minute breakfast addition and this recipe can be made in less than 30 minutes.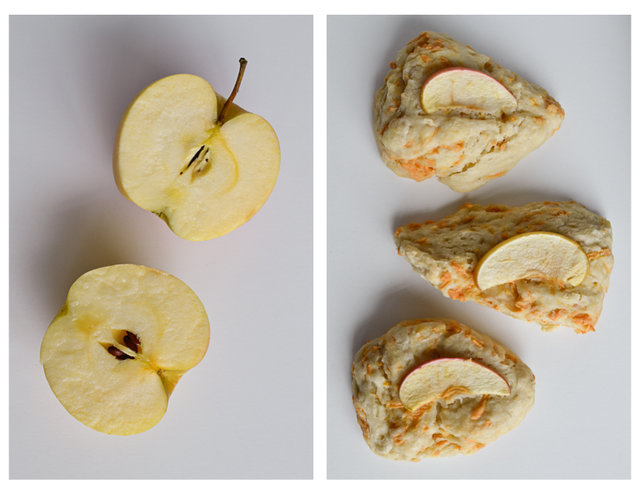 My mom sent me this recipe via email, but after a quick Google search it's likely that she is using the same recipe from Taste of Home. The version I'm posting includes the dairy-free modifications I used so Trevor can eat them, but you are welcome to use real butter/margarine, milk and cheese if that is what you have on-hand.
It's also worth mentioning that I normally measure flour by scooping the flour into my measuring cups with a spoon and leveling off with the flat side of a knife. However, this is one of the few recipes I have where the best results came from scooping the flour straight out of the bag. Depending on the type of flour I have on hand (all-purpose or whole wheat pastry), I also sometimes don't use all of the 1 cup of milk the recipe calls for. This recipe is very simple and can be made fairly often, so I recommend playing around with the measurements to figure out your own preferences.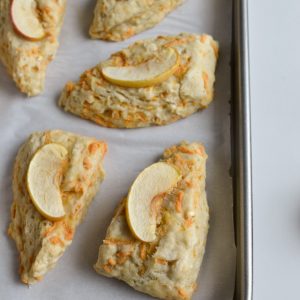 Apple Cheddar Scones
Ingredients:
1 3/4 cups flour
2 tbsp sugar
1 1/2 tsp baking powder
1/4 tsp baking soda
1/4 tsp salt
1/3 cup dairy-free butter or margarine, cold and cut into cubes
1 cup almond milk
1 cup shredded Daiya cheese
1 cup diced apples
Directions:
Preheat your oven to 400*F. Line a large baking sheet with parchment paper or a silicone baking mat.
Measure your flour by scooping your measuring cup into the bag of flour and leveling off with the flat side of a knife.
In large bowl, whisk together flour, sugar, baking powder, baking soda and salt. Cut in butter with a pastry cutter or two butter knives. Stir in milk until just moisten and gently fold in shredded cheese and apples.
Turn the dough onto a floured surface, lightly dust with more flour and knead 10 times. Pat the dough into a large circle and cut into wedges. Place the wedge 1 inch apart on the baking sheet and garnish each wedge with an apple slice.
Bake for 12-15 minutes until the tops of the scones spring back when lightly touched. Remove from the oven and cool on a wired rack. Store in an air-tight container.