Homemade Chocolate Marshmallows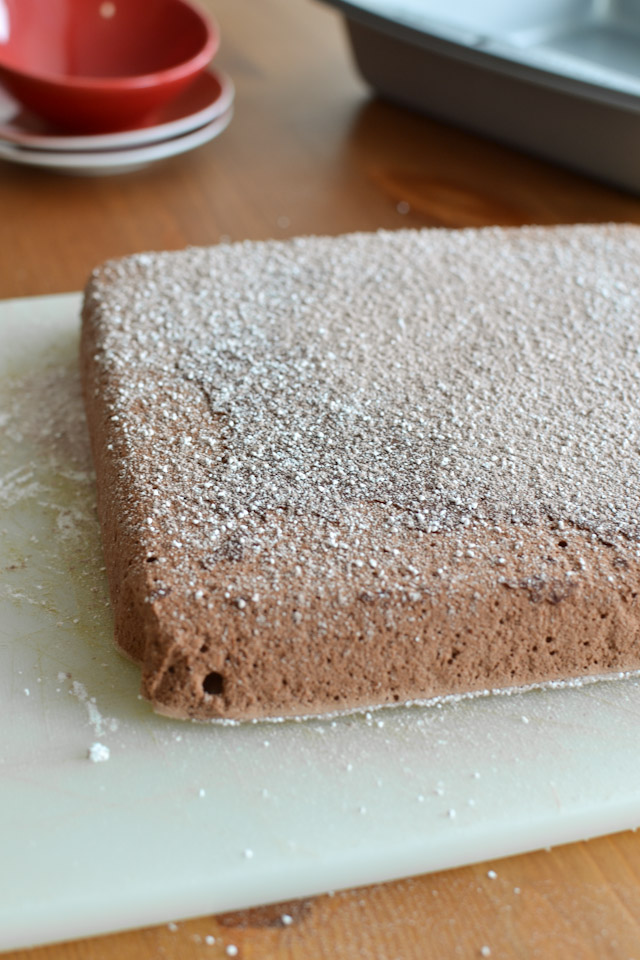 As much as we love the city, it can sometimes reach a point where we just want to get away from it all. The loud bumper-to-bumper traffic, the constant rubbing shoulders with strangers on the subway, and just generally feeling like you're in everyone's way. Sometimes when I find myself feeling overwhelmed, I like to close my eyes and daydream about being at my parent's house on the lake, hanging out on the dock with their dog. Complete bliss.
Luckily, one the great things about Toronto is the amount of parks and green spaces that are available in the GTA. Some parks are so big that it doesn't even feel like you're in the city anymore. We've spent afternoons walking around High Park feeling completely lost! Well, as lost as one can feel when we know we are sandwiched between Bloor Street and Queen Street.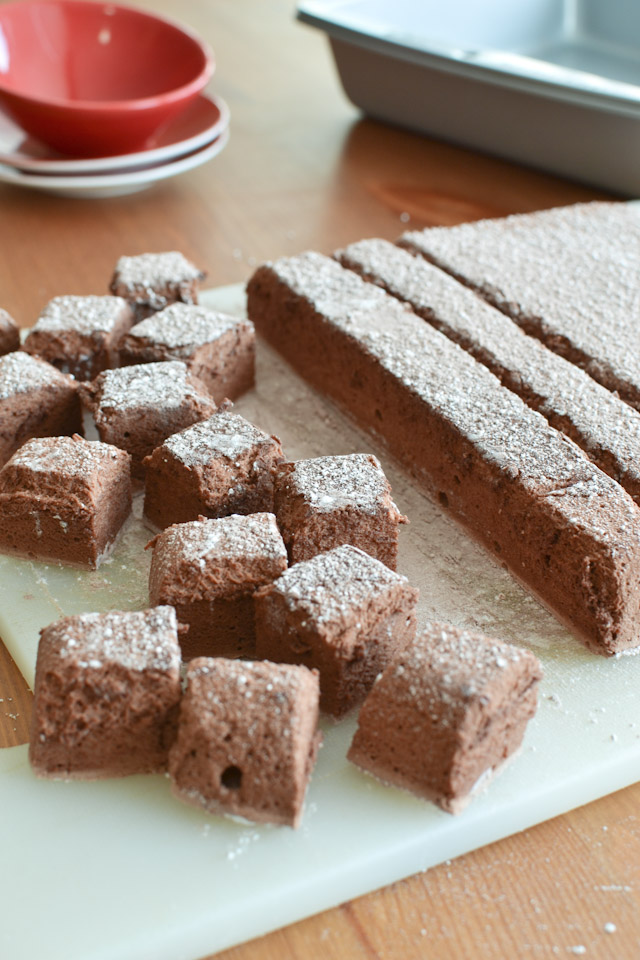 Besides High Park, one of our other favourite green getaways is Toronto Island. I may have mentioned it a few times (I tend to repeat myself), but it's our favourite place to rent bikes because of the wide, open spaces. You've probably even seen a few of my island/bike photos on Instagram. I just can't get enough of it and the best part is that there are no city cars trying to chase me down (at least, that's how I think I would feel biking around in the city).
Besides biking around Toronto Island, there are plenty of beaches to lounge around in, an amusement park and a petting farm to let your kids loose in, and best of all, wide open spaces filled with picnic tables, barbeques and fire pits. When we visited Toronto Island with our friends Emily and Beau at the beginning of July, we vowed that next time we would come back for an evening barbeque. Two weeks later, we found ourselves on the ferry again!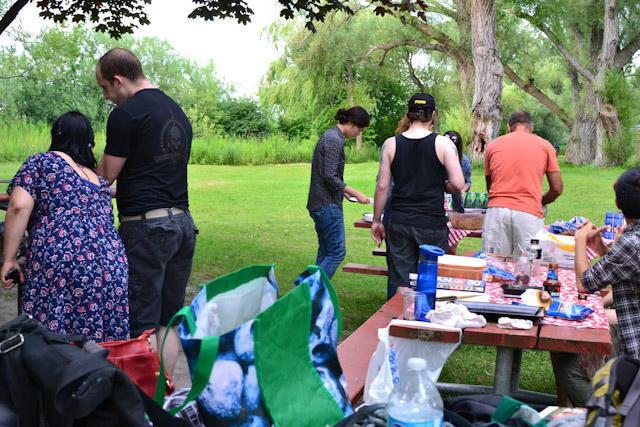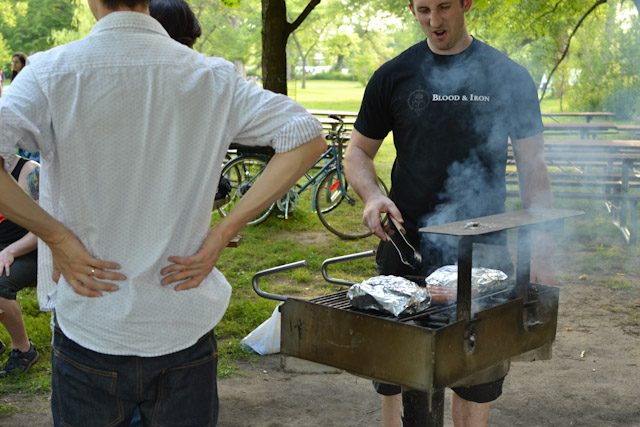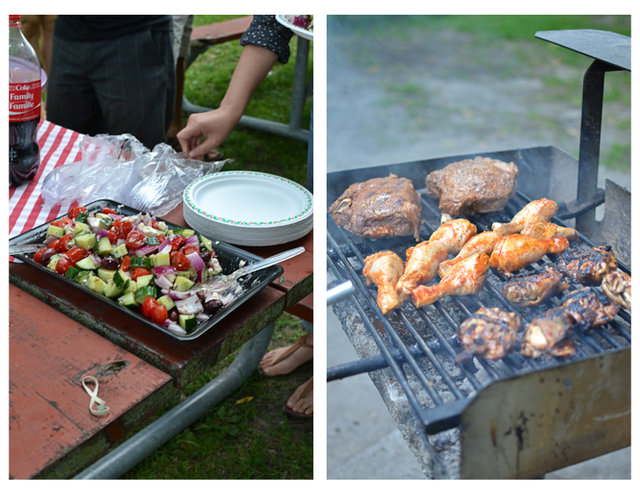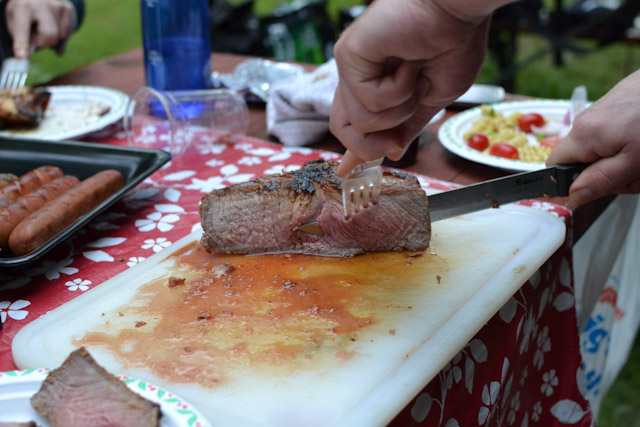 It was a great evening of food and catching up with friends. The rain even held off and we were able to use the last of our coals to roast some marshmallows for s'mores. I adapted my recipe for homemade vanilla bean marshmallows and added a little dark dutch cocoa for a real decedent treat. This is definitely one of those times where having good cocoa really makes a difference.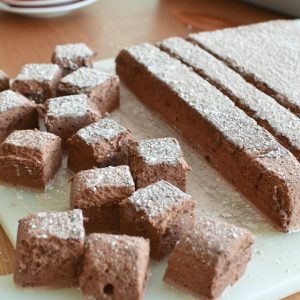 Homemade Chocolate Marshmallows
Ingredients:
2 tbsp unflavoured gelatin
1 cup cold water
2 cups granulated sugar
3 heaping tbsp dark dutch cocoa
1 tsp vanilla extract
Powdered sugar and cocoa, for dusting and rolling
Directions:
In a small powder, whisk together a couple tablespoons of powdered sugar and cocoa.
Line an 9×9 inch square pan with two pieces of parchment paper and dust with powdered sugared/cocoa mixture.
Combine gelatin and 1/2 cup of cold water in a large stand mixer bowl. Set aside to soften.
In a large saucepan, add granulated sugar and remaining 1/2 cup of cold water. Without stirring, bring the mixture to a gentle boil until the temperature reaches 240*F on your candy thermometer (the soft ball stage). Once this temperature is reached, immediately remove from heat.
Carefully pour the hot sugar mixture into the mixing bowl with gelatin. The mixture may sizzle and foam and this is normal. Turn your stand mixer to low and gradually increase the speed until medium-high (watch our for splatters). Continue beating until the mixture doubles in volume and resembles marshmallow creme. This will take around 10 minutes and the mixture will ribbon once the beaters are lifted.
In the last minute of beating, add vanilla extract and dark dutch cocoa.
Pour the mixture into your prepared pan and lightly dust with more powdered sugar/cocoa mixture. Leave the pan on the counter to set for 4-8 hours. You can leave it uncovered or cover with aluminum foil. I wouldn't recommend plastic wrap because this will lock in moisture and then your marshmallows won't dry out properly.
Once your mixture has set, grab the edges of the parchment paper and lift out the whole marshmallow. Slice into squares with a pizza cutter and roll in more powdered sugared/cocoa mixture. Store in an airtight container.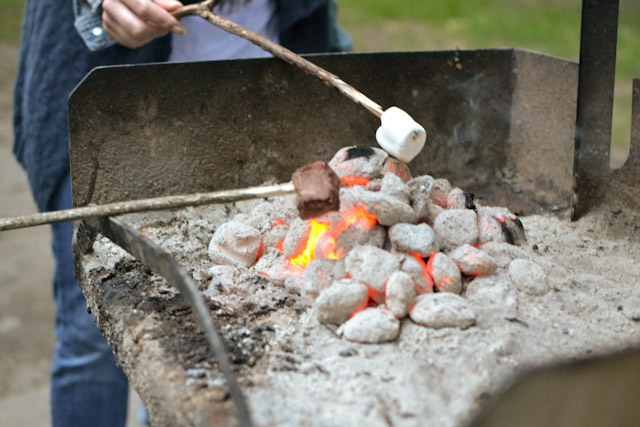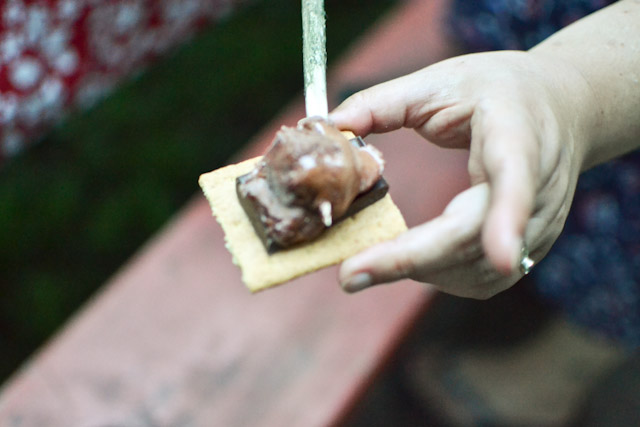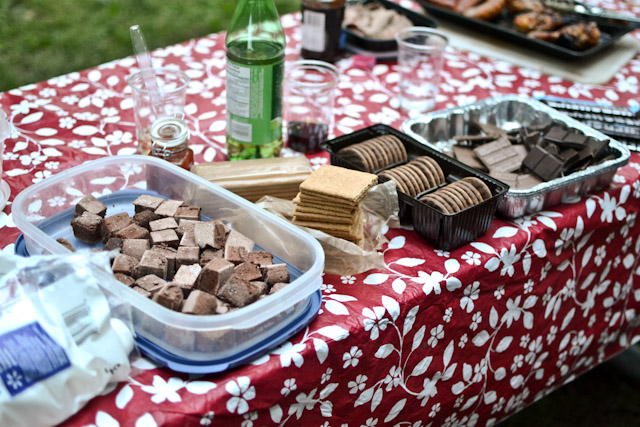 The chocolate marshmallows toasted up nicely, some blurry camera shots were taken and in all, it was a great night away from the city.
Enjoy the rest of the summer everyone!