Toronto Christmas Market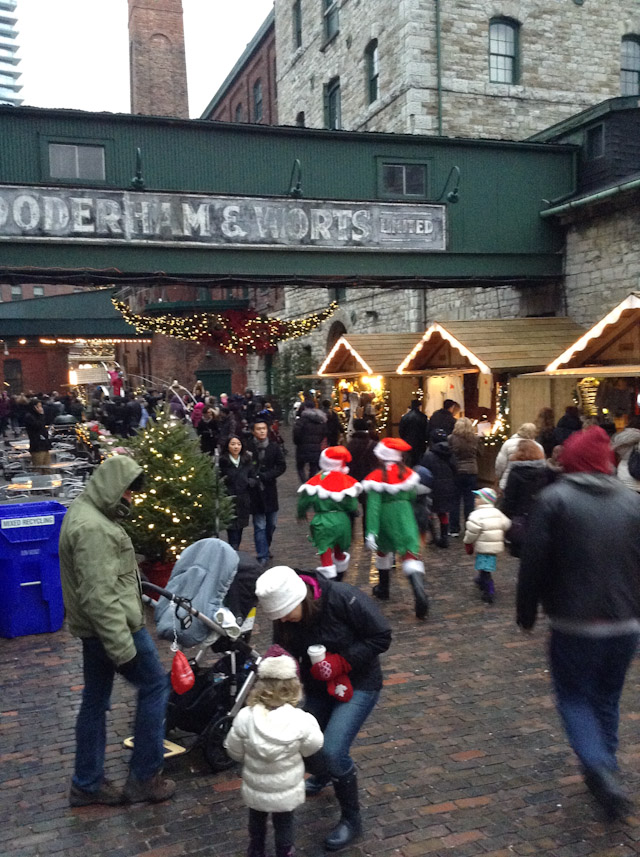 My December started off with the most epic of recipe fails for She Bakes Here. It was a recipe that was supposed to yield puffy, dark chocolate cookies, only my end result was flat, crispy and very messy little bricks that kind of resembled cookies. I thought something was up when the dough had more of a consistency of very thick brownie batter than dough you should be able to roll and flatten with your fingers, but I thought I could still salvage it with some extra flour and then some time in the fridge to firm up. Nope, the end result was huge disaster. The dough was sticky and a pain to scoop, and then the baked cookies stuck to my non-stick silicone baking mats and crumbled while cooling on the counter.
Trevor offered some sympathy with the idea that at least the cookies smelled good and were still edible, but I wouldn't wish this experience on anyone. As therapeutic baking can be, it can also be a little frustrating if the end result is not what you were expecting. Especially when it's an online recipe.
This little disaster freed up the remainder of my Sunday, so in search for a reason to leave the apartment and avoid doing the dishes, we decided to check out the Toronto Christmas Market in the Distillery District. The last time we visited that Market was in 2011 and had thoroughly enjoyed the experience. Since it was December 1st, we also figured that this would be a good way to put us in a festive holiday mood despite all the rain we were experiencing.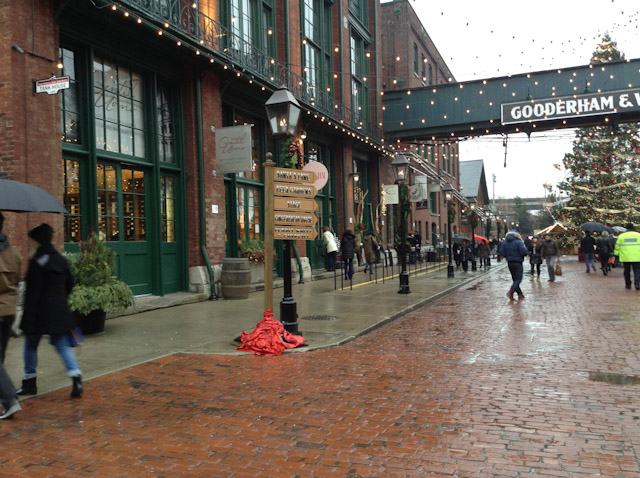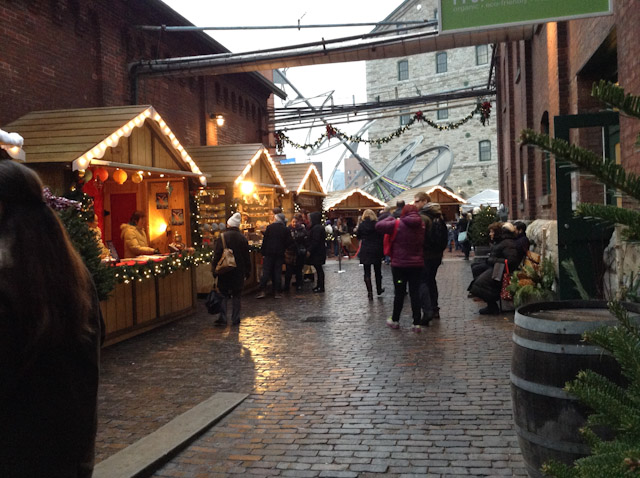 To give you a little background, the Distillery District is a historic part of downtown east Toronto and is full of wonderfully unique restaurants, shops and cafes. Not to mention, it boasts some gorgeous exposed brick buildings that are great backdrops for photoshoots. Unfortunately, this is an area of the city we don't visit often due to it's proximately to our apartment. In fact, the only times I've really been in the Distillery District is when there is a chill in the air. Hopefully I'll be able to make it back during the summer months to enjoy their patio season. And hopefully I'll also remember my camera instead of having to resort to taking photos on my iPad mini.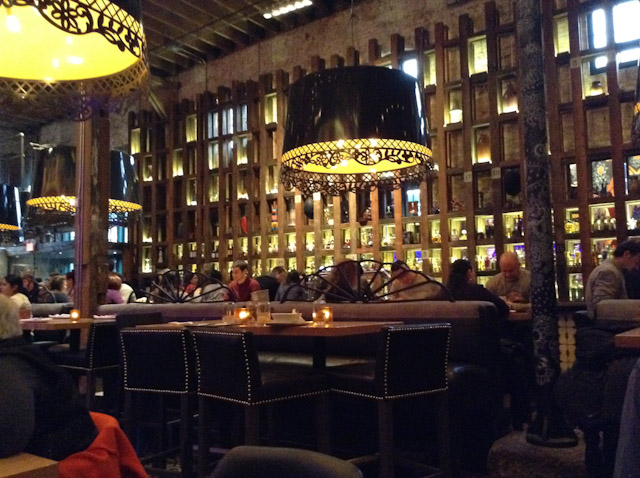 Since we were making a point to head out to the Distillery District, Trevor suggested we make a stop for lunch at El Catrin. Usually I'm not a big fan of Mexican cuisine, but Trevor had been raving about this place for a few weeks after having a work dinner there back in October. One side of the restaurant boasts a huge, colourful mural and the bar side features a gorgeous floor-to-nearly-ceiling shelf full of fun artifacts and copious bottles of alcohol. As you can tell from the photo, I got the seat that faced the bar. What you can't tell from this photo is that my seat was actually a very long bench that stretched alongside the mural and was full of bright throw pillows to sit on.
Despite the slow service (we caught the tail-end of brunch), we both ordered the Baja fish tacos and an appetizer of guacamole, the latter of which is so fresh that they make it in front of you. The tacos were fantastic and the fish was crispy without being heavy. We left the restaurant full, but not too full as we had the rest of the market to enjoy.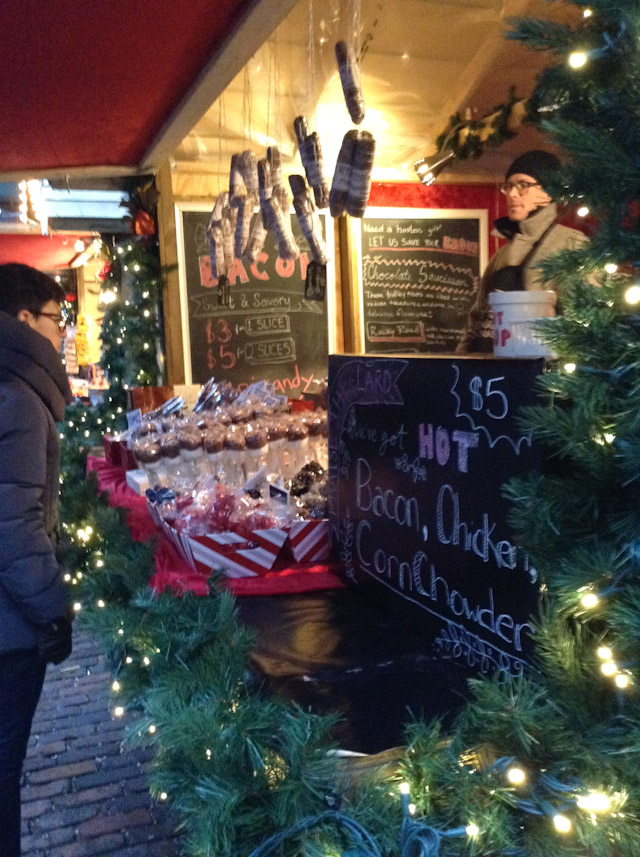 Although there are many different things to see and do at markets, my favourite thing is always the food. I have two very clear memories of visiting the Christmas Market in 2011. One was that when we attended in mid-December, so it was cold (the damp cold that Toronto is famous for) and Trevor thought it was would be fun to ride the ferris wheel so we could see the Toronto skyline at night. The other memory is that once we managed to thaw out after our freezing ferris wheel experience, I ate a grilled cheese sandwich that tasted so fantastic, I'm yet to come across it's magic again. This sandwich was seriously a work of art. I'm not sure if it was the 3 different kinds of cheeses, the soft and crusty french bread, the $7 price tag or the fact that it was piping hot and wonderful against my cold face. There are numerous grilled cheese sandwich shops in Toronto, but I'm still yet to experience the same joy I had with this one.
Since we already had lunch at the restaurant, we skipped most of the big food vendors at the Market and I didn't have a change to re-live my grilled cheese experience again. Trevor did try the gimmicky chocolate-dipped bacon on a stick for $3 and I enjoyed a small bowl of Chocolate Mini Wheats cereal with warm chocolate milk (free at the blue Mini Wheats truck). Once the temperature began to drop, I hopped into Soma for a cup of their famous spicy Mayan hot chocolate. This was my first time at this Soma location as I tend to frequent the one on King Street which is near Trevor's office. Due to the Market, this location was packed with holiday shoppers so I ended up just getting my hot chocolate. I'll probably end up purchasing some small Christmas gifts at their King Street location later on in the month.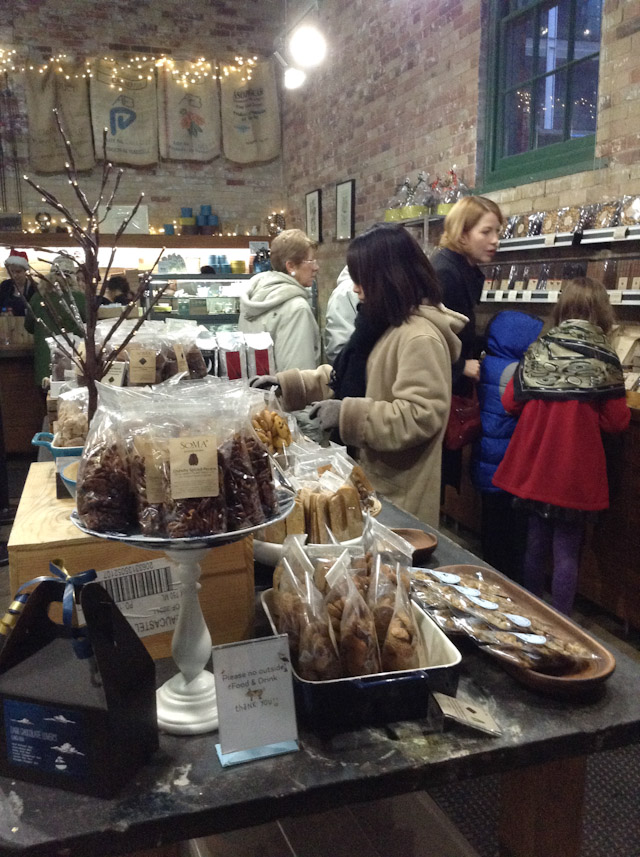 Besides great food, the Christmas Market also features vendors selling unique little stocking stuffer gifts, merry-go-round and ferris wheel rides, a sing-along mainstage with ongoing performances and, for the kids, a Santa photo station. For the older crowd, there are a couple beer gardens with a heated outside patio that feature authentic holiday drinks such as mulled wine, European Christmas cocktails, and a variety of beer. If you live near the area, you can even pick out your own Christmas tree. There is no shortage of things to do and it's worth making the trip for the day, especially if you're like us and not from the area. Our Sunday visit was a nice way to kick off the month of December.
Toronto Christmas Market Hours:
Friday, November 29th to Sunday, December 15th
Monday to Friday – Noon to 9pm
Saturday and Sunday – 10am to 9pm
For transportation information and events schedule, please visit the Toronto Christmas Mart website.