Spicy Festive Gingerbread Cookies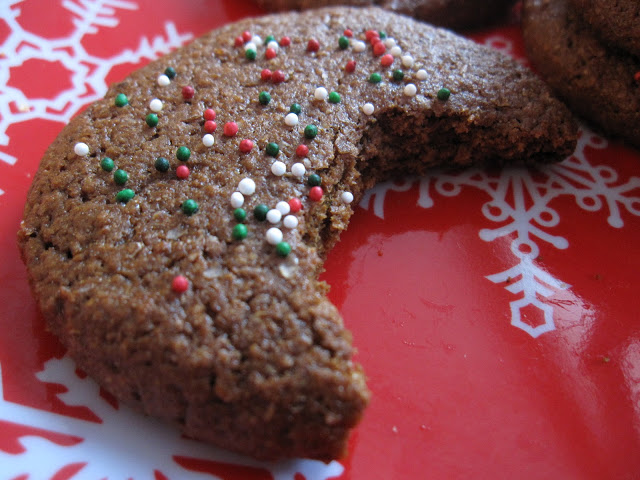 I love making simple recipes during the busy holiday season. Don't get me wrong, I would sometimes love to spend all my free time baking and decorating my Christmas treats, but there comes a point in the 3rd hour of piping icing onto sugar cookies, which is when you realize you can't see straight and your piping hand has a killer cramp in it.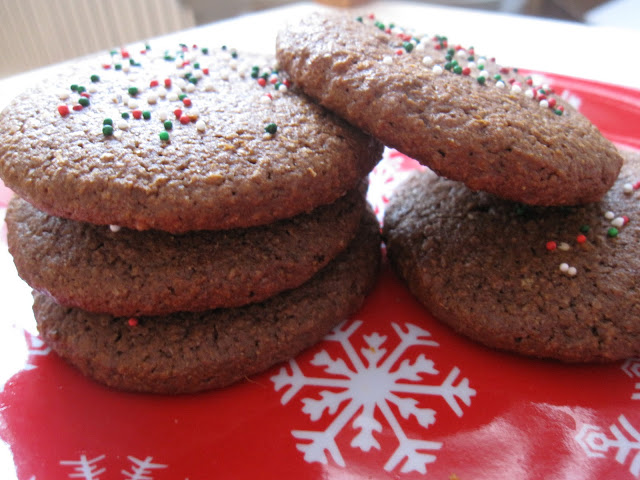 This especially rings true in the holidays when you want to bring something delicious with a wow-factor, yet you also want to hang out with your friends and family and not think about the millions of dishes you abandoned in order to spend time with them.
These cookies are just that easy. Soft, chewy with a combination punch of cinnamon, nutmeg, ginger and cloves. They pair up perfectly with a spiced chai latte (my drink of choice) or a steaming hot cup of espresso (Trevor's favourite) and the best part is that days later, they are still as soft and moist as though they were just cooked that day. We had some left over almost week afterward and I had to stop myself from prying one or two out while making supper.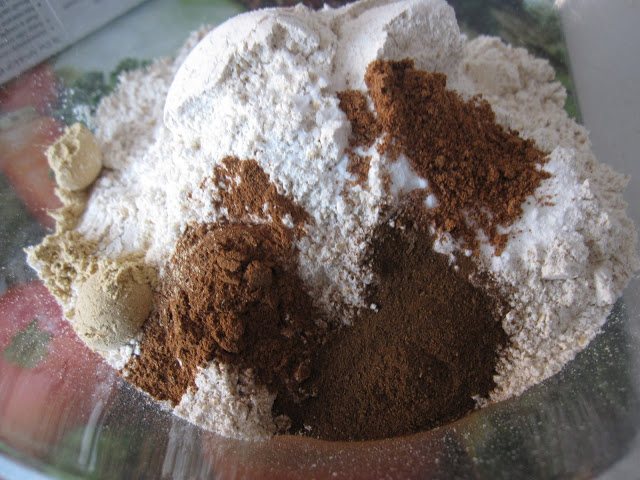 I just loved the look of the different browns of all the spices against the pale backdrop of the whole wheat pastry flour.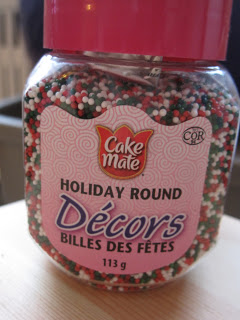 I used CakeMates Holiday Round sprinkles, which I loved because of the combination of red, green and white. Growing up, I always remembered we had the same red sprinkles and green sprinkles in separate containers in the baking drawer. Those containers lasted forever and every year our cookies would look the same. Hopefully I'll be able to think up some other uses for this outside of the Christmas season!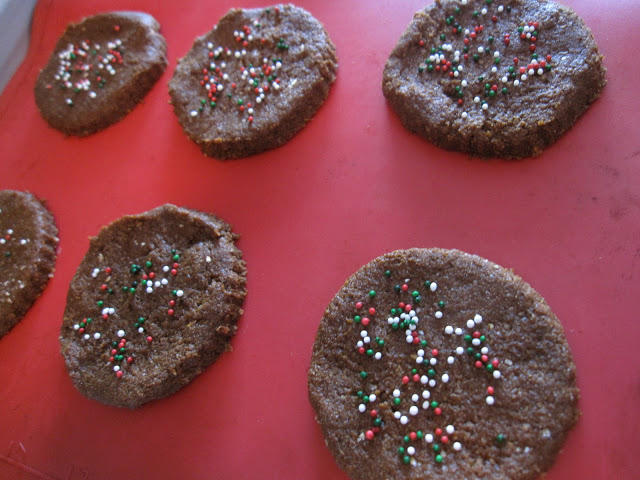 As you can tell from the ridges on some of the unbaked cookies, I attempted to use a cookie cutter to create a more even circle. This didn't work too well as even though the dough was chilled for an hour, it was still too soft and sticky to handle being repeatedly rolled and cut like sugar cookies. I didn't want to risk losing the soft texture by adding more flour to the recipe, so I just made do with rolling them into balls and flattening them that way.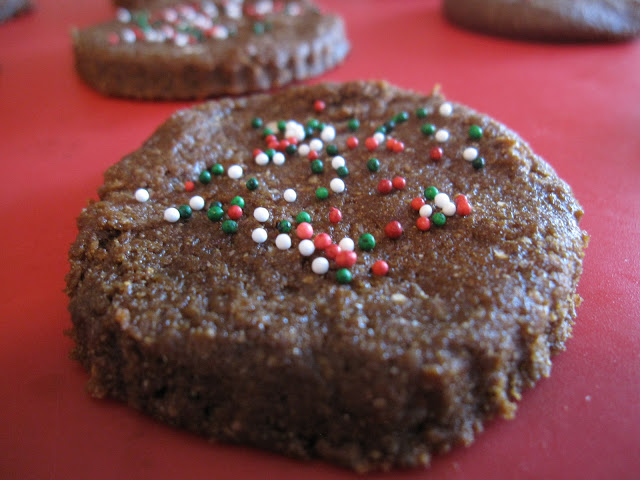 The sprinkles were definitely the "icing on the cake" as they say! 🙂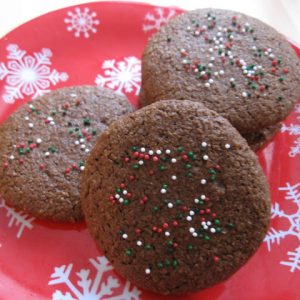 Spicy Festive Gingerbread Cookies
Ingredients:
1/2 cup butter/margarine, room temperature
1/4 cup white sugar
1/4 cup brown sugar
1/2 cup molasses
1 egg
2 1/4 cups flour
1/4 tsp salt
1/2 tsp baking powder
1/2 tsp baking soda
1/2 tsp ground cinnamon
1/2 tsp ground nutmeg
1 tsp ground cloves
1 tsp ginger
Directions:
In a large mixing bowl, cream together butter/margarine, brown sugar and white sugar. Add molasses and egg and mix well.
In a separate bowl, whisk together flour, salt, baking powder, baking soda, and spices (cinnamon, nutmeg, cloves and ginger).
Gradually add the dry ingredients to the wet until well incorporated. Cover the bowl with plastic wrap and stick in the fridge for 1 hour until the dough has firmed.
Preheat the oven to 350*F and roll the chilled dough into round balls and place them on a baking sheet lined with a baking mat or parchment paper. Gently press down on the ball with your fingertips or with the bottom end of a coffee mug.
Sprinkle with your choice of coloured sprinkles and bake for 10 minutes until the cookies have puffed up, but are slightly firm to the touch.
Let them cool on the baking sheet for a few minutes before transferring to a wire rack to cool completely.
Be very careful with the cookies while they are still warm as the bottoms are very fragile and will crumble easily.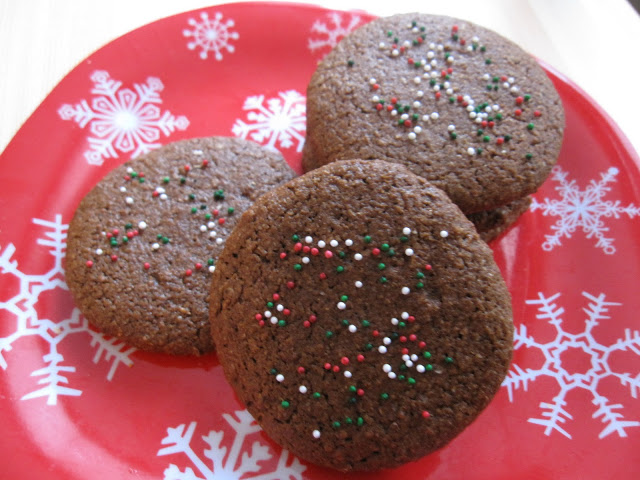 We're off to spend Christmas with my parents up in Northern Ontario, so I'll check back with everyone in the New Year. Happy holidays to all and the best of the new year!
Also a quick note, January 2012 will be my first year "blogoversary." I started this baking blog as a New Year's Resolution for 2011 and I can't believe how quickly the time has flown. Counting this, I've posted 38 different recipes and 64 posts in total. I've been able to discover other awesome Canadian bakers, try different flavours, buy new gadgets, take new classes and I've learned to bake way out of my comfort zone.
A couple weeks ago, I tackled my craziest baking fear. I learned how to make…..spanakopita! This will be my first post of 2012 and I'll let you know how it turned out. It was a big ordeal for me and I had to face my fear of phyllo pastry…..but more about that in January. 🙂
Also, if you're dying to read my first post, it was about making cake pops with my family over last Christmas.
Happy holidays everyone!