Matcha Chocolate Chip Cookies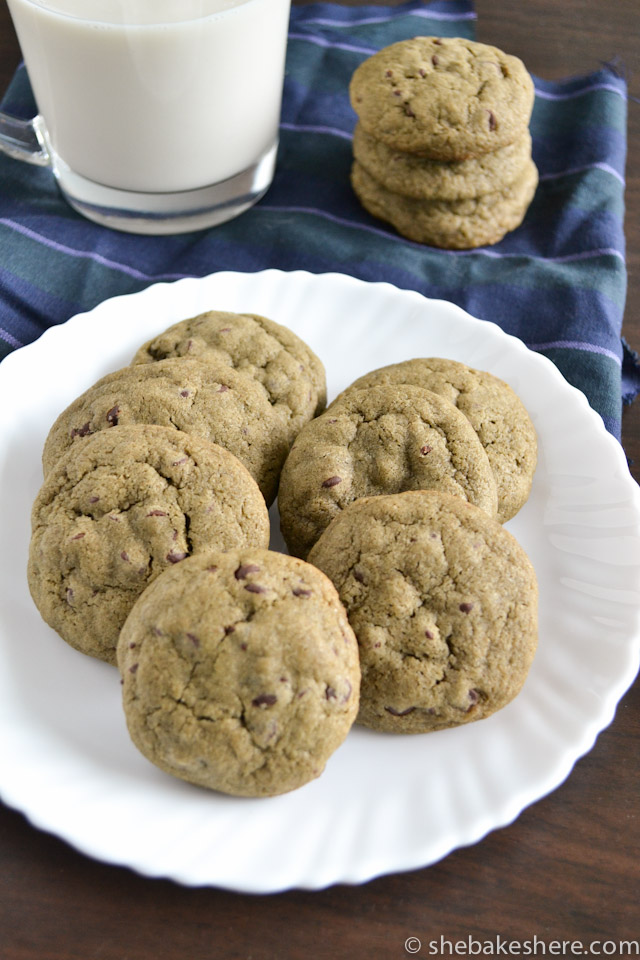 A couple days ago my office held a charity bake sale. I love bake sales because it gives me a chance to go crazy and bake something fun while at the same time give it all away. Plus, for very obvious reasons they are one of my favourite work events. It brings everyone in the building together and it creates a sense of community while raising money for a great cause.
However, I've been known to get a little carried away when baking for others, so in order to have fun and maintain my sanity, there are a few things I have to keep in mind when baking something for work:
All baked goods must be portable and be able to survive my one-way commute of 20 minutes of walking and 5 stops on the Toronto subway.
The baking time has to fit within my schedule with minimal stress. (aka no late nights or trying crazy new recipes)
Recently my brother gave me a bag of matcha powder and at one time, I had big, crazy cupcake-laced plans for this bake sale. But once I remembered that it's the middle of summer and that my piping bags are currently packed away in our storage locker, I had to re-think my idea. Besides raising money for a great cause, bake sales are meant to be fun and no one likes a grumpy, sleep-deprived co-worker dumping their half-melted baking on the sale table and then slinking to the nearest Starbucks for a pick-me-up.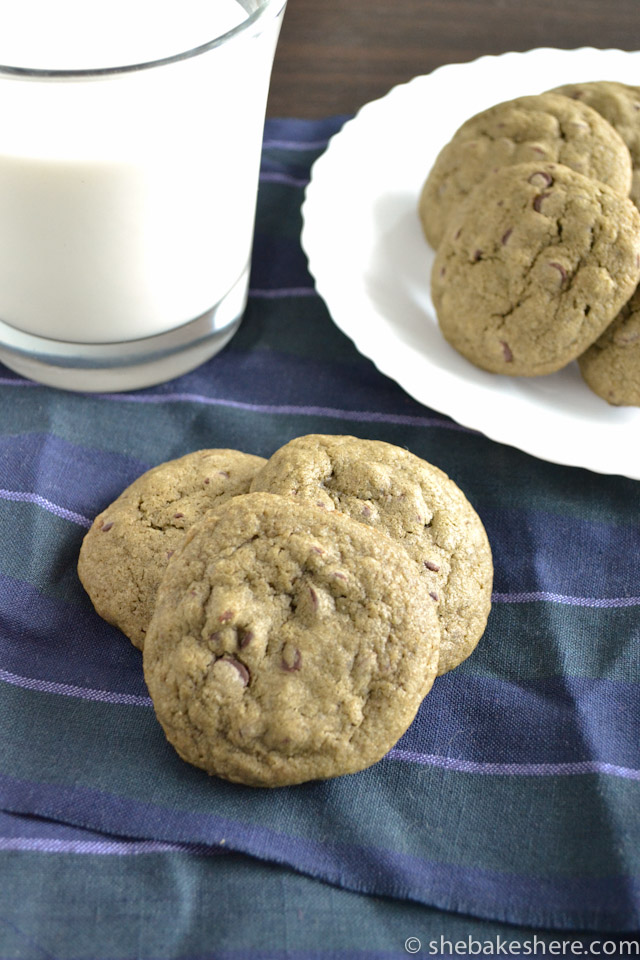 So after I scrapped the cupcake idea, I went for the next best thing – cookies! I knew no one could resist chocolate chip cookies and the matcha powder ended up being a fun conversation piece, especially for those who were not familiar with the ingredient.
Trevor and I sampled a few cookies beforehand (quality control) and we realized that the matcha flavour became more pronounced once the cookies had cooled and rested overnight. This resulted in a less sweet, more "grown-up" flavour that everyone went crazy for at the bake sale. I had a few recipe requests around my office and now I'm very pleased to finally share it here.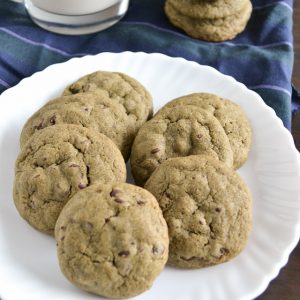 Matcha Chocolate Chip Cookies
Ingredients:
1 cup butter/margarine, room temperature
1 cup granulated sugar
1/2 cup brown sugar
2 eggs
1 1/2 tsp vanilla
2 1/4 cups all-purpose flour
1 tsp baking soda
1/4 tsp sea salt
3 tbsp matcha powder
1 1/2 cups mini chocolate chips
Directions:
Preheat oven to 350*F. Line your baking sheets with parchment paper or silicone baking liners.
Using a standup mixer or handheld beaters, cream together butter/margarine and sugars. Add eggs and vanilla and beat until thoroughly mixed.
In a separate bowl, whisk together flour, baking soda, sea salt, matcha powder and mini chocolate chips. Using a wooden spoon, gently fold the flour mixture into the wet mixture and stir until combined.
Shape cookie dough into round balls (about 2 tbsp in size) and place on prepared baking sheets.
Bake for 9-11 minutes until the cookies are set and slightly brown at the bottom. Let cookies rest on the baking sheet for a few minutes and then transfer to a wired rack to cool. Store in an air-tight container.
Lightly adapted from the "Chocolate Chip Cookies" recipe from Purity Cookbook