Salted Rosemary Dinner Buns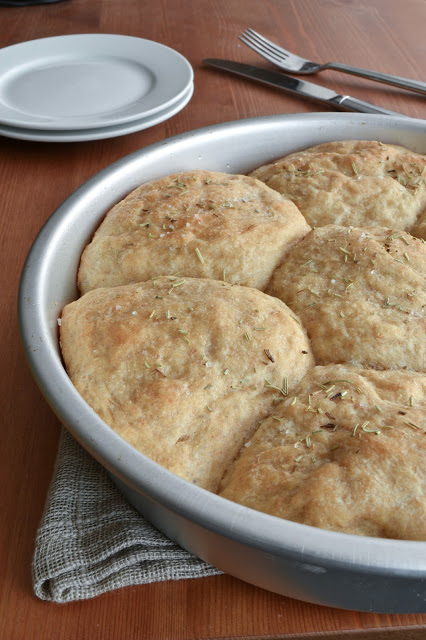 After weeks of off and on hot and cold weather, I believe it's finally safe to say that it is officially summer in Toronto. There have been a few days of scorching temperatures and some heat advisory warnings that make me grateful to know that I get to spend the majority of my days in my air-conditioned office building. Our apartment doesn't have such luxuries, but we did recently purchase a fancy stand-up fan that has been making the living room bearable.
With the return of summer, this also means that the kitchen oven will be off for the time being. For suppers, we've been relying a bit more on our slow cooker and have really taken to slow-cooked chicken. On one particular day, the chicken smelled so fantastic that I broke my oven-off rule and made these savoury salted rosemary buns. I'm such a rebel.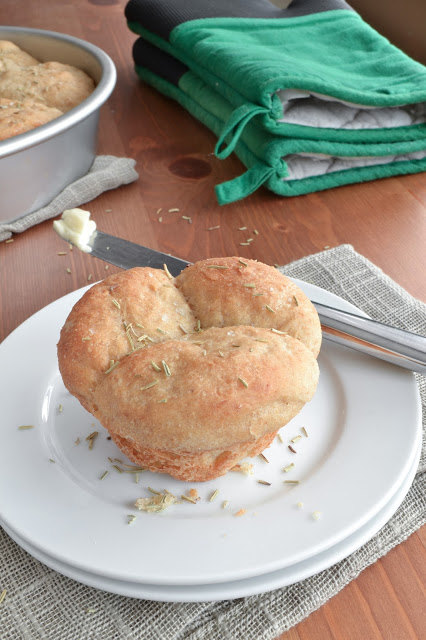 The dough recipe I used is my Grandma's Prospector Buns, which can make anything from sweet cinnamon buns to savoury dinner rolls. The last time I enjoyed these was almost a year ago when my Mom, Grandma and I had a spontaneous midnight baking session at my Grandma's house. We made cinnamon buns and then enjoyed looking through old family wedding albums and passed around ideas for our wedding. This is a fun memory to look back on because this time last year, Trevor and I had yet to set a wedding date and now we're a little over a month before the big day.
Rosemary and sea salt are one of my favourite baking combination. Originally I was going to attempt to make a salted rosemary shortbread recipe, but this idea was scratched once I realized that we were out of butter. Besides, I don't think that shortbread pairs with slow-cooked chicken as nicely as soft and fluffy dinner buns.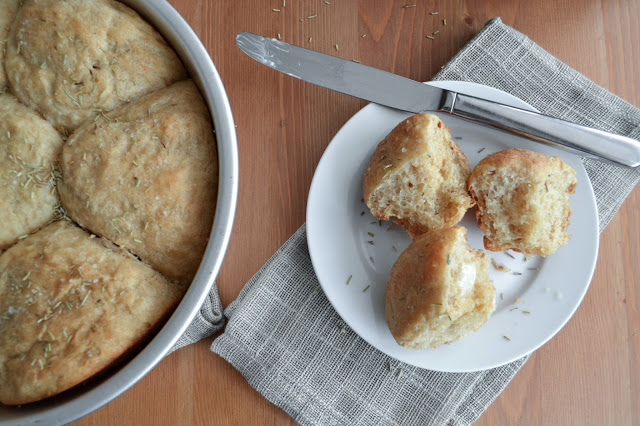 This recipe makes a lot of dough, so I ended up splitting it and using half for regular buns and half for clover-leaf buns. Clover-leaf buns were a childhood staple in my house and I always felt so giddy when I pulled the three sections apart and buttered each individual piece. Due to my spontaneous baking (as you can see it runs in the family), I did not have fresh rosemary on hand and opted for the small container I keep in my cupboard for such emergencies. However, I always recommend using fresh herbs if possible for the best enhanced flavouring.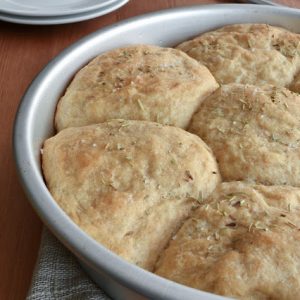 Salted Rosemary Dinner Buns
Ingredients:
Melted butter/margarine
Rosemary
Coarse sea salt
Directions:
Follow the directions and recipe for the Prospector Buns. Once the dough has risen, punch it down and knead lightly on a floured surface.
If making clover-leaf buns, grease a muffin tin and roll some of the dough into 36 pieces (you will plenty of dough left over). Place 3 pieces into each muffin cup.
If making regular buns, lightly grease a round 8″ pan and roll some of the dough into 8 pieces. Place the dough in the pan, leaving plenty of room between each piece.
Cover with a tea towel and let rise for another hour.
Preheat your oven to 350*F. Lightly brush the buns with melted butter/margarine and sprinkle with chopped rosemary and sea salt. Bake for 12-15 minutes until the buns are a golden brown. Sprinkle additional rosemary and sea salt if you choose.