Cranberry Oatmeal Cookie Cereal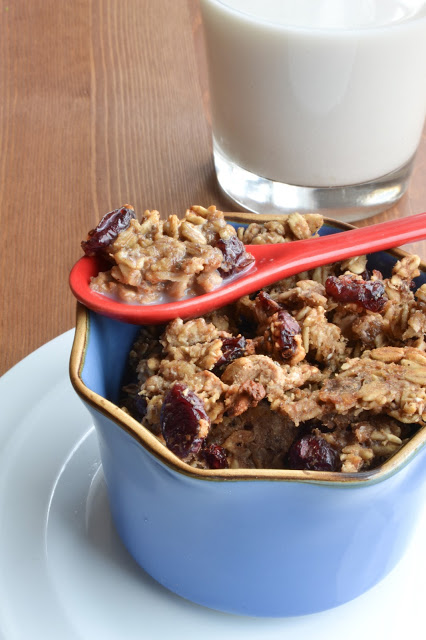 I've been toying with the idea of making my own cereal for a couple weeks now. The amount of boxed cereal we go through is insane and as much as I want to believe it, the cereal we eat isn't exactly considered healthy. We may not be stuffing our faces with Corn Pops or Lucky Charms, but most cereals on the market that are marketed as healthy are also loaded with less "whole grains" and more sugar and high fructose corn syrup than many people realize. HFCS is pretty must one of the worst things you can put in your body (thanks Jillian Michaels!). I stopped baking with corn syrup a few years ago and I even remember throwing out the giant bottle I had in my cupboard, which I probably only had so I could make puff wheat squares.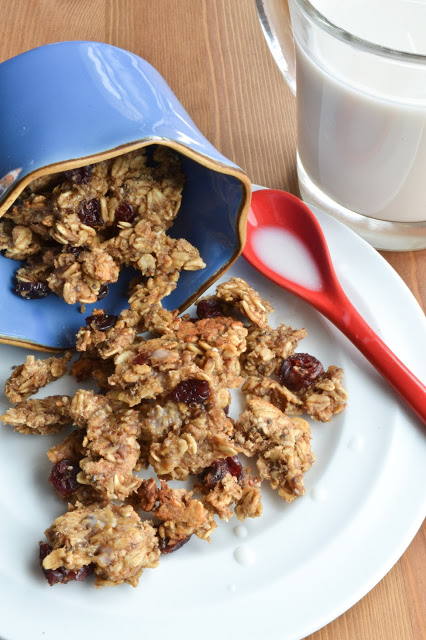 Making my own cereal proved to be challenging at first. The biggest hurdle was trying to make something that would hold together in milk. It also had to be made of minimal, simple ingredients and could be thrown together quickly. Lastly, I wanted the cereal to be delicious and appealing. As healthy as it would be, I was not interested in making or eating a bran or wheat germ based cereal.
This recipe is one that I've been enjoying for the last few days with a splash of almond milk. I wanted a oat cereal that was softer than granola, chewy, sweet, but still nutritious. The end result is soft, crumbly, very similar to an oatmeal cookie, but can still hold together in a bowl of milk. Packed full of protein from almond nut butter and chia seeds, sweetened with fruit and maple syrup, this recipe could easily replace my collection of breakfast cereals.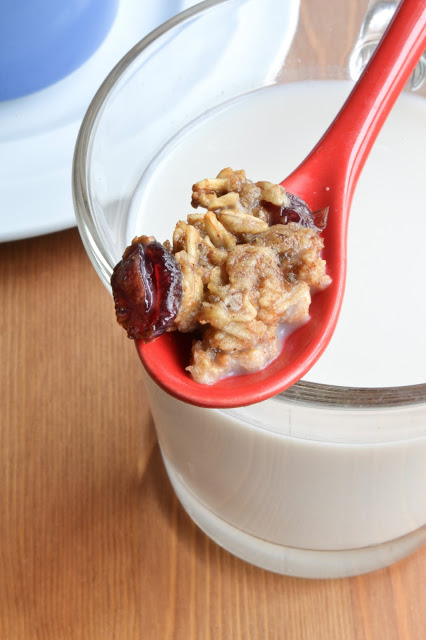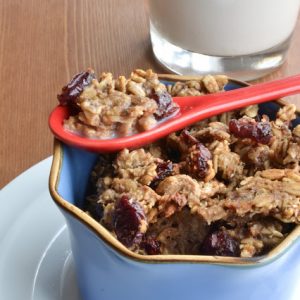 Cranberry Oatmeal Cookie Cereal
Ingredients:
1 cup rolled oats
1/4 cup almond butter
2 tbsp maple syrup
1 ripe banana, mashed
1/2 tsp cinnamon
1/4 tsp nutmeg
1/4 cup dried cranberries
1 tsp chia seeds
Directions:
In a large bowl,  combine all the above ingredients. Let sit for about 10 minutes to let the oats soak up the moisture. Alternatively, you can also make this the night before and let the mixture sit overnight in the fridge. I tried both methods and they worked just fine.
Preheat oven to 300*F.
Line a baking sheet with parchment paper or non-stick baking liner.
Spread the mixture thinly on the baking sheet and flatten slightly with your hands or a wooden spoon. Bake for 12-14 minutes. It will look like very flat oatmeal pancake and smell slightly of banana bread.
Remove promptly from the oven and break into small bite-sized pieces with a spoon. Place the baking sheet back into the oven and bake for an additional 5 minutes, until the pieces are crisp and slightly browned around the edges.
Let cool for a few minutes on the baking sheet. This mixture is delicious on its own, or can be eaten with your choice of milk and fruit toppings.
Store in an airtight container.