White Chocolate Cranberry Cookies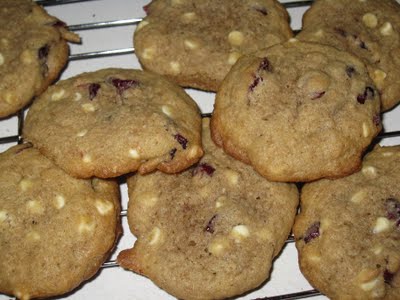 My brother Nathan is back at university and recently celebrated his birthday last month, so I bought some groceries (couple student food essential items) and made him some cookies to take back to his dorm room. I was always jealous of the other kids in my residence who got food from their families, so I thought this would be a nice treat.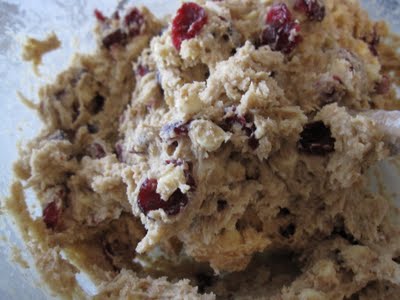 The recipe is a slight variation of my white chocolate macadamia nut cookies, only I omitted the nuts and used cranberries. Okay, I'll cave and admit that I cheated and used Craisins instead of fresh. I'm not sure how fresh cranberries will hold up, but you are welcome to try it out yourself. I like to use fresh cranberries in scones and they tend to burst from the heat, so be warned that they may act in a similar matter!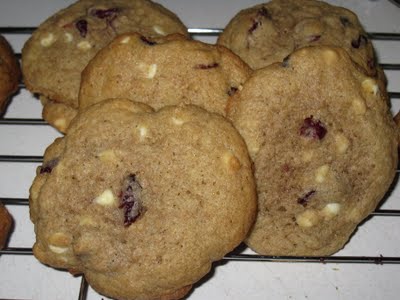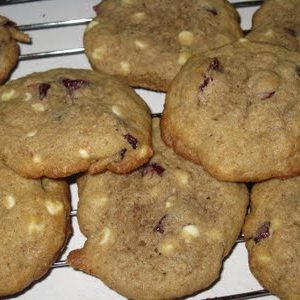 White Chocolate Cranberry Cookies
Ingredients:
1 cup soften butter/margarine
3/4 cup white sugar
3/4 cup brown sugar, firmly packed
2 eggs
2 tsp vanilla extract
2 cups flour
1 tsp baking soda
1/2 tsp salt
1 1/2 cups white chocolate, chopped (or white chocolate chips)
3/4 cup Craisins, or other dried cranberry fruit
Directions:
Preheat the oven to 350*F.
Sift together flour and baking soda and set aside.
Combine butter/margarine, brown and white sugar and in a separate bowl and mix until well blended. Add eggs and vanilla until well blended.
Slowly add flour mixture and beat on low speed until just incorporated. Hand mix white chocolate chips and Craisins/dried cranberries into dough.
Place heaping tablespoons of dough on greased cookie sheets and bake until tops are lightly golden, about 10-12 minutes.
Let cookies cool for 5 minutes on cookie sheet and transfer to wire racks to cool completely.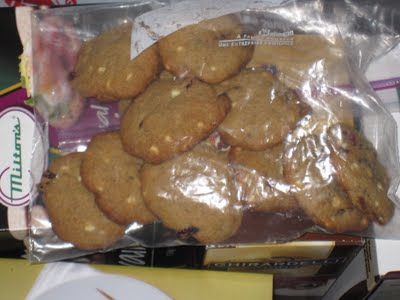 Enjoy! (Nathan sure did!)