Easy Strawberry Yogurt Granola Popsicles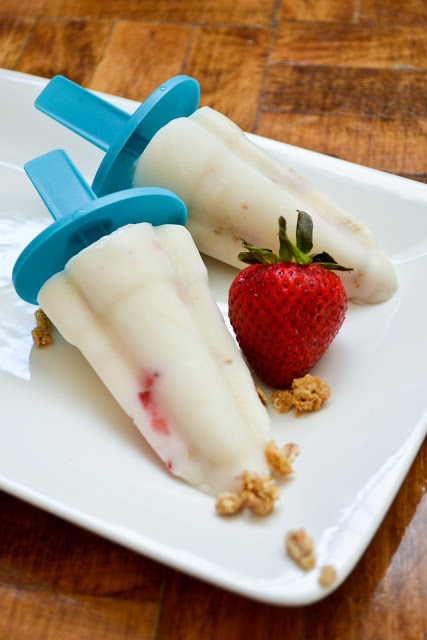 I swear, this summer heat is almost worth it because I could eat these popsicles all day. In fact, I've been keeping a measuring cup full of this yogurt mixture in the fridge and every time another popsicle is eaten, I quickly fill up the popsicle mold and stick the whole thing in the freezer again.
Yogurt popsicle for breakfast? Check. Lunch? Double check. In fact, I should have bought a couple more popsicle molds. At the rate I'm eating them, they've barely have time to freeze.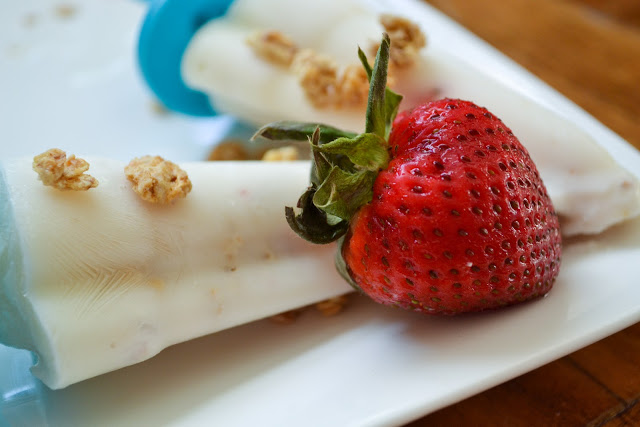 The best part is that these popsicles are easy to make and the possibilities are endless. I added strawberry chunks because that was all I had in the fridge at the time, but now I'm dreaming of bananas popsicles, pineapple popsicles and even ones with little chunks of grapes in them (I love frozen grapes.)
Until I stock up on more fruit (hooray for in season produce!), I'll keep eating these strawberry ones until my measuring glass is empty. I even bought a large box of granola as to never run out of the nutty chewiness in each yogurty bite.
What, I didn't mention that there was also granola in these popsicles? Sorry, I was still too busy dreaming of all the different fruit flavours.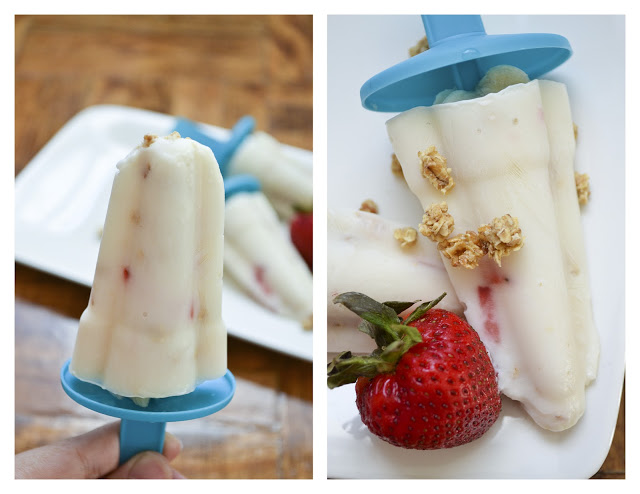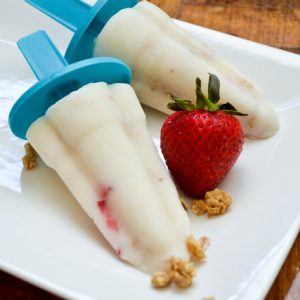 Easy Strawberry Yogurt Granola Popsicles
Ingredients:
1 container of strawberry yogurt
1/2 cup granola, chopped into smaller bites
4 large strawberries, washed and cut up
Directions:
In a large bowl, combine the container of yogurt with the strawberries and granola. Carefully spoon into popsicle molds, tapping softly on a hard surface to get rid of air bubbles.
Freeze for approximately 2 hours or overnight. Gently run the mold under hot water for a few seconds to help release the popsicles.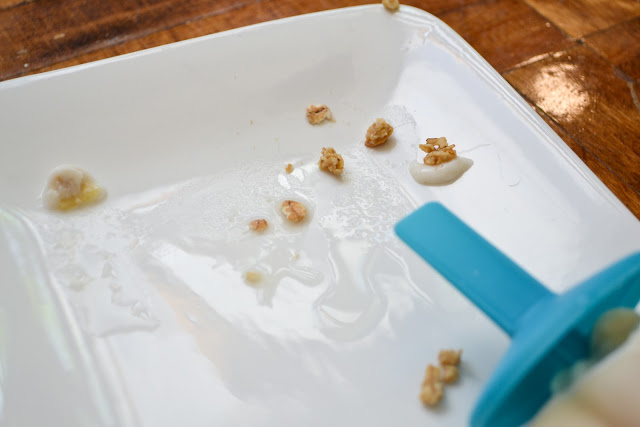 As you can tell by the above photo, taking pictures of frozen food in a humid apartment isn't always the best idea. Even with a fan on nearby, the yogurt popsicles didn't take long to melt all over the plate.
Oh well, someone hand me a spoon. 🙂