Raspberry Coconut Milk Ice Cream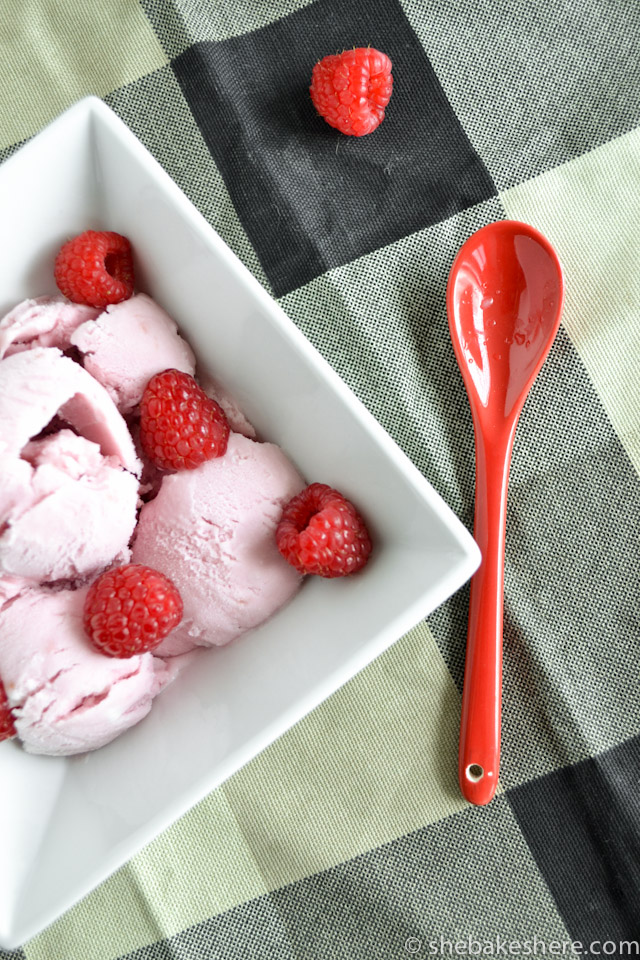 For the last week, we've been cat-sitting for one of Trevor's co-workers while she's out of the country. Besides slowly morphing into cat people, we've also become aware of all the loud and not-so-loud noises in our condo. People passing by in the hallway, the TV when we watch our favourite shows, and recently, the ice cream maker. These are not sounds we would notice on a day to day basis, but now that we have a cat around, every little creak is like space shuttle launch in the living room.
Luckily our new feline friend has been warming up to us and his new surroundings. By the time I pulled out the ice cream maker yesterday, he was already chilling with Trevor on the couch and didn't bat an eye when I turned it on. This was a far-cry from our first night together when he would run every time he saw one of us and then spent the night in the bathtub. Now when we come home from work, he'll be at the entrance to greet us and has claimed his own spot on our bed. Trevor and I will definitely be going through a transition period when he goes home to his owner in a few days.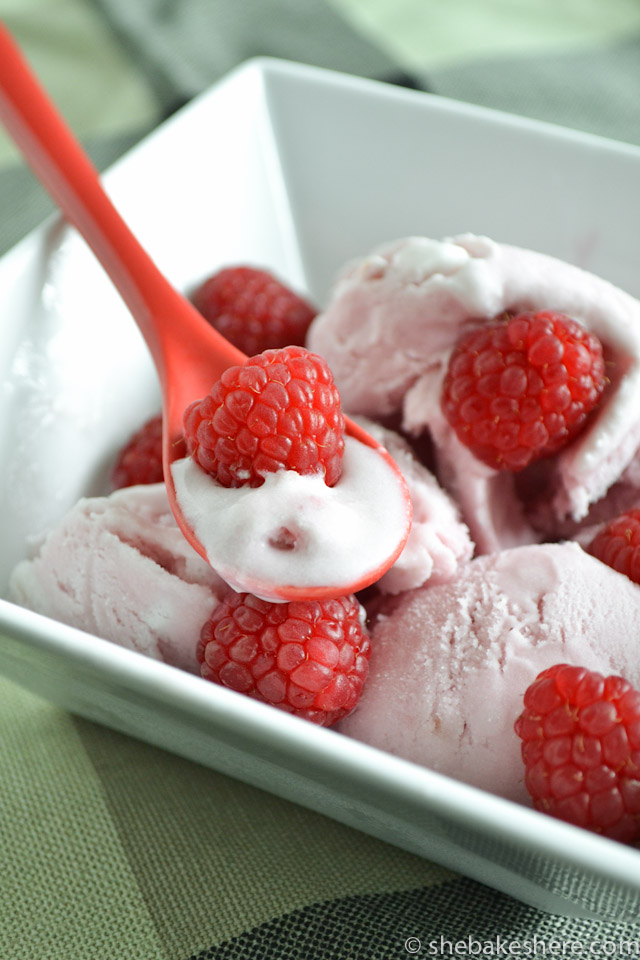 In other crazy news, I actually planned ahead and made a red-tinted recipe in the spirit of Canada Day. Well, kind of. I'll give myself half credit because even though it's pink, it's made with fresh, tart raspberries. To make the recipe more Trevor-friendly, I used a can of full-fat coconut milk and almond milk in place of the dairy. Cooking the raspberries with a bit of cane sugar and then straining the seeds out of the sauce will ensure a smoother ice cream. I added the raspberry sauce halfway through the 25-minute cycle on my machine, but next time I may add it closer to the end to try and create a swirl effect.
Happy Canada Day to my Canadian readers! I'm off to enjoy more ice cream and cat cuddles before the fireworks tonight and the festivities tomorrow.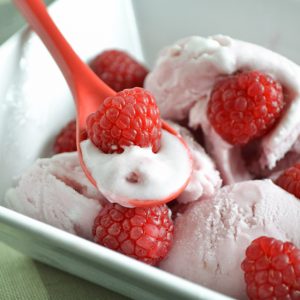 Raspberry Coconut Milk Ice Cream
Ingredients:
2 cups fresh raspberries
1/2 cup cane sugar
1 can of full-fat coconut milk (not light)
1 cup almond milk (or other non-dairy milk)
1/4 cup cane sugar
2 tbsp pure maple syrup
Pinch of sea salt
1/4 tsp guar gum
Directions:
Combine the raspberries and cane sugar in a medium saucepan over low heat. Cook for about 5 minutes until thickened and let cool. Strain the sauce in a small bowl to remove seeds and set the sauce aside to cool.
Using a stand mixer or handheld mixer, blend together coconut milk, almond milk, cane sugar, pure maple syrup, sea salt and guar gum. After 5 minutes, scrap down the sides of the bowl with a spatula and continue blending for another minute until smooth.
Follow the manufacturer's instructions on your machine and add the coconut milk mixture. Halfway through the cycle, add the now-cool raspberry sauce. Once the mixture has reached the consistency of soft-serve, turn the machine off and transfer the ice cream to an air-tight container.
Chill in the freezer for at least 2 hours prior to serving.
*Be sure to read the manufacturer's instructions for your ice cream maker, as all models are different, may have different timer-cycles and may have different parts that may need to be frozen prior to use. My Cuisinart ice cream maker comes with a freezer bowl that must be chilled for least 6 hours prior to use.