Viva Las Vegas!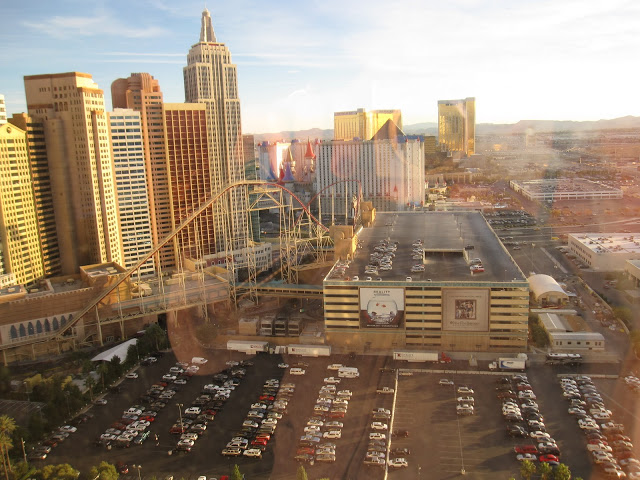 Being from Canada and when we were planning our all-girls Las Vegas vacation, it never really occurred to us how significant the week was that we would be down there. It wasn't until we were booking our shows and trip to the Grand Canyon that it suddenly dawned on us……oh no, it's Thanksgiving weekend!
This holiday didn't alter our plans too much, we just had to switch around the dates that we planned our tours, since only some were open on Thanksgiving while others weren't. Although the trip didn't seem long enough (vacations never do), we were still able to see everything we planned on doing. There was also one added bonus to being in the US during Thanksgiving and I'm not talking about having turkey and mashed potatoes options for brunch everyday, which I took advantage of.
BLACK FRIDAY!
Compared to some people though, we didn't take as much of an advantage to the great deals around us as we could have. Friday was our all-day Grand Canyon trip and since our pick-up time was 6am, we skipped waiting in the lines in favour of a good night's sleep.
We did, however, make use of the outlets that surround Las Vegas. We got a great 2-for-1 deal for the shuttle buses to the Fashion Outlets which was great because there was one store there in particular that I had my eye on.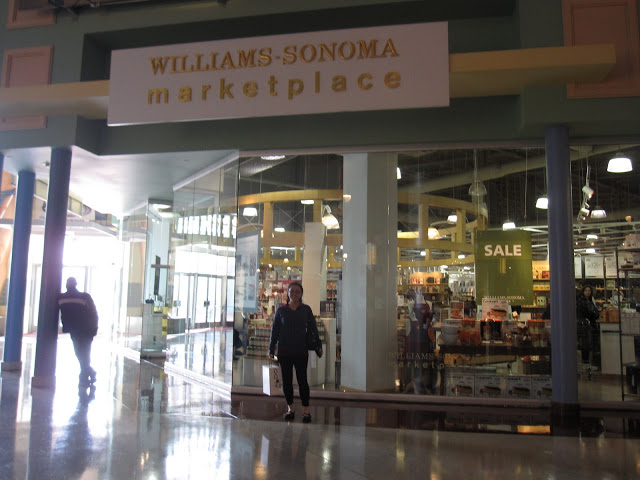 I'm going to be honest and admit that until I moved to Toronto, I had never really heard of or been inside of a William Sonoma before. The first time I had ever set foot in one was to see Bakerella during her book signing tour last year. I'll also have to admit that I was mostly Christmas shopping on this trip, had limited baggage room and the knowledge of limited at-home cupboard space, so nothing really, really caught my eye in an I-need-to-have-that kind of way. So I left with a few Christmas presents, but nothing for myself this time. That's okay though, I enjoyed the browsing/drooling more than anything else.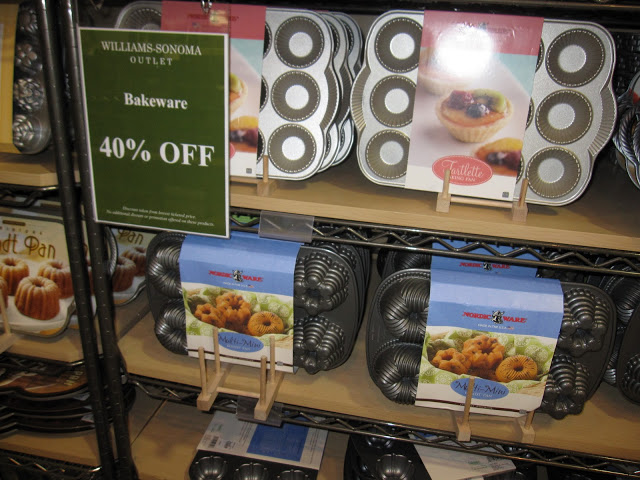 But really, who can argue with 40% off?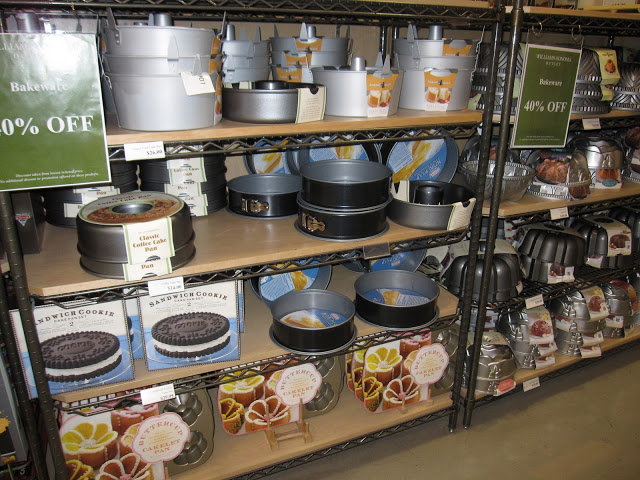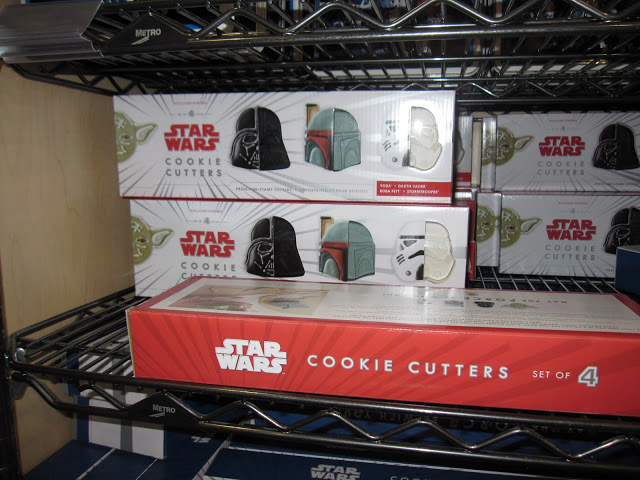 Does anyone else remember when Bakerella did a post on these Star Wars Cookie Cutters? We found them up on a high shelf for 70% off.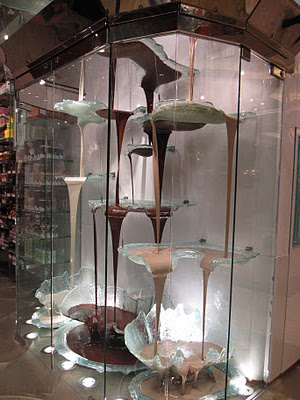 When we were all shopping'ed out, we toured around the strip and checked out the different Las Vegas hotels. I wish I could remember where we found this glorious chocolate fountain, but I can't recall if it was Bellagio or Caesar's Palace. Either way, the chocolate smelled amazing, especially if you pressed your face right up to the glass.
Which I did.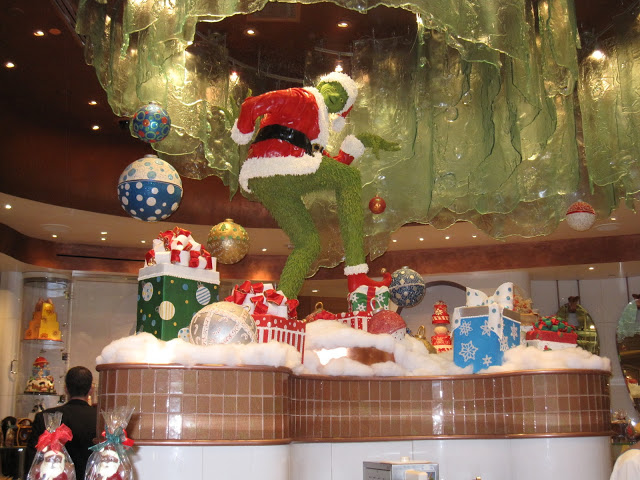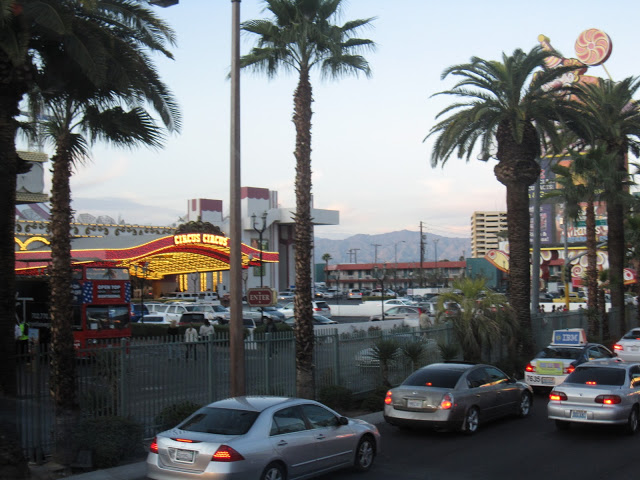 There were small reminders of Christmas everywhere, which can be hard to believe when you are in Las Vegas, surrounded by palm trees and the temperature is 25C / 68F. Every time we stepped into a store with Christmas music, I had to take a step back and remember that, despite what the weather outside said, the holidays are only a month away.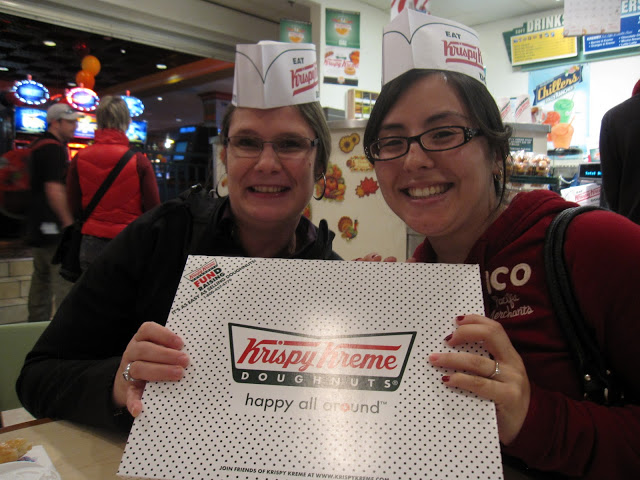 We took advantage of the variety of cuisine on the strip. Our hotel stay at Monte Carlo included one breakfast or lunch per day at their all-you-can-eat buffet and for supper we would plan our own meals. Since the buffet would be so filling, we were never really hungry until late evening and were more interested in snacking than having a full sit-down meal. My mom is a fan of Krispy Kremes, so we made sure to stop at one on Freemount Street and pick up a dozen along with some complimentary hats that my Aunt and I scored.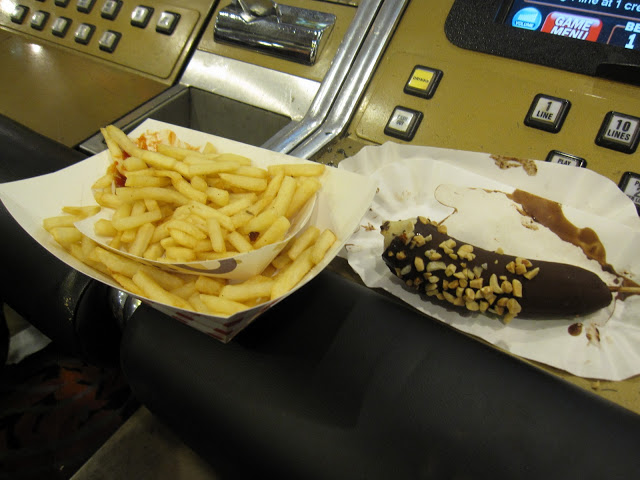 This was my favourite meal on Freemont street – White Castle fries and a chocolate covered frozen banana with nuts. I'm easy to please, especially when the meal only cost about $2.50. When you have turkey and mashed potatoes with a side of scrambled eggs, pumpkin pie and creme brulee for brunch almost every day, a light supper is usually in order. The nice thing about Vegas though is that lots of walking in involved. Even though I felt full, I knew I would walk it off throughout the day.
Now though, I'm back to reality and although I don't have the glorious buffets to look forward to, Trevor brought home a rotisserie chicken and I've been enjoying toasted chicken and avocado sandwiches.
And I have plenty of presents to wrap. 🙂