Chocolate Peanut Butter Chip Cookies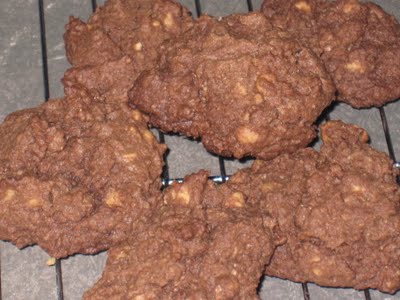 On our last trip to Bulk Barn, I was checking out the baking section. I love buying chocolate chips there because there are so many different varieties. Milk chocolate, semi-sweet, dark and bitter, white, mint, candy coated and then I found the most perfect kind – peanut butter chips!
I love peanut butter and chocolate, so when I saw them, I knew immediately that I had to make chocolate peanut butter chip cookies!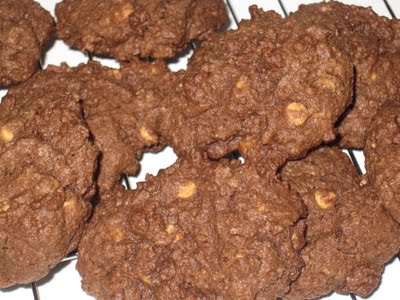 These cookies are delicious and chewy just like a brownie. They remind me of a Reeses Peanut Butter Cup candy bar. I had a couple cookies when they were warm from the oven, but I have to admit that they are much better the next day when the peanut butter chips are hard again and less "melty."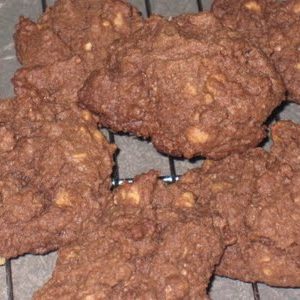 Chocolate Peanut Butter Cookies
Ingredients:
1/2 cup butter/margarine
1/2 cup sugar
1/2 cup brown sugar
2 eggs
1 tsp vanilla
2 squares unsweetened chocolate squares (2 ounces)
1 1/4 cup flour
1/2 tsp baking soda
1/4 tsp salt
3/4 cup mini peanut butter chips
Directions:
Preheat oven to 350*F.
Melt chocolate squares in a glass measuring cup in a pot of boiling water. Set aside to cool completely.
Mix butter/margarine and sugars until light and fluffy. Add eggs, vanilla and melted chocolate squares and combine thoroughly.
Whisk together flour, baking soda and salt. Add dry mixture to wet mixture and add peanut butter chips. Mix completely and drop by the tablespoon on a greased baking sheet.
Bake for 7-10 minutes or until the edges are light brown.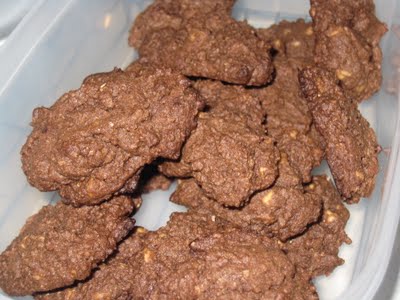 Enjoy! And have a great long weekend everyone!