Dairy Free Blueberry Oatmeal Muffins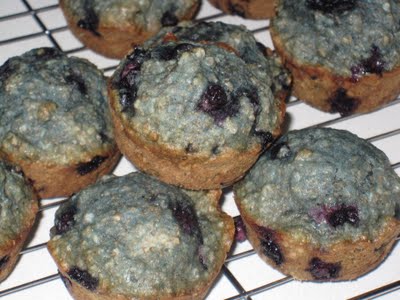 It's been really humid here the last few days, so a lot of my baking is happening at night. I think there is just something so relaxing about baking while everyone else in our building is asleep. It's almost peaceful, just me, the fan and an open window to let in some of the cool night air.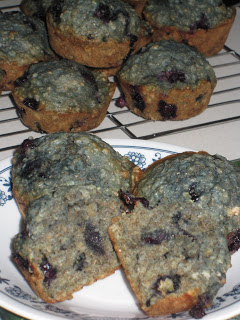 This is a wonderful recipe I discovered while searching for a dairy free blueberry muffin recipe. I'm a big fan of overnight oats for breakfast, so we always have a bag quick oats in the cupboard. This recipe is modified from a baking site called The Lonely Baker and Amber, who posted this recipe, made a few small changes from a recipe she had in a cookbook. In turn, I kept a few of the original parts of her recipe and added few changes of my own. I like to think that this is where wonderful recipes are created and passed around, all creating the same wonderful food, just with minor tweaks here and there.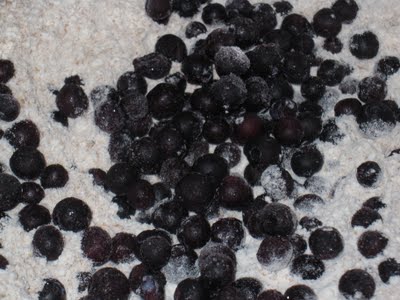 Amber suggests that if you are using frozen blueberries, to mix them in flour to prevent them from bleeding into the rest of the batter. I tried to follow this advice, but I think I may have slightly over-mixed it, as the batter still turned out blue as you can tell by the photo below.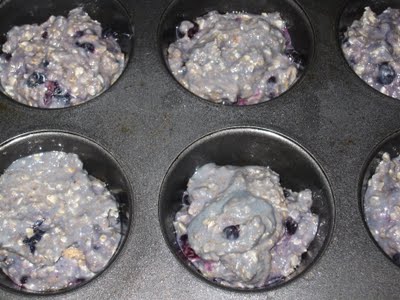 Despite not having any dairy, these muffins were still fluffy, moist and very delicious. The blue colour may be a little off-putting at first, but don't let it fool you! Make these for a healthy breakfast and you'll have people begging for this recipe. (Just be careful when adding the blueberries!)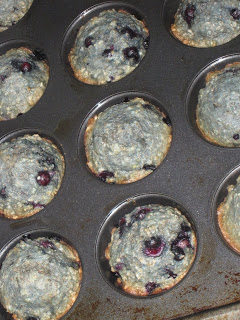 Dairy Free Blueberry Oatmeal Muffins
Ingredients:
1 1/4 cups flour
1 cup quick oats
1 tsp baking powder
1/2 tsp baking soda
1/4 tsp salt
1/2 tsp cinnamon
1/3 cup white sugar
1 egg
1/2 cup water
1/3 cup oil
1 cup fresh or frozen blueberries
Directions:
Preheat oven to 350*F.
Mix flour, baking powder, baking soda, salt and cinnamon in a bowl and set aside.
In a separate bowl, mix sugar, egg, water and oil together.
Add dry ingredients to wet ingredients and add oats. Carefully fold in blueberries.
Fill greased muffin cups 3/4 full and bake for 15 minutes until edges are brown.
Remove from oven and cool in pan for 5 minutes. Carefully remove from muffin pan and cool on wire rack.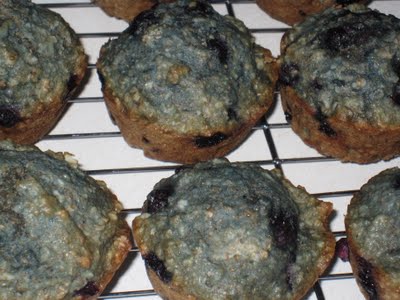 Enjoy!