Whole Wheat Banana Chocolate Chip Pancakes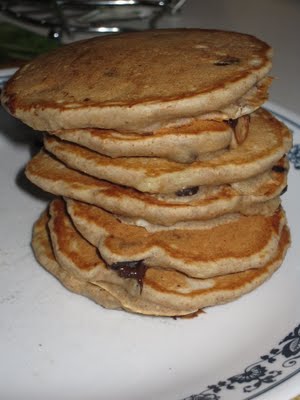 On Friday, my Dad and brother Nathan drove into the city and stayed overnight. Nathan is going back to university for his second semester and my family recently cleaned out their storage shed and dropped off some boxes of my old stuff. To say that Trevor is pleased is definitely an understatement, haha!
In the morning, I pulled out a recipe I had tried a few weeks ago. I think Trevor was sick of my usual tofu/veggie scramble at the time, so I decided to surprise him with pancakes. They didn't last very long then and they didn't last very long this time either. After commenting how good they were, Dad even wandered into the kitchen to see how I was making them.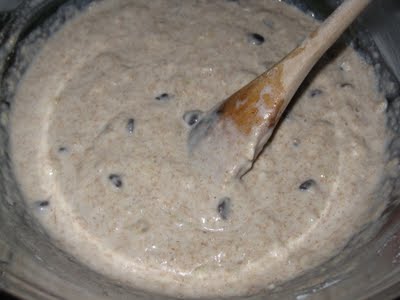 I find that this recipe is a good excuse to use up some ripe bananas taking up space in the freezer. Don't get me wrong, I love baking my usual banana chocolate chop muffins, but at the time, I wanted to try something new.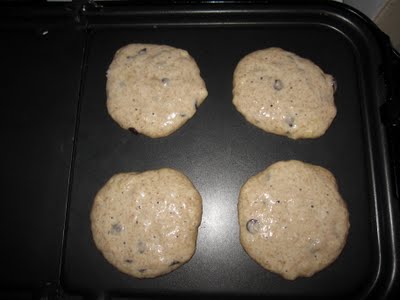 The recipe is one that I modified up a bit from Allrecipes.com. As usual, I incorporated my love of substituting whole wheat flour and I used water instead of milk for Trevor's lactose allergy. I was a little concerned that the water would dilute the flavour out of the batter, so I added a little vanilla and cinnamon and they turned out perfect. Crisp on the outside, fluffy and moist on the inside. This has definitely be added to my favourite breakfast recipes.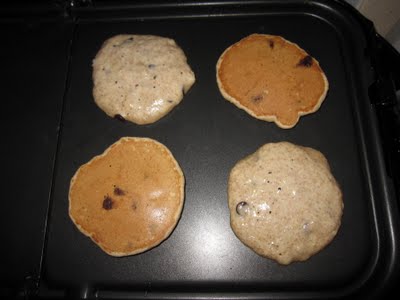 Dad isn't a big fan of chocolate chips, so I separated some of the batter in a glass measuring cup before I added the chocolate chips. If you don't like chocolate with your breakfast, you won't be missing much because these pancakes still taste great.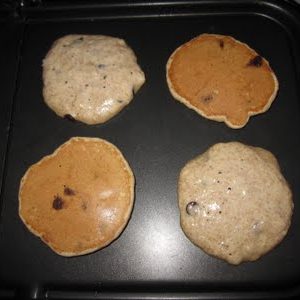 Whole Wheat Banana Chocolate Chip Pancakes
Ingredients:
1 cup whole wheat flour
1 tbsp white sugar
2 tsp baking powder
1/2 tsp cinnamon
1/4 tsp salt
1 egg, beaten
1 cup water
2 tbsp  oil
2 ripe bananas, mashed
1/2 tsp vanilla
1/2 cup chocolate chips
Directions:
Combine flour, sugar, baking powder, cinnamon and salt in a small bowl to set aside.
Beat egg and add water, mashed bananas, oil and vanilla in another bowl. Combine both wet and dry mixtures together and add chocolate chips.
Preheat griddle or frying pan and add batter in 1/4 cup amounts. Flip the pancakes when bubbles form in the batter and the edges are tough.
Serve with maple syrup or your choice of topping.
Enjoy!