Vegan Strawberry Pecan Pancakes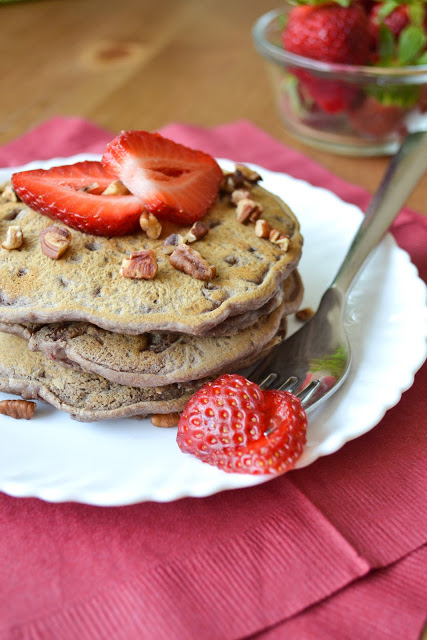 In my opinion, weekend breakfast is much better than weekday breakfast. During the week, we're often so rushed to get out the door to catch our morning commute (bus – another bus – subway) that I always find myself scarfing down a bowl of oatmeal or cold cereal with almond milk. When the weekend starts inching closer, I get excited because I start daydreaming about sunny-side-up eggs, marble rye toast slathered in butter and cheese/veggie-filled omelets.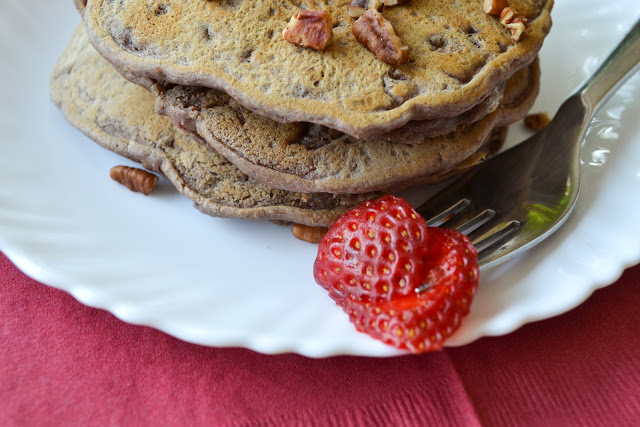 Back when we used to live in Saskatchewan, we were a big fan of going out for breakfast and we had a handful of our favourite places. Living in Toronto now is like a dream since the breakfast/brunch options are almost endless. We're yet to eat at a place more than twice.
If we don't feel like fighting the morning masses for a table, eating in our living room in front of the television and in our pjs is always a very viable option. For a quarter of a price of a restaurant, I can easily make my own eggs, toast, omelet and bottomless coffee. We may have to do our own dishes, but at least I can sleep in, stuff my tangled hair in a ponytail and put my feet up.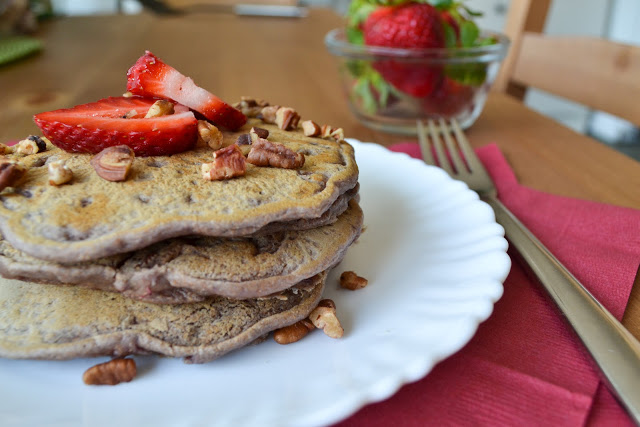 All of which I totally did when I made these. These strawberry pecan pancakes satisfied me in a way that only weekend breakfast (and sleeping in) can. Moist and sweet from the strawberries and filled to the brim with nutty and wholesome pecans. Trevor even enjoyed his helping because they were dairy-free. Plus he didn't have to tip anyone!
(And in case you were wondering, we watched The Simpsons season 7 with commentary. And my pjs are blue.)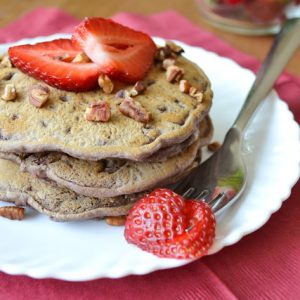 Vegan Strawberry Pecan Pancakes
Ingredients:
1 cup flour
1 tbsp white sugar (for vegans, make sure there is no bone char)
1 1/2 tbsp baking powder
1/2 tsp nutmeg
Dash of salt
1/4 cup pecans, chopped
4-5 large strawberries, washed and stems removed
2 tbsp vegetable oil
2/3 cup of water
Directions:
Preheat your pan to medium heat.
In a medium sized bowl, whisk together flour, sugar, baking powder, nutmeg, salt and pecans.
Slice the strawberries and place them in a separate bowl. Using a potato masher or a fork, mash the strawberries until the juices run, but there are still some chunks. Add oil and water.
Add the strawberry mixture to the dry floured mixture until combined. Ladle out 1/4 cup of batter onto the heated pan and flip when the edges are brown and the middle of the pancake has bubbles.