Whole Wheat Apricot Walnut Loaf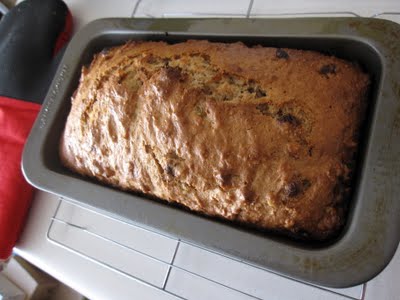 It makes me feel good when I can find not only a milk-free bread recipe, but a delicious milk-free bread recipe. I've tried a lot of recipes where the lack of milk makes the bread dry and not very pleasant tasting. I know that I could just use almond or soy milk as a substitute (and I have), but its nice once in a while to find a decent recipe that is meant to be milk free.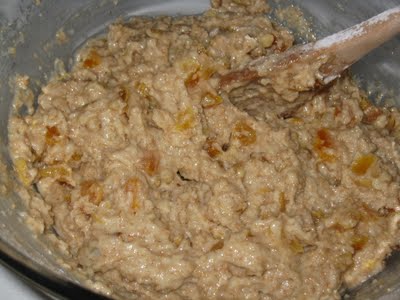 Instead of milk, this lovely recipe uses orange juice which is wonderful as I think it helps bring out the apricot flavour nicely. We rarely drink juice and don't even have a container to make it in, so when I asked Trevor to pick up some orange juice on the way home, he bought two cans of frozen juice. Hehe, luckily I had a very large glass measuring cup that was (barely) big enough to make the juice in.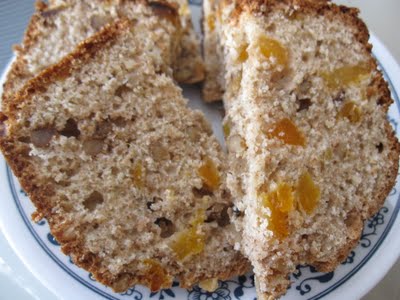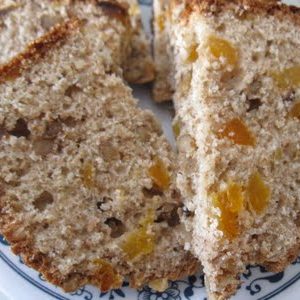 Whole Wheat Apricot Walnut Loaf
Ingredients:
3/4 cup dried apricots
3/4 cup sugar
2 tbsp sunflower oil
1 egg
1/4 cup water
1/2 cup orange juice
2 cups whole wheat flour
1 1/2 tsp baking powder
1/4 tsp baking soda
1/2 tsp salt
1/2 cup finely chopped walnuts
Directions:
Soak the dried apricots in hot water for 20 minutes. Drain and chop apricots into 1/4-inch pieces and set aside.
Preheat oven to 350*F.
Beat sugar, oil and egg together in a mixing bowl. Stir in water and orange juice.
Combine flour, baking powder, baking soda and salt in a separate bowl and combine wet and dry ingredients until thoroughly mixed. Stir in walnuts and chopped apricots.
Pour batter into a greased 9 inch loaf pan and bake for 45 to 50 minutes or until a wooden pick inserted into the center of the loaf comes out clean. Cool on a wired rack.
Enjoy!