Thanks Cupcake Blog!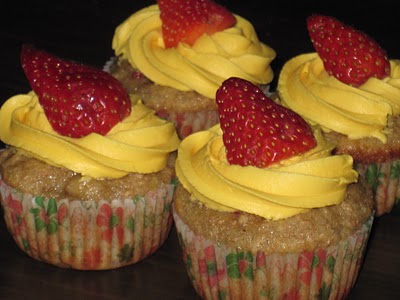 I wasn't going to post these pictures, but I just realized that a bunch of people have been dropping by my little baking site through The Cupcake Blog. I checked it out and discovered that they seemed to have liked this photo from my flickr account and were awesome enough to share it with their viewers.
So I figured why I should explain why I never posted this photo here until now…….
A couple weeks ago, I had a bunch of really ripe bananas. Usually, I make banana muffins, but I decided to try something new. I googled a recipe for banana cupcakes and thought it would be fun to try. I even had a basket of strawberries that I needed to use up and what's more perfect that the combination of bananas and strawberries, especially in a delicious cupcake?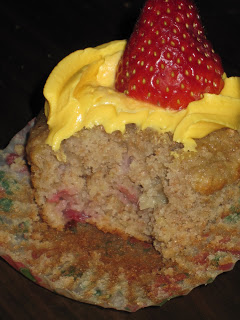 Well, they didn't turn out the way I was expecting. I'm not sure what it was, but maybe I'll always associate cooked bananas more with muffins than cupcakes. The cupcakes had more of an oily, dense texture than the fluffy, cake-like texture I was looking for. I dressed it up with icing to make it look pretty, but I was a little disappointed. There was nothing really cupcake-like about it, more like a heavy muffin with frosting.
And that is why I didn't post it. If they had turned out perfectly, it would have made a lovely posting and I would have shared the recipe with everyone. Unfortunately, I don't want people to be disappointed with recipes that I post, so I didn't bother. I liked the photo though, so I posted it to flickr and thought nothing more of it.
Until now. Thanks again Cupcake Blog!