I Heart Chocolate Chip Cookies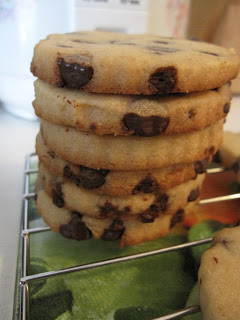 I love using cookie cutters so much so that I pretty much only make rolled sugar cookies. However, one of my childhood favourites is classic chocolate chip cookies and I was feeling a little deprived and sick of frosted sugar cookies (I'm sure this will pass). So, you wouldn't believe how excited I was when I came across Callye (aka SweetSugarBelle)'s blog post for rolled and cookie cutter friendly chocolate chip cookies. It's was best of both worlds – fulfilling my chocolate chip need and using my growing stack of cookie cutters!
I'll admit though, I was a little bit nervous. I mean, these cookies are known as drop cookies, meaning they spread and form their own shape when baked. Would the dough listen to my predetermined cookie cutter or would they get it their little minds to create their own shape? Also since there are chocolate chips wouldn't it be, oh I dunno, difficult to cut with a cookie cutter? I slowly accepted these fears as a challenge and decided to push through.
I blamed my chocolate chip cookie craving.
One thing I noticed that there is no baking soda in the recipe, so there would be minimal dough rising/forming. Still, I was a little skeptical that my cookies would be able to keep their shapes. Just because someone else was successful at it doesn't mean that I would be just as successful. The universe is mysterious and cruel that way.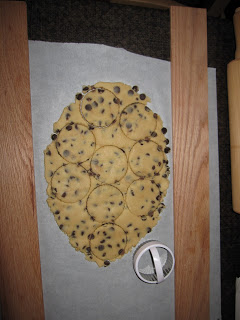 Callye makes a note that is to use a good cutter and boy she wasn't kidding! Those chocolate chips are rough to cut through. I didn't have any mini chocolate chips on hand since I just bought a huge bag of semi-sweet regulars from Costco, so something tells me that having minis makes the cutting process easier.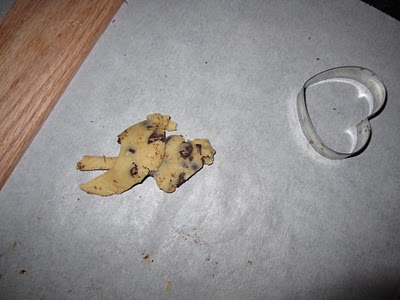 What she didn't mention was how good the cookie dough is on its own. I guess that goes without saying though, as this pile of scraps used to be bigger.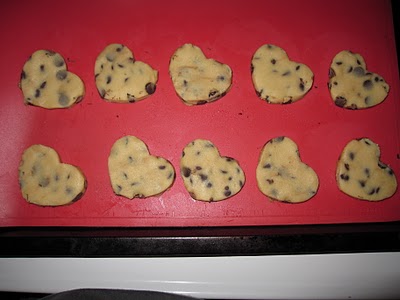 So here are the cookies before they went into the oven. You can bet I was crossing my fingers that they would keep their heart shapes.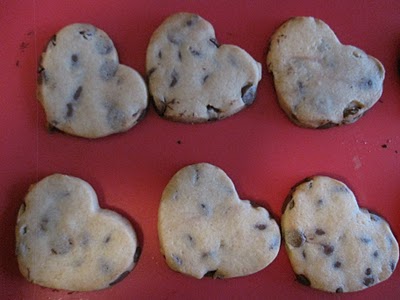 And they did! These chocolate chip cookies were moist and delicious and I highly recommend the recipe. I even substituted the butter for margarine (a frequent habit of mine) and accidentally added a full egg instead of just the required yolk (not a frequent habit – I was making supper at the same time and taking photos) and they tasted just as great with a cold glass of milk.
Happy (early) Valentine's Day.