Cinnamon Raisin Bread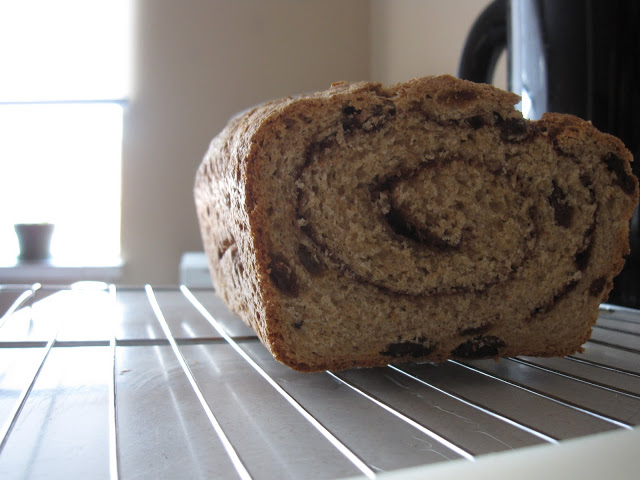 By the time you read this, I'll already be in Las Vegas, soaking up the….er….hopefully not hot weather. Before we moved to Ontario last year, Trevor and I took a trip down to Vegas in August. Yes, August. It was cheap for a reason and we almost didn't survive the humidity. There were guys stationed around various parts of the strip with coolers filled with ice and water bottles for $1. I think it's safe to say that they made a small fortune off of us. Even though we bought a case of water to stash in our hotel room and carried around the bottles when we walked, it would never last long between the two of us.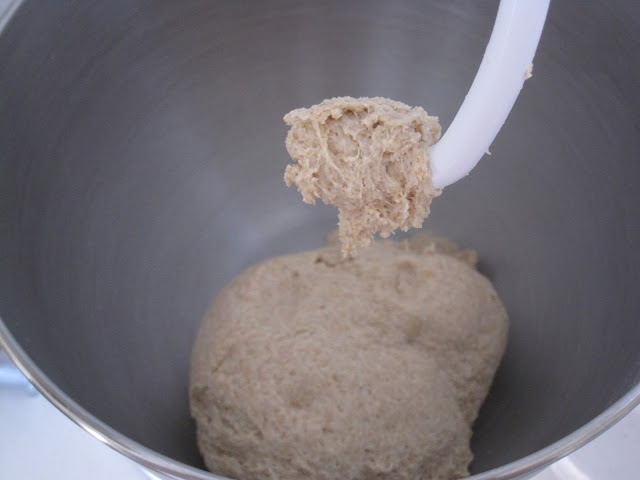 This time around though, it should be better. One, its late November and it won't be a million degrees outside and two, this time it's a girl's trip that I'm taking with my Mom, Grandma and Auntie Heather. Trevor wasn't into doing much shopping or seeing any Cirque du Soleil shows when we were there, so we've made those our number one priorities.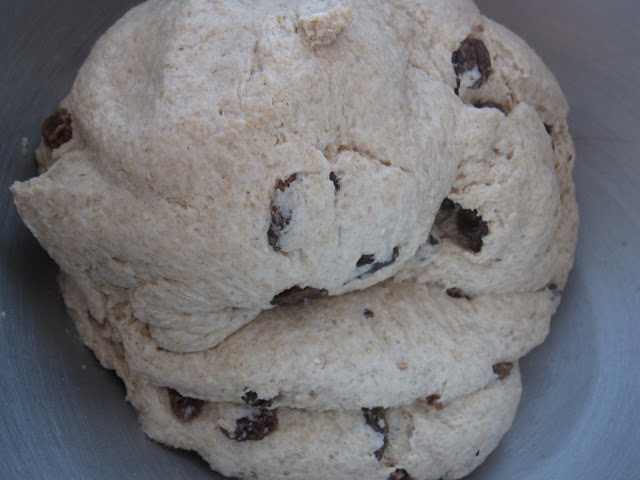 While I'm off watching colourful acrobats and spending all my money, Trevor will be feeding himself for the week. He's already mentioned the words "Costco chicken" a few times when I bring this matter up, so I guess I'll be seeing leftover rotisserie chicken packages in my fridge upon my triumphant return.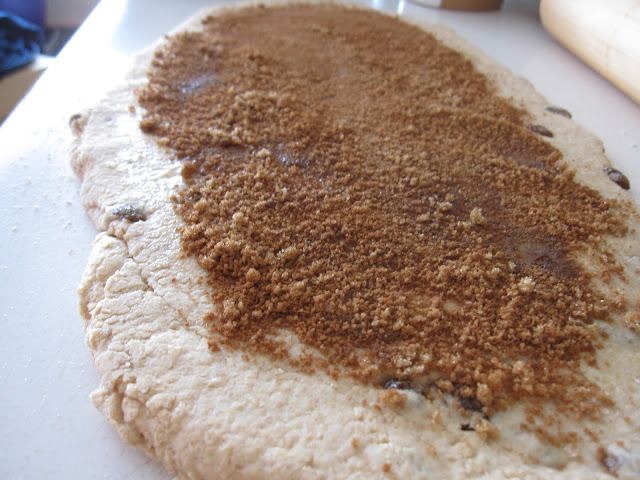 In the meantime, I had been toying with the idea of baking a loaf of bread. Growing up, we had a breadmaker and I love, love, LOVED making fresh bread for supper. Mind you, the breadmaker did all the work of the mixing, rising, and baking, but I loved watching the machine do the work and of course I loved the results. Alas, I don't have a breadmaker (possible start of a wishlist for a wedding registry, haha!), but I do have a dough hook on my KitchenAid mixer, so I set to work to find a non-intimidating recipe for cinnamon raisin bread, one of my favourite treats for weekend breakfast.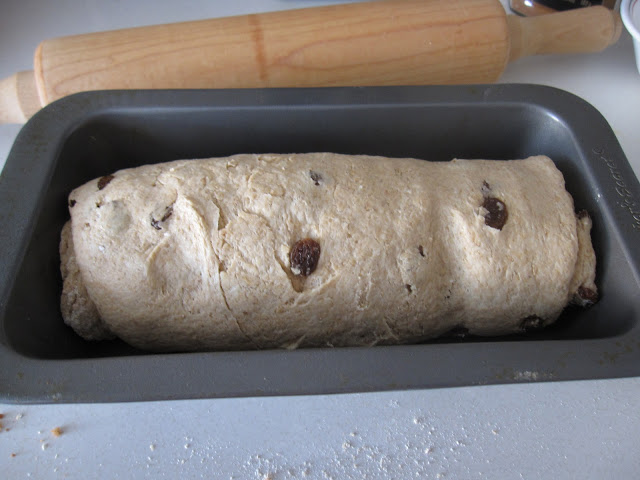 My favourite part of this recipe was how easy it was to divide in half, since the original recipe made 2 loaves. I only have one loaf pan, so one loaf of bread was all we really needed at the moment.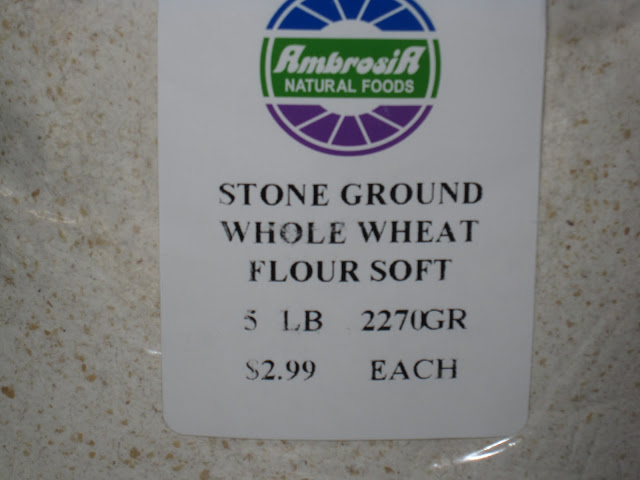 I picked up some wonderful soft whole wheat flour at a health food place called Ambrosia Natural Foods that I was excited to try. It was a bit of a drive from our place, but the deals were insane. This 5lb bag of flour was $2.99! Speaking of insane, the parking is a little crazy and cramped, so I can't imagine trying to attempt going back on a Saturday.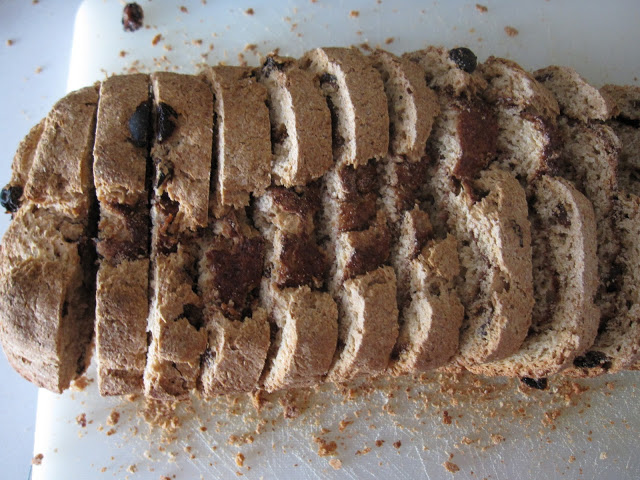 I also substituted the real milk for almond milk. As much as I could have easily eaten this whole loaf myself, I would have gotten a lot of dirty looks from Trevor.
Cinnamon Raisin Bread
Ingredients:
Dough
1/2 cup raisins
1/2 cup warm water
1/2 tbsp active dry yeast
1/2 cup almond milk
1/8 cup butter/margarine, melted
1 tsp salt
2 3/4 cups soft whole wheat flour
Filling
1/4 cup brown sugar
1 tbsp cinnamon
1 large egg beaten with 2 teaspoons warm water
Directions:
Soak the raisins in the water for 10 minutes. Drain the raisins (keep the water) and set aside.
Pour the raisin water into a mixing bowl and sprinkle the yeast over top. Let sit for a few minutes, then mix the yeast more thoroughly into the water.
Add milk, melted butter/margarine and salt to the water and yeast mixture and mix well. Add the flour and mix with the mixer hook on low for a few minutes until a soft, sticky dough forms. If the dough is still too sticky, add a bit of flour to smooth it out.
To keep the raisins from sinking in the dough, mix with a few tablespoons of flour to absorb some of the excess water.
With the mixer hook still on, gradually add the raisins until they are well distributed. If they need to be more evenly distributed, you can use your hands to knead them through. Return the dough to the same bowl and cover to let rise in a warm area until doubled in size, approximately 1 hour.
Roll the dough out on a flat surface. The width should be slightly smaller than your loaf pan and as long as you want to make it (more length = more swirls in the bread).
Mix the brown sugar and cinnamon together in a bowl and in a separate bowl, beat the egg and water. Leaving about two inches at the top, brush the dough with the egg-wash and sprinkle the cinnamon-sugar mixture.
Roll up the dough into a log, ending with the two-inch end. Use this empty space to pinch the the loaf together.
Transfer to the loaf pan and let rise again for approximately 30 minutes until the top of the dough is puffed up over the edge of the loaf pan. Brush the top with some of the egg-wash.
Bake at 350*F for 40 minutes until the top is a golden brown. Let cool slightly before removing from loaf pan and then cool completely before slicing.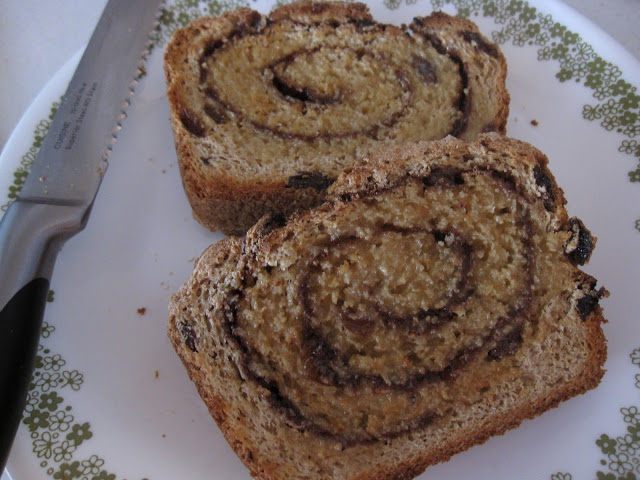 Enjoy!