Easy Roasted Broccoli with Garlic and Oregano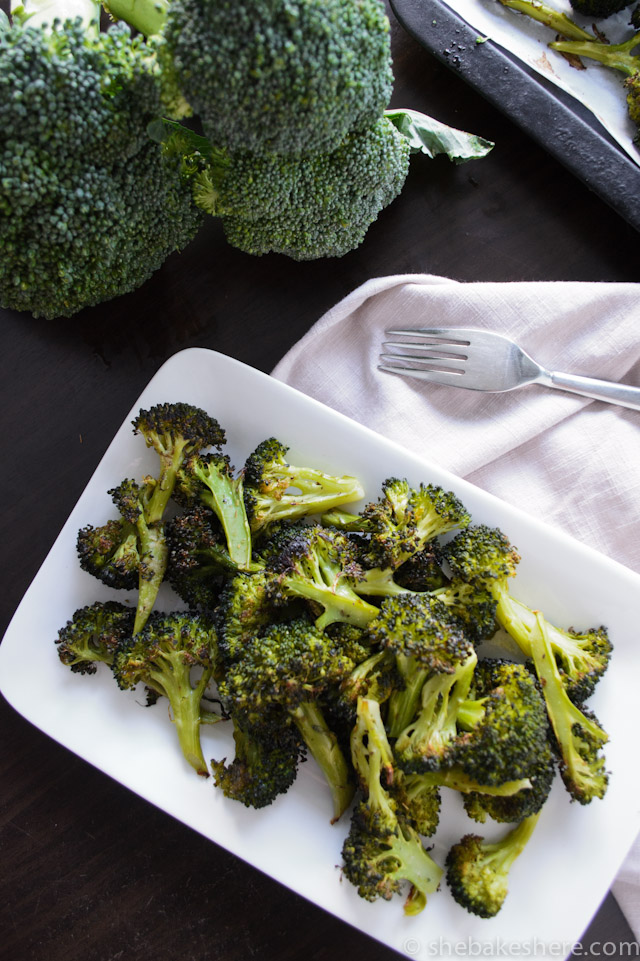 Broccoli has always been my favourite vegetable. I never had a problem eating most vegetables and as far as I can remember, my parents never had to go through the "eat your trees" phase with me. There was no cheese flavoured dip as a compromise and my plate tended to be spotless after supper. So naturally, whenever we have kids I expect it to not be that easy.
Steamed, boiled or stir-fry broccoli was the most popular choice when I was growing up and I can understand why my parents did this. It was by far the easiest and fastest way to get food on the table and vegetables into our stomachs, especially if there were already a lot of moving parts in the kitchen. Now that I'm older, broccoli still makes an appearance once or twice a week just because of how simple it is to cook. Trevor's favourite meal is baked salmon, rice and boiled broccoli mixed together with a bit of soy sauce, so we eat this quite a bit as a weekday supper. The fact that we can usually throw it together in under 30 minutes just shows that the apple (me) doesn't seem to fall far from the tree (my parents).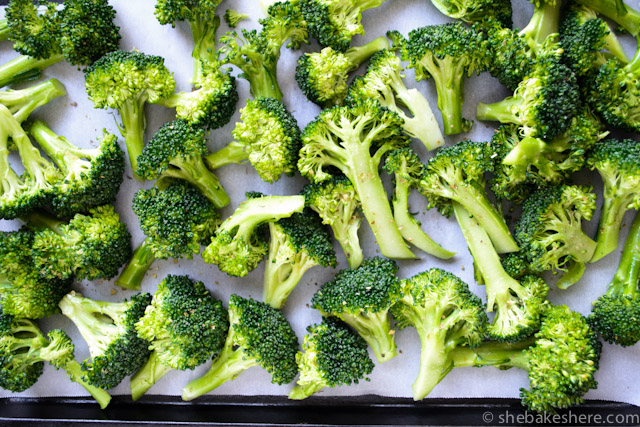 A couple days ago, I decided to throw caution to the wind and roast the broccoli in the oven instead of cooking it over the stove. I roast a lot of vegetables (sweet potatoes, brussel sprouts, squash), but I never tried broccoli. All the other vegetables seemed a lot more robust and able to handle the high, intense heat of my oven and I was oddly scared that my beloved broccoli wouldn't be able to cut it. Nothing makes me sadder than burnt-to-a-crisp vegetables, almost as much as their mushy, overcooked counterparts (bleh).
Roasting broccoli is nothing new and if you did a search online, you would come back with over half a million hits on the subject. But since all I had ever been exposed to was boiled, steamed or stir-fried broccoli, I didn't know what to expect. Many people told me that I would like it, saying that it would bring out the natural flavours, but I still wasn't convinced right away. Until I pulled the baking sheet out of the oven and, out of a moment of impatience, popped one in the mouth.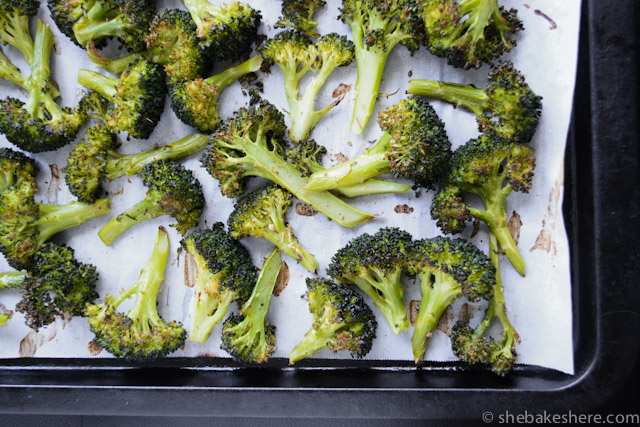 Other than the horrible sensation of burning the roof of one's mouth, I could tell it was love at first bite. The crispy, garlicky, addicting almost popcorn-like flavour hooked me instantly and much to Trevor's amusement, I ate 3/4 of the pan by myself. This recipe has made a few more appearances in our supper rotation since then and each time I find myself looking forward to this side dish more and more.
Broccoli, I think this is the start of an even better friendship than before.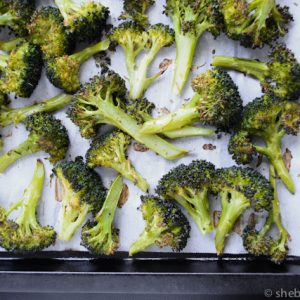 Easy Roasted Broccoli with Garlic and Oregano
Ingredients:
7-8 cups of chopped broccoli florets (roughly 2 medium heads)
2 tbsp olive oil
1/2 tsp garlic powder
1/4 tsp dried oregano
Salt and freshly ground pepper
Directions:
Pre-heat oven to 450*F and line a baking sheet with parchment paper.
In a large bowl, combine broccoli, olive oil, garlic powder and dried oregano. Toss until the broccoli is well-coated.
Spread the broccoli on the baking sheet and season with salt and pepper. Bake for 15-18 minutes. Check the broccoli and if it's still a little soft, flip all the pieces with a spatula and cook for another 3-5 minutes. The broccoli should be fragrant, crisp and easily pierced with a fork. Serve immediately.