Whole Wheat Flax Pancakes with Stewed Rhubarb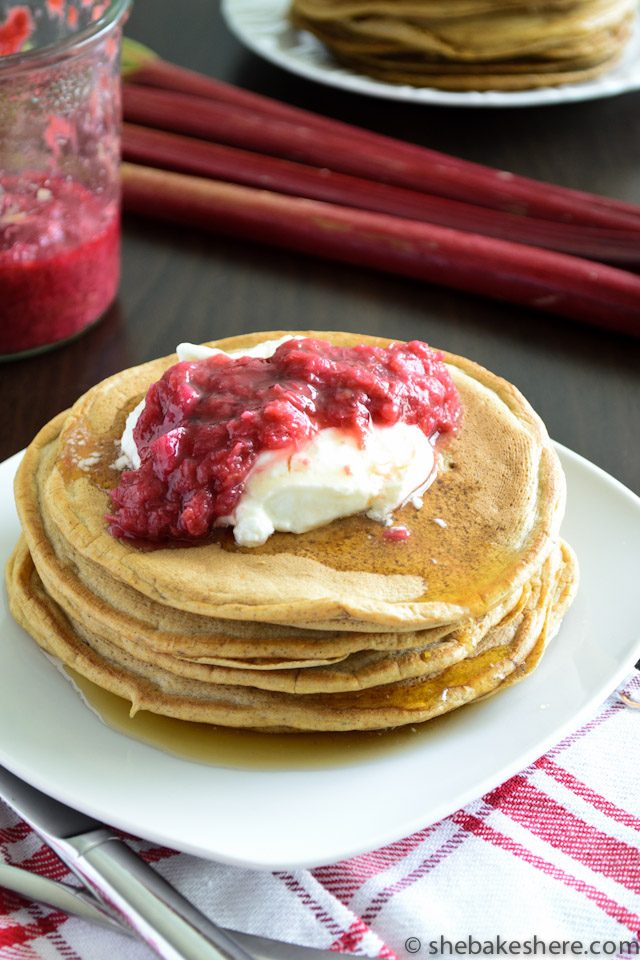 I didn't get my act together in time for a traditional Canada Day recipe to celebrate Canada 150 (real talk: I'm still testing it), so I bring you this non-traditional recipe of Whole Wheat Flax Pancakes with Stewed Rhubarb. Thick, fluffy pancakes with ruby-red stewed rhubarb and drizzled real Canadian maple syrup, this breakfast is a great way to kick off the upcoming Canada Day long weekend. I consumed a lot of pancakes in the last two weeks to perfect this recipe and I can honestly say that without a doubt, this has become my favourite go-to recipe.
Trevor and I don't have any real plans for celebrating Canada's sesquicentennial, but we live in a pretty big city so I'm sure we'll stumble onto something fun to do. Since the days have been getting longer, we've been making a point to get out more instead of hiding out in our air-conditioning. Earlier this month, we explored the Art Gallery of Ontario, enjoyed a free visit to the Royal Museum of Ontario, and wandered through the Taste of Little Italy Festival (complete with a pitcher of sangria and pizza on a patio). Our neighbourhood is also having monthly film screenings in the park and everywhere I turn it seems like more farmer's markets are popping up. Have I mentioned that I love this time of year? I'm definitely getting my fill of Vitamin D with all this sunshine.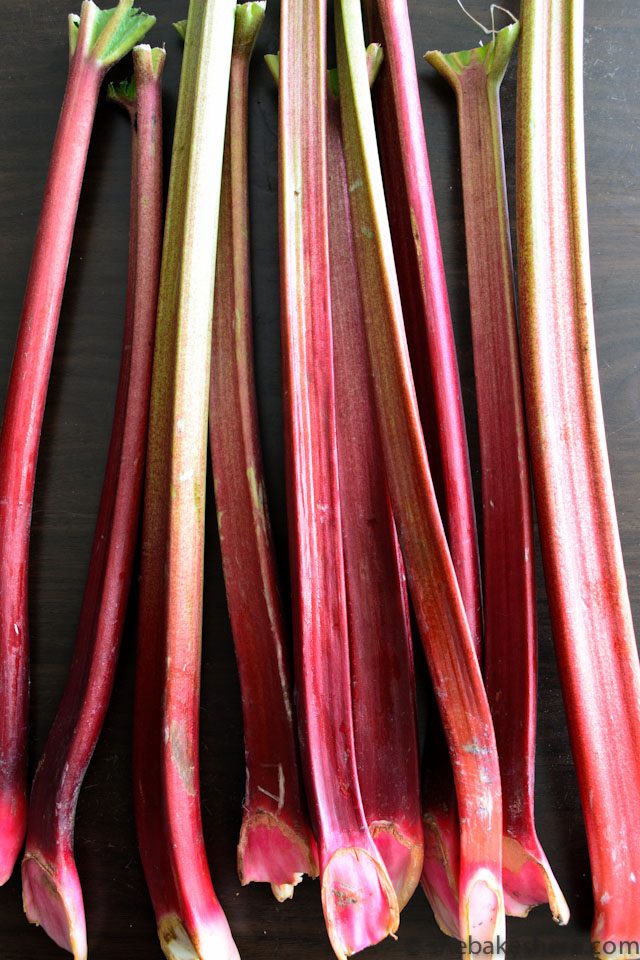 In my second week of testing this recipe, one of my favourite things to do was to make a batch of pancake batter the night before and let it sit overnight in the fridge. In the mornings, I would pull out my frying pan, the ready-made pancake batter and within 5 minutes, have fresh, hot pancakes for breakfast. It was pretty comforting to know that my first meal of the day was already half made and I didn't have to rummage through the back of the fridge to see what I could eat. The promise of hot pancakes definitely also made it easier to get out of bed each morning, especially early in the work week.
Although pancakes may feel like a heavy breakfast option, for this recipe I upped the nutrition a bit by using whole wheat pastry flour instead of all-purpose flour and added some ground flax to the batter. If you look closely at the photos in this post, I also used greek yogurt as a topping (yes, that's not whipping cream). Just another fun swap I like to do to add a little more protein to my breakfast!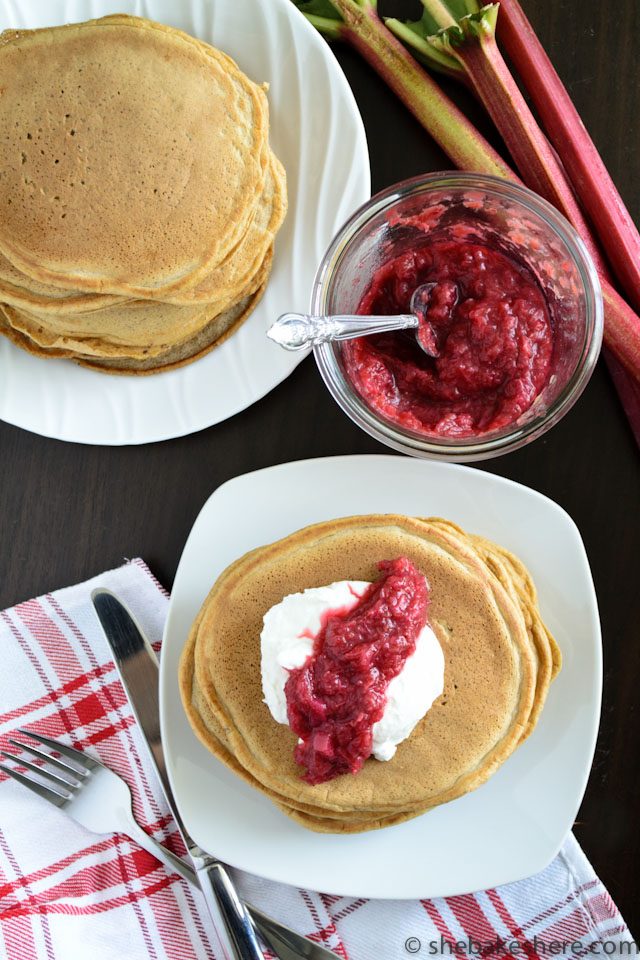 The stewed rhubarb was a last minute addition when I was working through my second test trial of pancakes. I have so much rhubarb in my fridge and freezer right now thanks to my lack of self-control at the St. Lawrence Market. I normally go through a lot when I'm making jam, but the stalks I've been getting this year seem bigger than usual and I've taken to freezing a lot of it. This stewed rhubarb recipe only uses up two cups of stalks, so I may have to make a pie or something else later on this weekend.
Also, the stewed rhubarb recipe only calls for 1/4 cup of sugar because I like my rhubarb on the tart side. If you like yours a little sweeter, feel free to up the sugar to 1/3 cup.
Enjoy your long weekend everyone! And happy 150th anniversary Canada!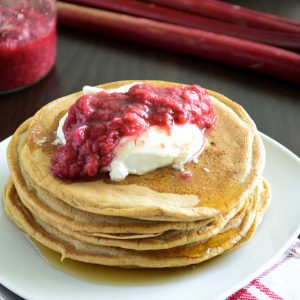 Whole Wheat Flax Pancakes with Stewed Rhubarb
Ingredients:
Pancakes
1 1/2 cups unsweetened almond milk
1 tbsp apple cider vinegar
1 3/4 cups whole wheat pastry flour
2 tsp baking powder
1 tsp baking soda
1 tbsp ground flax
1/2 tsp cinnamon
Pinch of sea salt
3 large eggs
1 tsp vanilla
Stewed Rhubarb
2 cups rhubarb stalks, finely chopped
1/4 cup sugar
1 tbsp water
1 tsp vanilla
Directions:
In a large measuring cup, measure unsweetened almond milk and add apple cider vinegar. Set aside.
In a large bowl, whisk together whole wheat pastry flour, baking powder, baking soda, ground flax, cinnamon, and sea salt. Create a well in the middle and set aside.
Add the eggs and vanilla to the almond milk/apple cider vinegar mixture and whisk to combine. Pour the wet ingredients into the well of the dry ingredients and stir with a wooden spoon. The batter will be a little bit lumpy, but no flour should be visible.
Set the pancake batter aside for 5 minutes to rest. Begin heating a non-stick frying pan that is lightly coated with non-stick spray. Give the pancake batter a quick stir and then ladle 1/4 cup of batter onto the heated pan. Flip the pancakes when the surface bubbles have popped and the edges are lightly cooked. Continue cooking until the other side is a light brown. Remove from heat and serve immediately.
To make stewed rhubarb, add chopped rhubarb stalks, sugar, and water to a medium-sized saucepan. Bring to a gentle boil, reduce heat to medium-low and let simmer for 12-15 minutes, stirring often. The mixture will be ready once the rhubarb pieces have broken down and the sugar is no longer visible. Remove from heat and stir in the vanilla. Let cool for 5 minutes before serving.
Make ahead option: Prepare the pancake batter the night before and cover the bowl with plastic wrap. Store in the fridge until ready to use. Be sure to give the batter a quick stir before using.
Makes aproximately 1 cup stewed rhubarb.