Chocolate Drizzled Cranberry Pistachio Cookies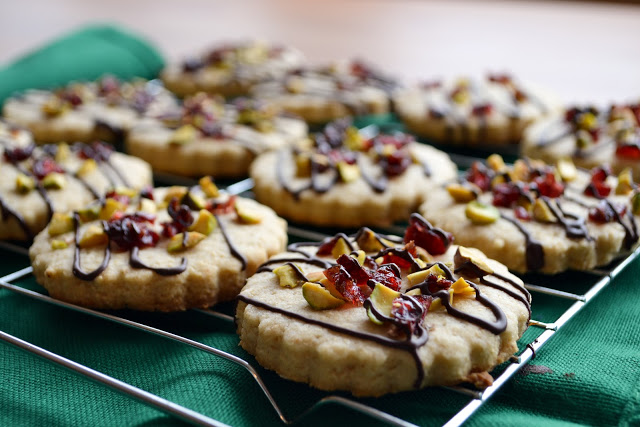 Despite our serious lack of snow in Toronto, I'm starting to get into the holiday spirit. My Christmas shopping is almost complete, I've consumed many Starbucks Peppermint Hot Chocolate drinks, my flights to visit my family are booked and Trevor and I are each well into our annual chocolate advent calendars (his is The Muppets, mine is Hello Kitty).
Now I can also finally say that I've completed some serious holiday baking. I was inspired to create this recipe based on the colour combination of pistachios and cranberries, which is also a great combination salty/sweet snack on its own. Buttery sugar cookies make the delicious base and the melted chocolate add the finishing visual touches, as well as help keep the loose pistachios from falling off.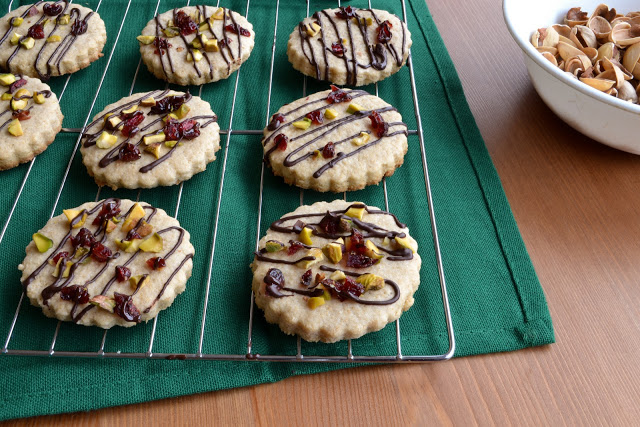 These cookies make a great additional to any holiday party platter or cookie swap. You can even change up the taste by trying out different types of chocolate for drizzling. For this recipe, I used some more of my Cacao Barry Tanzanie 75% Cocoa, but you can use other dark chocolates or milk chocolate depending on your preference.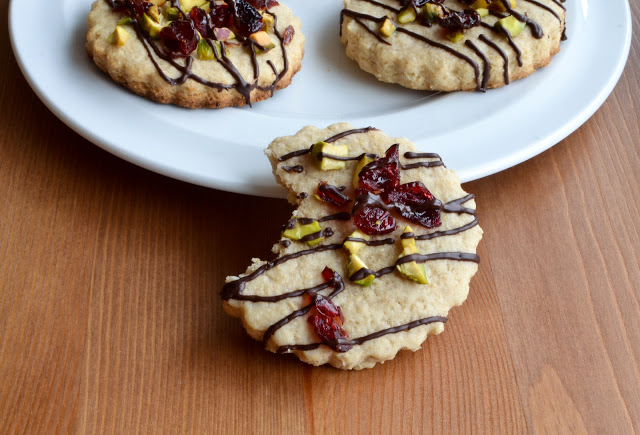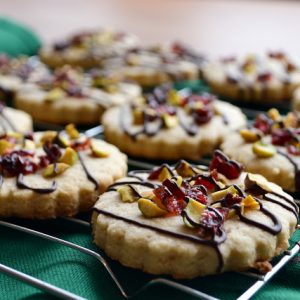 Chocolate Drizzled Cranberry Pistachio Cookies
Ingredients:
3/4 cup butter, room temperature
1 tsp vanilla
1 cup granulated sugar
3 cups flour
1/2 cup corn starch
1/4 tsp salt
1 - 2 tsp almond milk
1/3 cup pistachios, chopped
1/3 cup dried cranberries, chopped
Melted chocolate, for drizzling
Directions:
In a large mixing bowl, cream together butter and sugar until light and fluffy. Add vanilla.
In a separate bowl, whisk together flour, corn starch and salt. On a low mixer setting, combine the flour mixture with the butter mixture. Add a little bit of milk to help incorporate.
Divide the dough into two logs and wrap in plastic wrap. Refrigerate the dough for a minimum of 1 hour, or overnight.
Preheat oven to 350*F.
Unwrap the dough and roll out over a floured, flat surface. Cut into desired shape and place on baking sheet. Sprinkle each unbaked cookie with chopped pistachios and dried cranberries.
Bake for 8-10 minutes until the edges are a slight golden brown. Remove from baking sheet and cool on a wired rack.
Once the cookies are cool, drizzle with melted chocolate. Let the chocolate dry completely before storing.