Protein Powered Carrot Mango Smoothie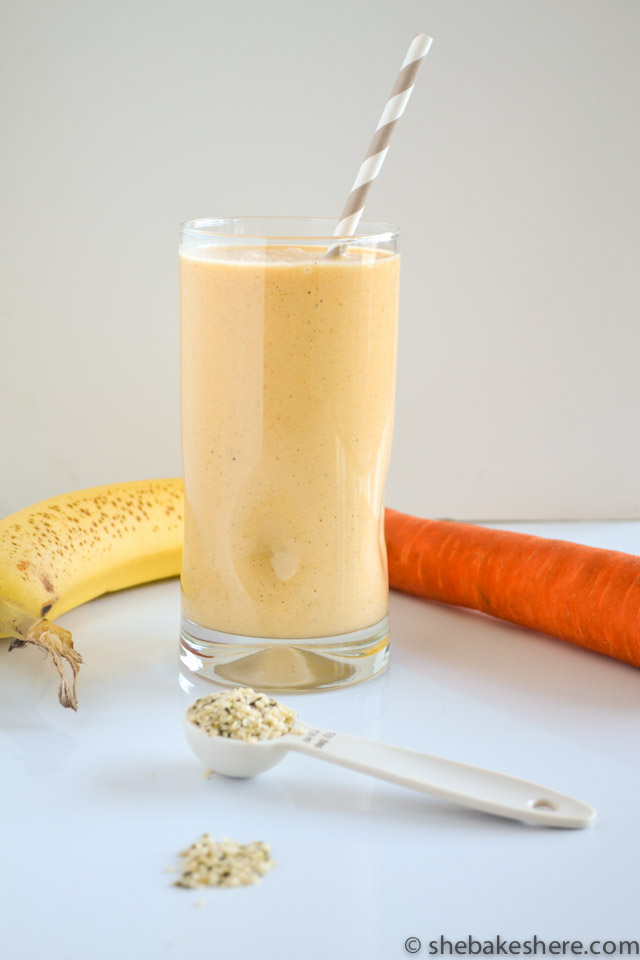 Common signs that you are a habit smoothie maker:
Grocery store clerks catch you regularly stalking the discount produce section of the grocery store for overripe fruit.
You clean, polish and chat to your high-speed blender even on days where you don't use it (just kidding – you use it practically every day).
When handing him his daily smoothie, your husband stops asking "what's in it?" and just drinks it.
Instead of storing real meals, your freezer has become a placeholder for frozen bananas.
You start looking at all fruits and vegetables and secretly wondering how well it will blend and what combinations will taste good.
I used to think I was a habit smoothie drinker until I purchased my Blendtec. Now I make a smoothie almost every day after work and can't imagine using anything else. Any high-speed blender will do though, so don't think I'm solely on team Blendtec. I tossed around the idea of getting a Vitamix for a while, but eventually, I ended up with a Blendtec based on our budget and counter space. This, of course, was after 6 years of going through many other blenders.
The smoothie I'm sharing today will work well in any high-speed blender. I created this recipe when I was getting tired of green smoothies, but still wanted something sweet and healthy after my hot yoga classes. Although the ingredients list calls for 1 heaping cup of (lightly boiled) carrots, I swear you won't even taste them among the mango and banana. Hemp hearts provide a balanced sense of protein and essential fats, making this a breakfast or great post-workout drink.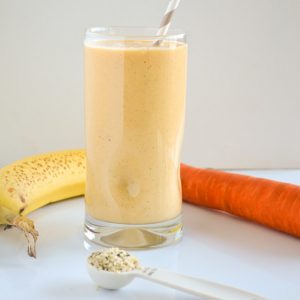 Protein Powered Carrot Mango Smoothie
Ingredients:
1 heaping cup chopped carrots (1 large carrot)
1 cup frozen mango chunks
1/2 frozen banana
4 tbsp hemp hearts
2 1/2 cups water
Directions:
In a small saucepan, bring carrots and 1 cup of water to boil. After 5 minutes, turn the heat off and let simmer until fork tender. Drain and rinse the carrots in cold water.
In a high-speed blender, combine cooked carrots, frozen mango chunks, 1/2 frozen banana, hemp hearts and water. Blend on high speed until the mixture is smooth. If desired, add a few ice cubes and continue blending until desired consistency is reached.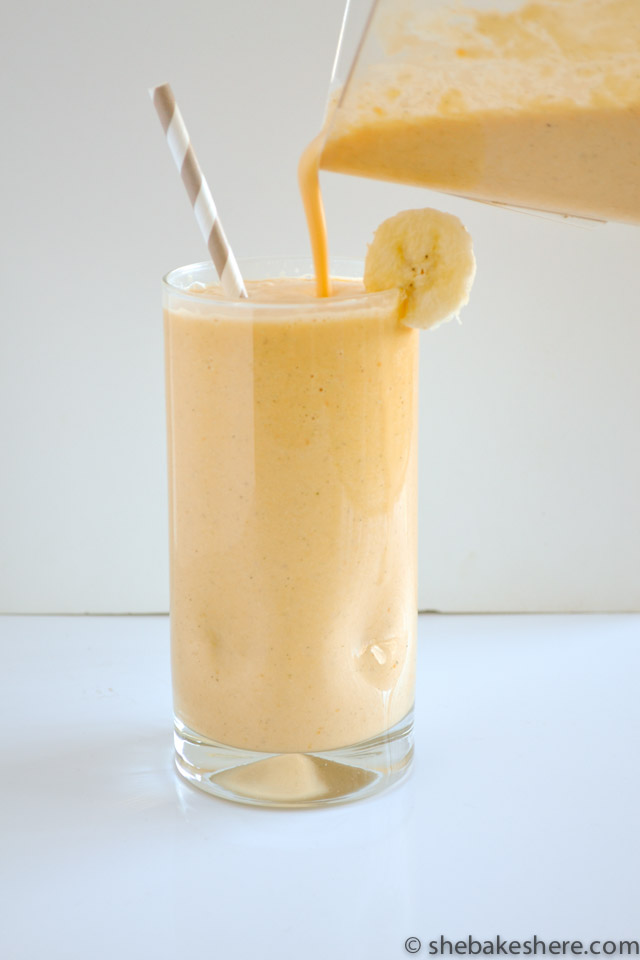 Trevor calls this smoothie my knock-off Orange Julius creation. Let me know in the comments what you think!