Cookie Butter Rice Krispies Squares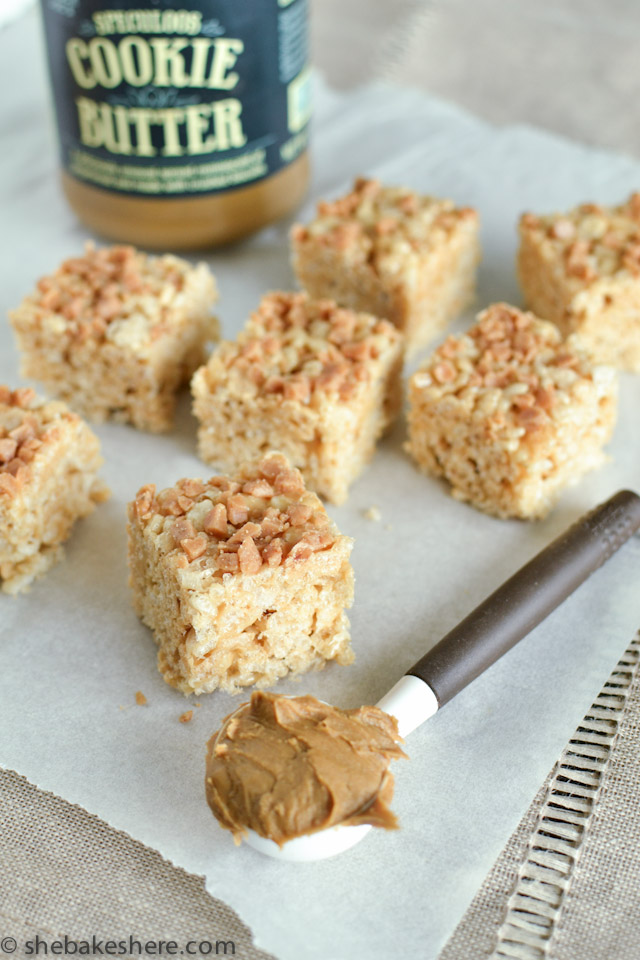 As a food blogger, it's pretty funny how dependent I am on the weather. Not only do I try to take my photos on days where the weather is nice (hello natural light!), but the heat, rain, and levels of humidity all have a weird impact on what I feel like making and eating. For example, I'm less likely to make something heavy, like a cake or batch of cookies, when the sun is shining and an extra layer of sunscreen is a must. I'm also less inclined to turn on our oven, even though we pretty much always have our air-conditioning running whenever we're home.
Since the weather here has turned from less rain to more sun, I've been going through all my no-bake recipe ideas. Besides not turning on an oven, no-bake treats also rule because of the minimal amount of time spent in the kitchen. As much as I love baking and hanging out in my kitchen, the Canadian summer season is so short and we need to go outside and enjoy the nice weather while it's still here.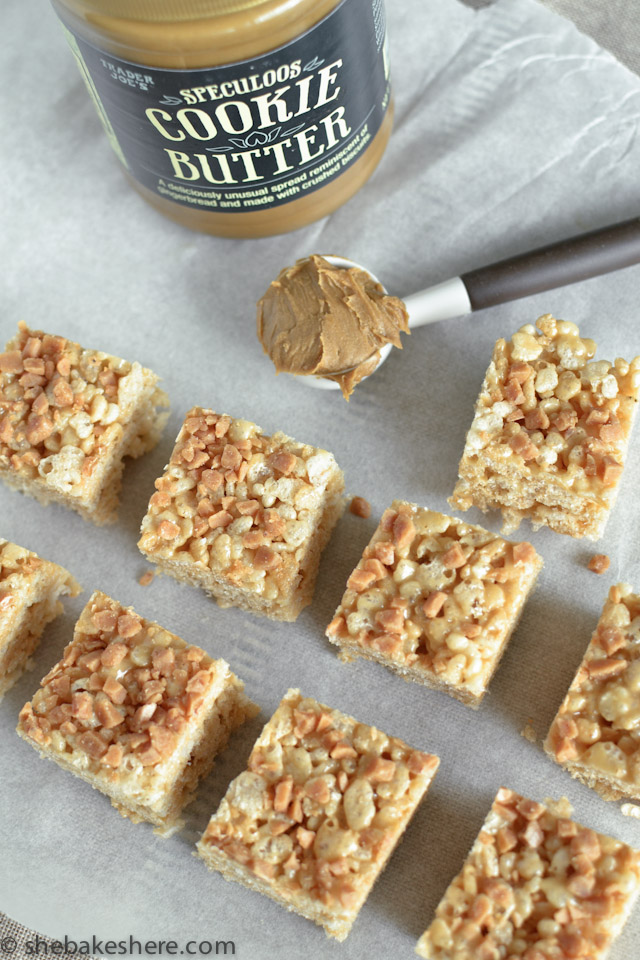 Rice Krispies are one of my favourite no-bake treats because everyone loves them (not just for kids!), the main recipe is very versatile and pre-cut Rice Krispies squares make great travel food for summer road trips. During our NYC trip back in April, I purchased a jar of Speculoos Cookie Butter and this was a nice add-in to the melted marshmallow mixture. Something about the little hints of spice and gingerbread in each bite made these squares completely irresistible.
I also sprinkled some Skor toffee bits while the squares were cooling because everything is great with Skor toffee bits. Seriously, I bet there is research to back me up.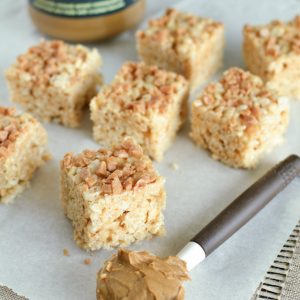 Cookie Butter Rice Krispies Squares
Ingredients:
1/4 cup butter/margarine
250g bag of marshmallows
1 tsp vanilla extract
1/3 cup Speculoos Cookie Butter
6 cups of Rice Krispies cereal
1/3 cup skor toffee bits
Directions:
In a large microwave-safe bowl, microwave the butter/margarine and marshmallows for 2 minutes. Stir after 1 minute and if you still have some lumps, use the additional minute to make the mixture smooth.
Once the marshmallow mixture is smooth, stir in vanilla extract and Speculoos Cookie Butter. Add the Rice Krispies cereal and stir until the cereal is well-coated.
Press the mixture into a greased 11×13 pan. You can either use wax paper to press the mixture down with your fingers or use a wooden spoon.
Sprinkling with skor toffee bits and gently press them into the squares.
Let the mixture sit for 30 minutes to harden and then cut into squares. Wrap uneaten squares with plastic wrap or store in an air-tight container.