Pumpkin Spiced Gingerbread Waffles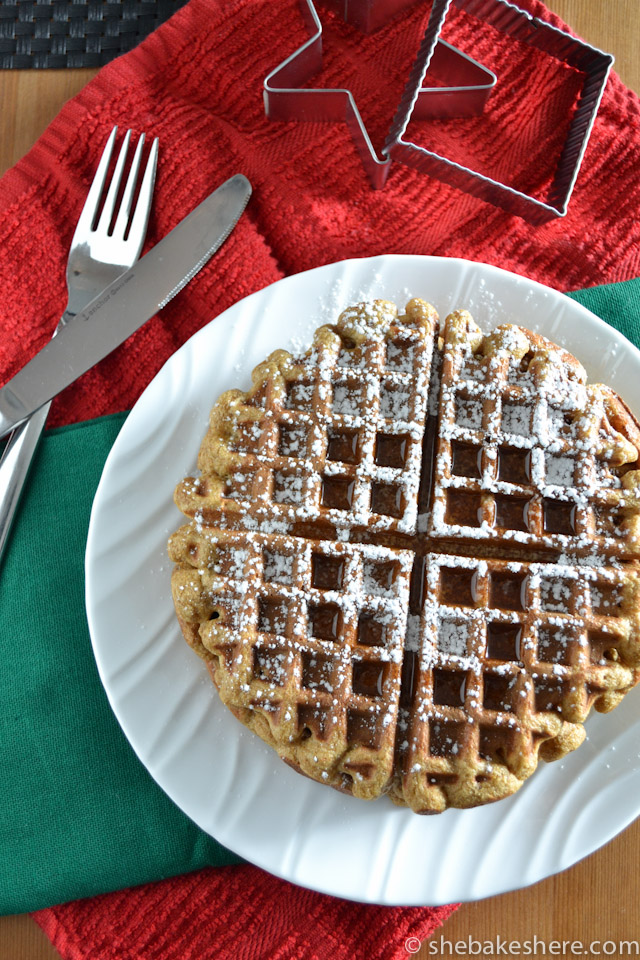 In early November, I started taking hot yoga classes at a studio near our condo. Nothing too crazy, just something to help me stretch and unwind a couple nights a week. It's been especially good because my job is very sedentary and much of my morning and afternoon is spent sitting at a computer desk. The last time I did any hot yoga was a little over two years ago, so the first few classes were a little rough to say the least. However, it's now been a little over a month and I'm amazed at how quickly I was able to gain back some flexibility. The human body is a pretty cool thing.
Besides flexibility, I've also had to deal with an increased need to eat ALL the food around me. Luckily it's a pretty great time of year for food. Between holiday parties, cookie swaps, and baking up a storm on the weekends, my hungry yoga belly has never been happier.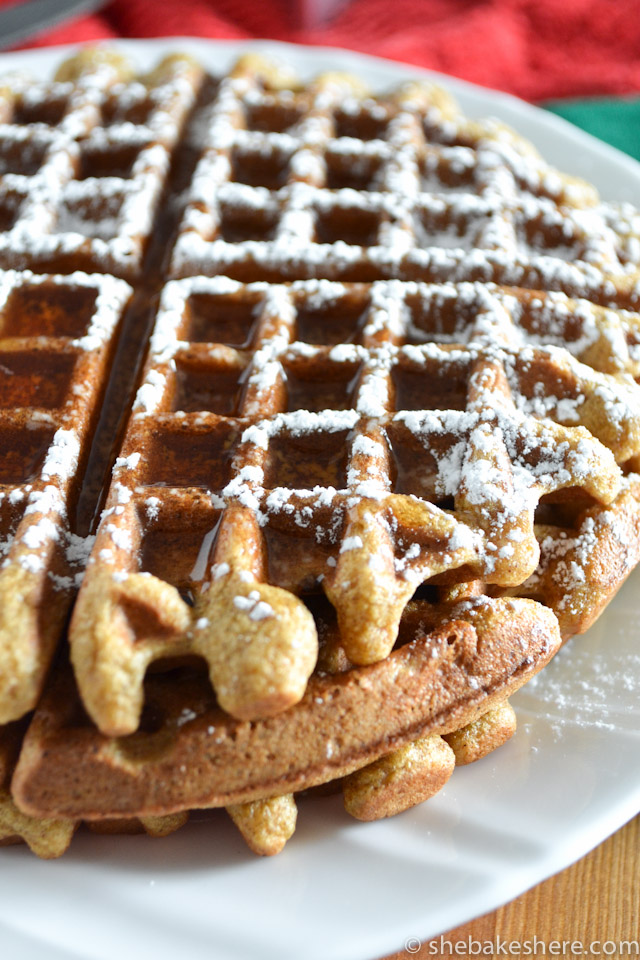 Among all the cookies, squares and other desserts I've been baking for the upcoming holidays, I found some time one Sunday morning to make this simple breakfast of pumpkin spiced gingerbread waffles. At first it took a little bit of digging to uncover my beloved waffle maker (MIA since our move), but once I dusted/thoroughly wiped it clean, I was able to make this recipe in less than 30 minutes. It did help that I had some leftover pumpkin puree on hand, but a can of the pure stuff will work in a pinch. I don't recommend skipping on the pumpkin as I found that it really enhances the gingerbread flavour and keeps the waffles light and fluffy without being too heavy.
This recipe makes enough waffles for two very hungry people, but can easily be stretched to feed three or even four people if you are serving them as a side dish. Feel free to play around with the spices to suit your own tastes. It also goes without saying , but your kitchen will also smell fantastic after you make them.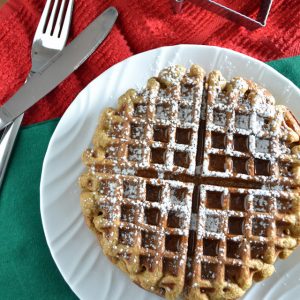 Pumpkin Spiced Gingerbread Waffles
Ingredients:
1 1/4 cup whole wheat pastry flour
1/2 tbsp baking powder
1 1/2 tsp cinnamon
1 tsp fresh grated ginger
1/2 tsp nutmeg
1 tbsp coconut oil, melted
2 tbsp molasses
3 tbsp brown sugar
3/4 cup almond milk
1/4 cup pure pumpkin puree
1 egg, beaten
Toppings:
Powdered sugar
Maple Syrup
Directions:
In a small bowl, whisk together whole wheat pastry flour, baking powder, cinnamon, gated ginger and nutmeg. Set aside.
In a larger bowl, stir together coconut oil, molasses, brown sugar, almond milk and pumpkin puree. Add the beaten egg. Stir in flour mixture until just combined. Do not overmix and let the batter sit for 5 minutes while your waffle maker is heating.
Prior to heating, spray your waffle maker with a non-stick cooking spray. Follow the instructions on your waffle maker to cook the waffles. To make smaller waffles, use 1/4 cup batter rather than 1/3 cup.
Top cooked waffles with powdered sugar and maple syrup.