Sweets of Toronto: Tasty Tours Kensington Market Sweets Tour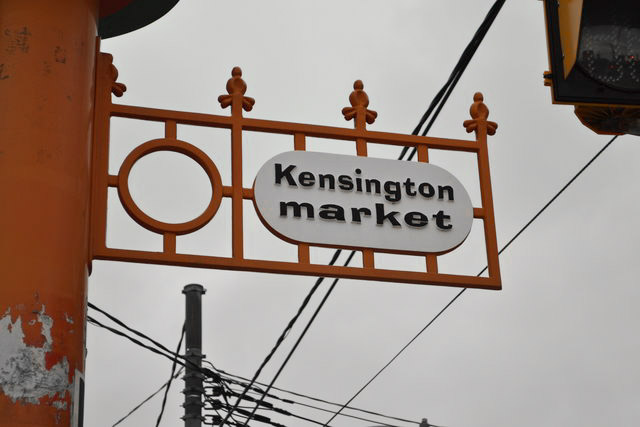 A few weeks ago, Trevor and I took a walking tour of what could best be described as "the sweeter side of Kensington Market." If you've ever heard of Tasty Tours, then you know exactly what I'm talking about. Tasty Tours offers guided walking tours of Toronto neighbourhoods and showcase various bakeries, patisseries and shops to satisfy your ever craving sweet tooth. It may sound a little silly to take a guided tour of a city we've been living in for the last 3 years, but it's a great way to discover places we would have otherwise walked right by. In fact, the first time we set foot in at least half of these places was during this very tour.
Tasty Tours has a great ongoing promotion where they will waive the ticket price if you take a tour during your birthday month and bring along someone who has paid for an adult-priced tour. This deal doesn't apply to their special holiday tours (Christmas, Valentine's Day, etc), but this was fine since this was our first time with Tasty Tours and we ended up deciding on the Kensington Market Sweets Tour based on the location and 2-hour length of the tour.
Tasty Tours likes to keep the locations they visit a secret, although you can check out the list on their website. If you intend to take this tour, I wouldn't recommend reading further as the element of surprise is one of the fun things about taking their tours. If you do read ahead, please note that the order of the tour sometimes changes based on the tour guide and the availability of the locations.
Without further ado, on with the tour!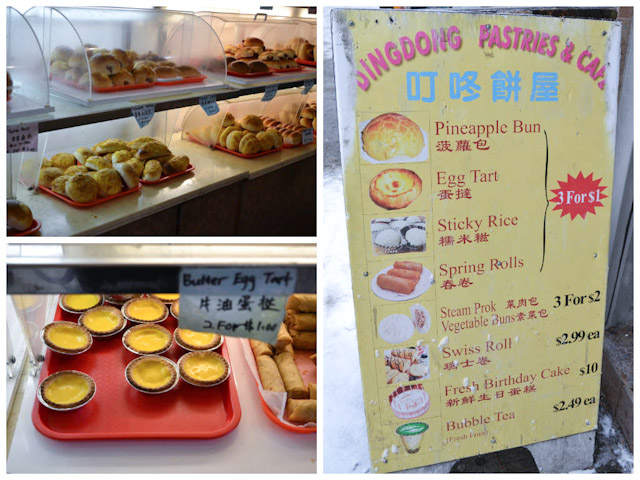 1. Ding Dong Pasteries
Despite my love of bakeries on Spadina Ave, this was my first time in Ding Dong Pastries (gasp, I know, the horror!). Like most the bakeries in Chinatown, this one has rock bottom prices that make it really easy to load up your tray with delicious pastries and breads and then do a double take when you see that the final bill is less than five dollars. This was our meeting place for the beginning of the tour and since we arrived a little early, we purchased some fresh sugar donuts to snack on while we people watched and waited for everyone else. One fun fact about Ding Dongs, as our tour guide Ali pointed out, is that they are the only bakery on Spadina Ave to have a glass wall between the store front and the back bakery which allows the public to watch the baking process unfold. We were given egg tarts to sample and I was pleasantly surprised to find that they were not as sweet or as egg-y as I was expecting.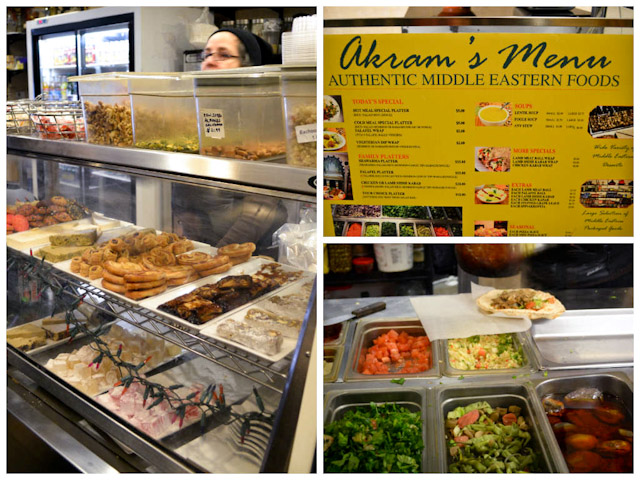 2. Akram's Shoppe
This little store was definitely the surprise highlight of the tour, at least for us. Standing on the street, the shop appears to be a supermarket until you go inside and realize that there is also a small restaurant in the very back. While serving authentic middle eastern foods may not scream "bakery," this little place has a very impressive dessert section. We were given a chance to sample one of their desserts from their front display and I highly recommend the pistachio baklava. Their daily lunch specials are also ridiculously cheap ($1.99 for a falafel wrap), so on the advice of Ali, a couple of us ordered some lunch to go while we continued on the tour.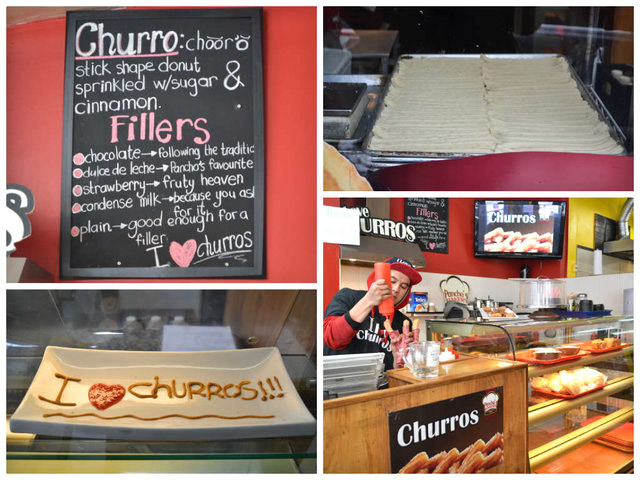 3. Pancho's Bakery
We had been aware of Pancho's Bakery for a while. To prove our level of maturity, every time Trevor and I would visit Kensington Market together and spot the sign advertising churros, we would immediately start quoting Clone High ("try the churrroooo.") However today was the first day that we actually set foot into the bakery. The churros are made fresh to order, crispy with a soft interior and they offer various fillings such as chocolate, caramel and strawberry. Everyone in the tour chose a different flavour and my chocolate churro was hot until the last satisfying bite. If you are not near the Kensington Market area, it's also worth noting that they have another location near Bloor and Dufferin.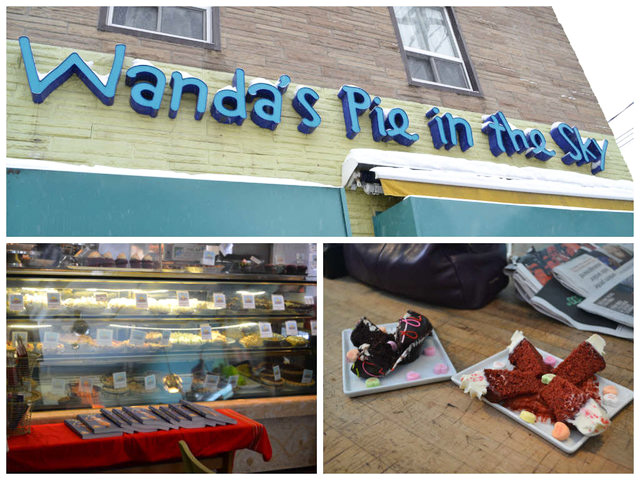 4. Wanda's Pie in the Sky
Wanda's is a place that I've been meaning to try forever, but I was a tiny bit disappointed that we didn't sample their pie. If you read other reviews of this tour, Miss Cora's Kitchen was once part of the tour, but has since closed down their Kensington location. From what I've read online, Miss Cora's was very well-known for their cupcakes so it would make sense that an alternative location that served cupcakes was needed. While learning about the difference between icing and frosting, we were able to sample their chocolate cupcake and (my favourite) a red velvet cupcake with cream cheese icing. Although their cupcakes were delicious, I definitely have my eye on their pie for our next visit.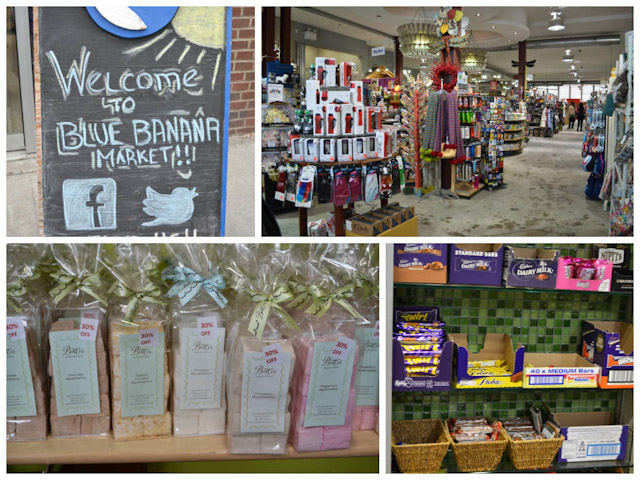 5. Blue Banana Market
For the longest time, the Blue Banana Market was one of the main reasons I would visit Kensington Market. Filled with all sorts of fun knickknacks, clothing, jewelry and locally made treasures, the Blue Banana Market is one of the best place for one-of-a-kind gifts. I always have been fond of their kitchenware section, but today it was all about the treats. We sampled homemade pumpkin spiced marshmallows made from marshmallow plants (who knew?) and Cadbury Flake chocolate bars from the British Import section of the store. Although I wasn't the biggest fan of the marshmallows, the chocolate did intrigue me because of the higher cocoa content. Just like Japanese chocolate, British chocolate is not as sweet and has a more pronounced cocoa flavour.
The one location we didn't get to visit was Chocolate Addict, but Ali did gift us with some pieces of chocolate from the store – a spicy chili flavoured truffle, and a sea salt truffle, both of which were devoured on the way home.
Overall, our walking tour with Tasty Tours was a fun way to discover some new places to eat and sample some delicious treats. The tour is also filled with some great history of the area and the origins of stores and certain desserts that we sample.  Even if you are from the area (like us), it's a great way to discover some hidden gems you would have otherwise not visited.