Macaron Day 2013 – Toronto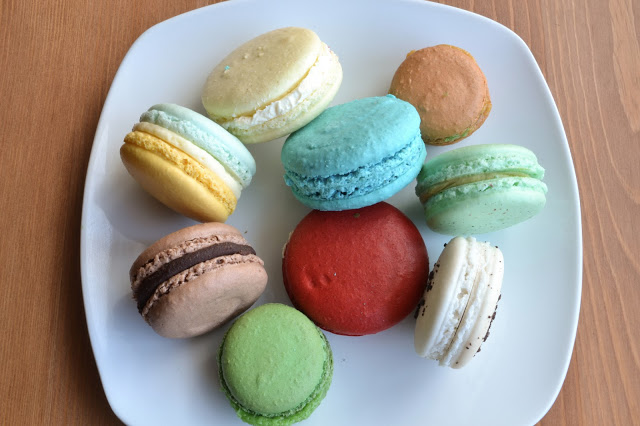 After two glorious days of sugar, I've finally found the energy to go through my photos and tweets from Macaron Day 2013.  If you don't know, Macaron Day is a day that celebrates the deliciously sweet meringue-based confectionery while also supporting a local charity. A complimentary macaron is offered to customers who mention that they are celebrating Macaron Day while proceeds of the additional macarons that are purchased on this day are donated to the Red Door Family Shelter. Eighteen bakeries participated in Toronto this year and after last year's pitiful attempt to participate (see my picture here), I vowed to visit as many as I could while also purchasing at least one additional macaron per location.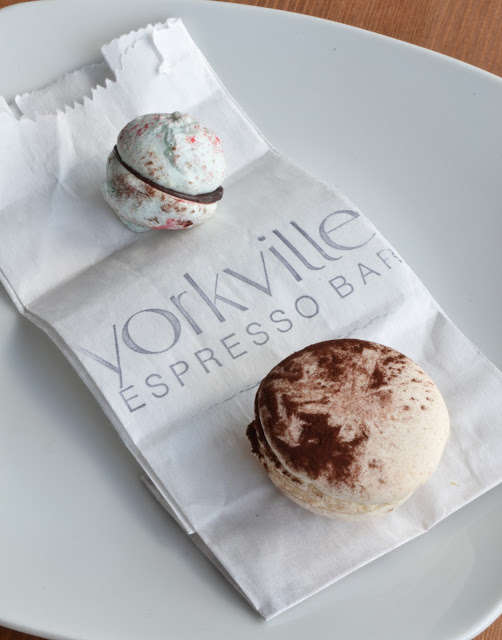 I had one hour during my lunch break to visit as many as I could near my office. My first stop was Yorkville Espresso Bar, which derailed me slightly because of all the road construction that was around the store. I received a mini macaron and purchased one of their signature espresso flavours. This ended up being one of my favourite flavours and I'm so happy that they are near my office because I have a feeling I will be visiting often.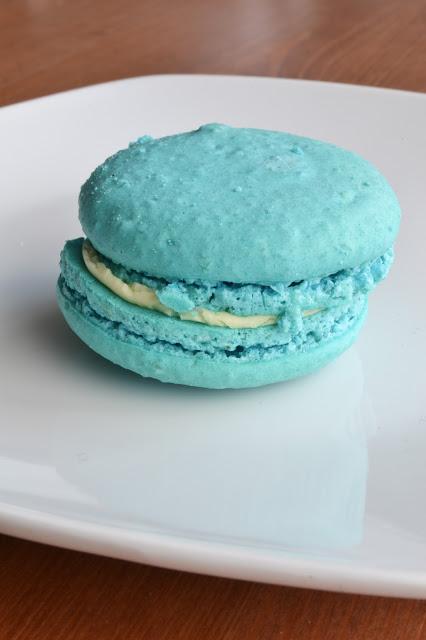 I hopped on the subway next and rode on the Yonge Street line until I reached the Summerhill station. A short walk later, I was at Petite Thuet Yonge, where I purchased my second macaron – blueberry cheesecake. This location was only offering a free macaron if four were purchased and if you only wanted one, it was a $2 donation for Red Door Family Shelter. I knew that I was stretched for time, so I only picked one and made my $2 donation. I was hopefully for the blueberry, but I was not a fan of the jam that was inside the macaron. Still, it's always fun to try new flavours.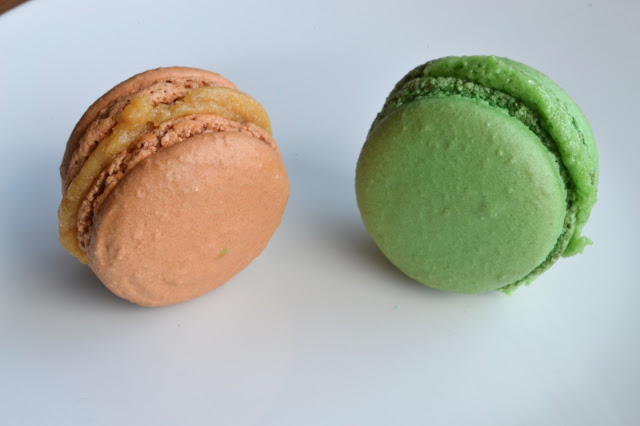 I jogged (literally) down Yonge Street until I hit Patachou, which was crowded with patrons and even more macaron seekers. My free macaron was pistachio and I purchased their salted caramel. The salted caramel was a fantastic combination of salty and sweet and at only $1.85/each, I have a feeling I will be back for more.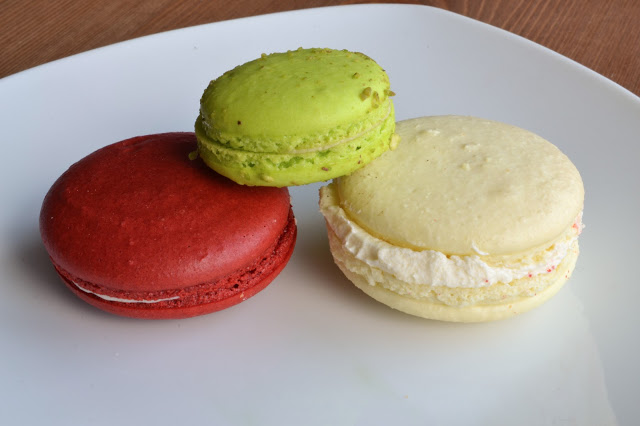 After I made it back to the subway, I realized that I had underestimated how much time I had left during my break. With only 15 minutes left, I made the decision to skip Petite Thuet King and went to MoRoCo which ended up being the busiest place of the bunch. People were lined up to pay for their purchases and to get a glimpse of the different flavours behind the glass. Once I saw the flavours, I caved and ended up purchasing two kinds, even though MoRoCo tends to be on the more expensive side for the Toronto patisseries (all in the name of charity, right?). Above is red velvet, creme brulee and my pistachio free sample. The creme brulee was easily the best of the bunch and looking at these photos again, I wish I had another one right now.
My afternoon at work was painful because of all the delicious macarons I had tucked away in my desk drawer. Every time I had to get an eraser or a ruler, I would see them and be tempted all over again. However, I wanted to hold out until I got home to take some photos, so I knew the wait would be worth it.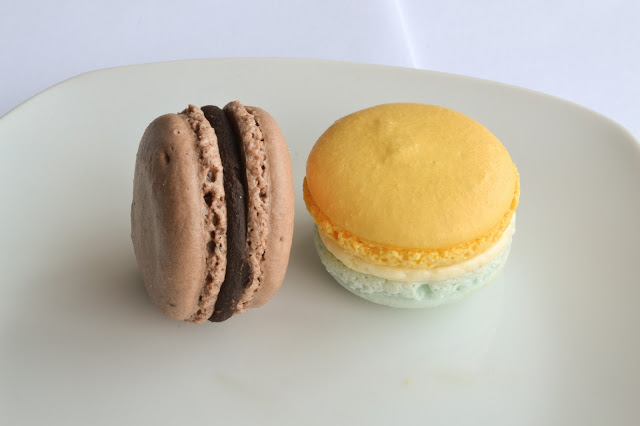 My original plan after work was to go straight home and take photos, but after reading some of the #MacaronDayTO fun all over twitter, I decided to make a few stops along the way. I hopped the streetcar on Dundas Street and made my way to Le Dolci. You may remember Le Dolci from two years ago when I took a cupcake decorating class. Now Lisa has her own storefront on Dundas and this was the first time I would be able to visit since she made the move. There was a class going on when I walked in, but Lisa was all smiles, helped me with my purchase and even asked which other participating locations I visited. I wish I could remember the flavour of my free macaron, but easily the star of the show was my belgium chocolate purchase. Rich, sweet, but not too sweet and perfectly crumbly.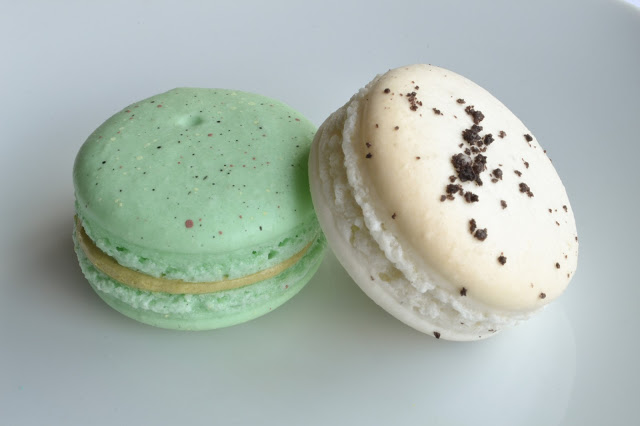 For my last visit, I walked up to The Wedding Cake Shop on College and received a free green tea macaron and my purchased cookies and cream. The quiet, serene settings of this location and Le Dolci were such a surreal difference from the busier shops I visited, but that did not defer from the deliciousness of the macarons. Armed with a purse filled with delicate macarons, I made my way back home to take my photos and finally enjoy them.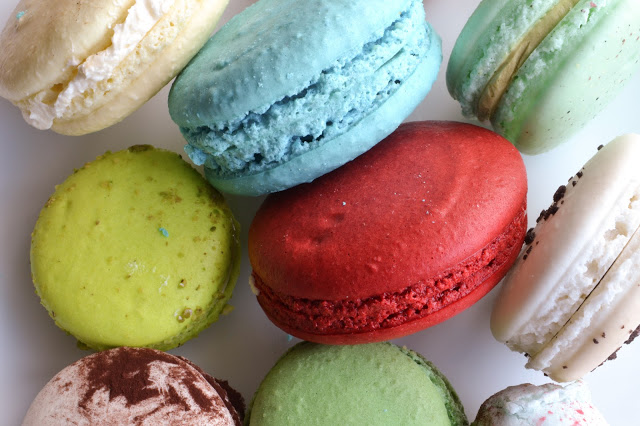 Out of the eighteen participating locations, I only managed to visit six but I think this was a great improvement from last year. I still have a long way to go in becoming a macaron-loving maven, but at least I now know where to visit when the next craving hits.
If you are wondering how much money was raised this year for Red Door Shelter, I believe we are still waiting for the results. The goal was to surpass last year's amount of $6,500 and with the amount of activity I witnessed firsthand and on twitter, I say they should have no problem reaching this goal.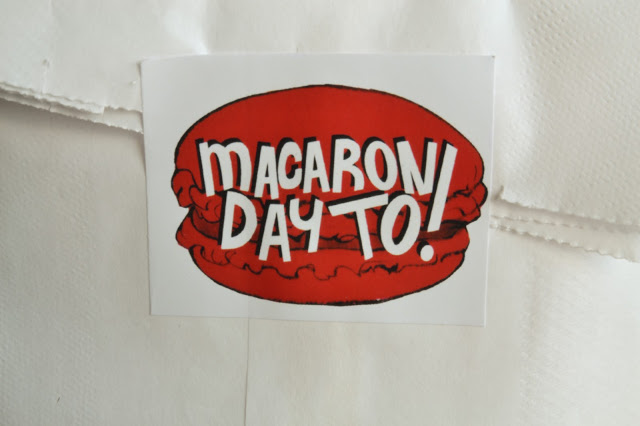 See you at Macaron Day 2014!