Pre-Birthday Brunch at Fresh Restaurant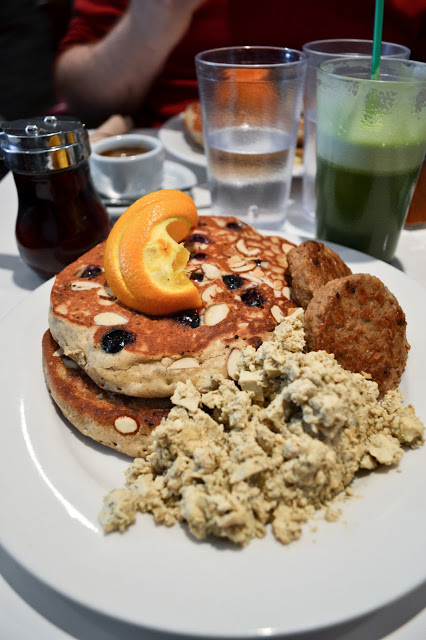 A couple weeks ago, Trevor took me to my favourite restaurant, Fresh, for pre-birthday brunch. For the last few months, I had been raving about all the good things I had been hearing about their brunch menu, especially their pancakes. Trevor took this as a hint and instead of going out for birthday supper later that day, we made our way downtown for brunch.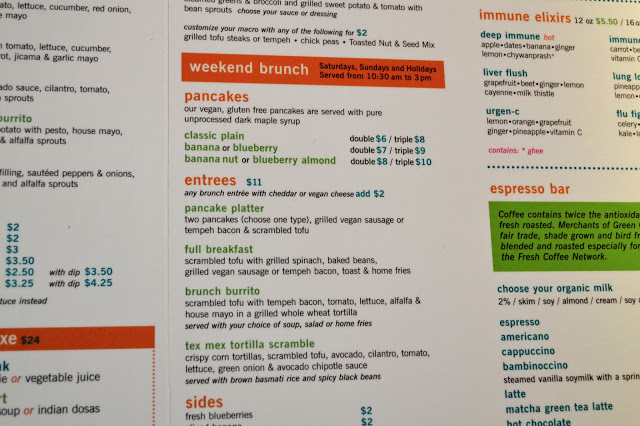 Since moving to Toronto, Fresh restaurant has become a regular staple in our downtown dining experience. Their menu consists of delicious vegan options that shuts down all stereotypes in thinking that meat/milk/egg/cheese and sometime gluten free foods are bland and unsatisfying. Although salads are on their menu, they also offered filling burgers, wraps, assorted baking (chocolate!) and their famous fresh bowls. Trevor's personal favourite is their flavourful BBQ burger and I will never turn down their broccoli and vegan cheddar soup and an order of crispy quinoa onion rings. As someone who doesn't eat meat often and with Trevor's lactose intolerance, it's great to know that their menu can satisfy both of us without making us feel bad afterwards.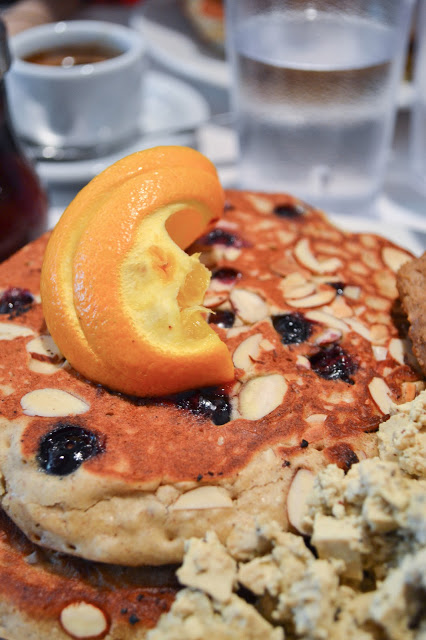 However, this trip to Fresh we only had one thing on our mind – brunch! Based on word of mouth, I knew that somehow I had to incorporate their pancakes into my meal. I settled on their pancake platter with grilled vegan sausage, scrambled tofu and blueberry almond pancakes. My eyes practically popped out of my head when our server brought our food. Check out all those blueberries and sliced almonds! Every bite of the fluffy pancake was full of crunchy, fruit-filled goodness. Gluten-free what? Vegan who?
Trevor ordered the pancake platter with banana walnut pancakes and gave it a thumbs up. He wasn't the bigger fan of their vegan sausage, but I devoured it and raved that it tasted just like how I remember sausage tasting. I guess my palate has changed since cutting most meats out of my diet.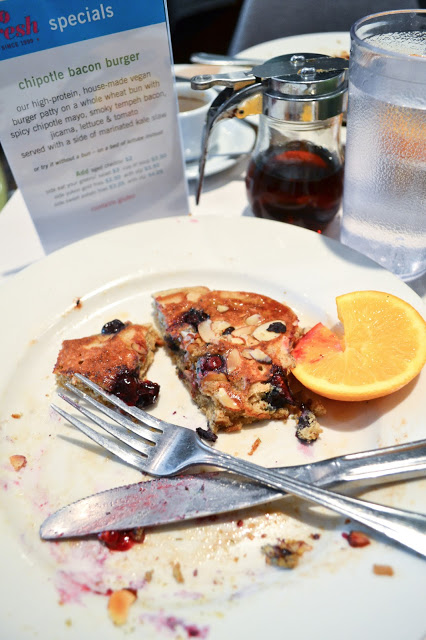 I ate the remaining pancake pieces after taking this photo. Nothing was spared. If the restaurant wasn't so crowded, I could have lost all dignity and licked the plate clean.
Also, note to self – get back to Fresh before the end of February to try their chipotle bacon burger! Doesn't that description on the specials table card sound fantastic?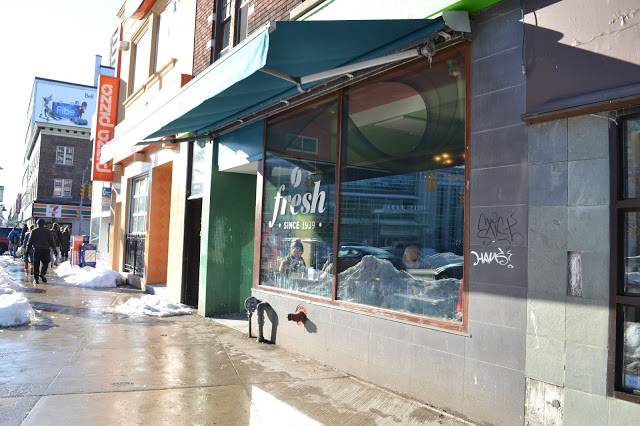 Brunch at Fresh is pretty popular and is offered only on the weekends and certain holidays until 3pm. They do not take reservations, so I recommend going between 1pm – 2pm, as we did. It was still a tad on the busy side, but we only waited maybe 5 minutes for a table. Fresh is such a popular restaurant chain that we are yet to find a time that is their "slow" period.
Toronto has three Fresh locations in Toronto, ranging from locations on Bloor, Spadina and Crawford (Queen). A fourth location is currently being built on Eglinton.