Cinnamon Macadamia Nut Cookies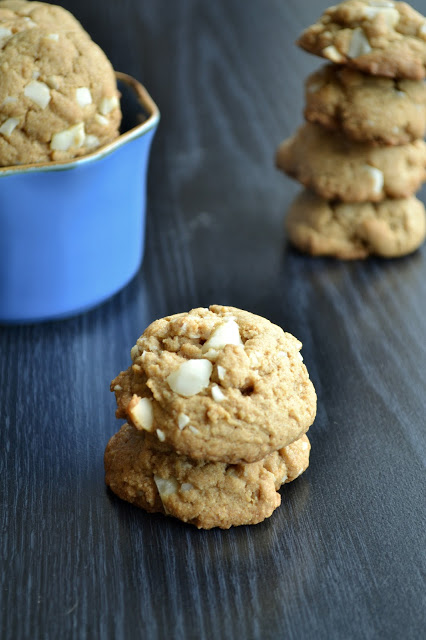 You know those handy cookie scoop devices that allows you to create perfectly round cookies each and every time you bake? Well, have you ever broken one?
This seems to be my habit as of late. Over Christmas holidays, I was in charge of making the chocolate truffles for our dessert platter. I was over-enthusiastic with my scooping and likely running on a sugar-high from all my secret taste-testing, when I clenched too hard on the mechanical scoop handle and managed to twist the gear inside. The sliding blade became dislodged and stuck out at a sad angle from the device. This was a heavy-duty scoop too and the first time on record that it broke.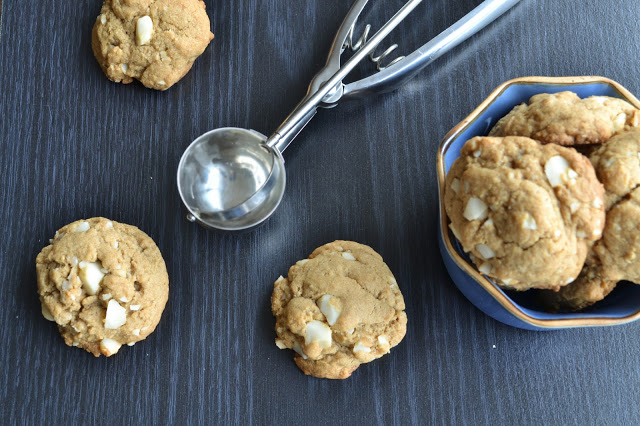 Luckily my brother Nathan, who is studying mechanical engineering, was also home for Christmas and within yelling distance from the kitchen. He took the cookie scoop and was back within minutes with the ratchet back in place against the gear and the blade back aligned in the scoop. This worked fine, until I broke it again. I was later demoted to helping dry the dishes.
Funny enough, I later received my own cookie scoop in my stocking. I had previously requested one in hopes of creating more uniformly shaped cookies on She Bakes Here.
This was all going through my head while I was making these cookies and I heard the all-too-familiar click of the gear sliding against the ratchet. I was on my third cookie on my first baking sheet, the sliding blade was sticking out and the scoop was full of cookie batter.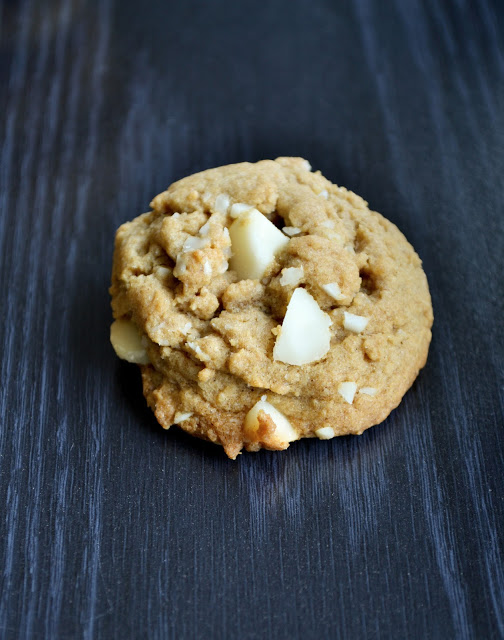 There were a lot of things I could do at the moment to not help the situation and I pretty much did them all. Pouted, stomped, banged the stupid device around in rage. But there was nothing I could do until I got my first sheet of cookies in the oven and washed off the scoop to look at it more closely. Trevor heard the commotion and managed to wedge the sliding blade back in, fighting the gear against the ratchet the whole time. We thought it was fixed, but for the remainder of this batch of cookies, the gear was loose and failed at sliding the ball of cookie dough out of the scoop.
Thankfully while I continue to shoot angry looks at my once beloved scoop as it sits innocently and broken on the kitchen counter, I have these cookies to drown my sorrow in. Soft and buttery with a hint of sugary cinnamon flavouring and a subtle crunch from the macadamia nuts, these are the ultimate comfort cookie. They will make your kitchen smell amazing, your friends will thank you for sharing them and they will make you forget how useless you feel with complicated kitchen devices.
I guess I'm in the market for a new cookie scoop. Does anyone have a good brand to recommend?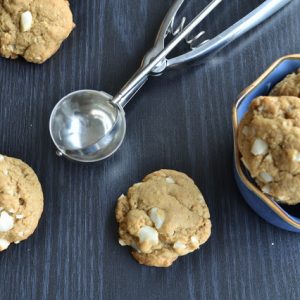 Cinnamon Macadamia Nut Cookies
Ingredients:
3/4 cups butter/margarine, room temperature
1 cup brown sugar
1 large egg
2 cups flour
2 tsp baking soda
1/4 tsp salt
1 tsp ground cinnamon
1/2 cup macadamia nuts, roughly chopped
Directions:
Preheat your oven to 350*F.
In a large mixing bowl, cream together butter/margarine and brown sugar. Add the egg until the mixture is smooth and creamy.
In a separate bowl, whisk together flour, baking soda, salt and cinnamon. Add the dry ingredients to the wet ingredients and beat until well incorporated. Using a wooden spoon, mix in macadmia nuts.
Drop by rounded tablespoon or medium sized cookie scoop on a lined baking sheet. Bake for 8-12 minutes, until the cookies are a warm, golden brown.
Remove promptly from baking sheet and let cool on a wired rack. Once they have cooled, store in an air-tight container.