Grandma's Apple Bars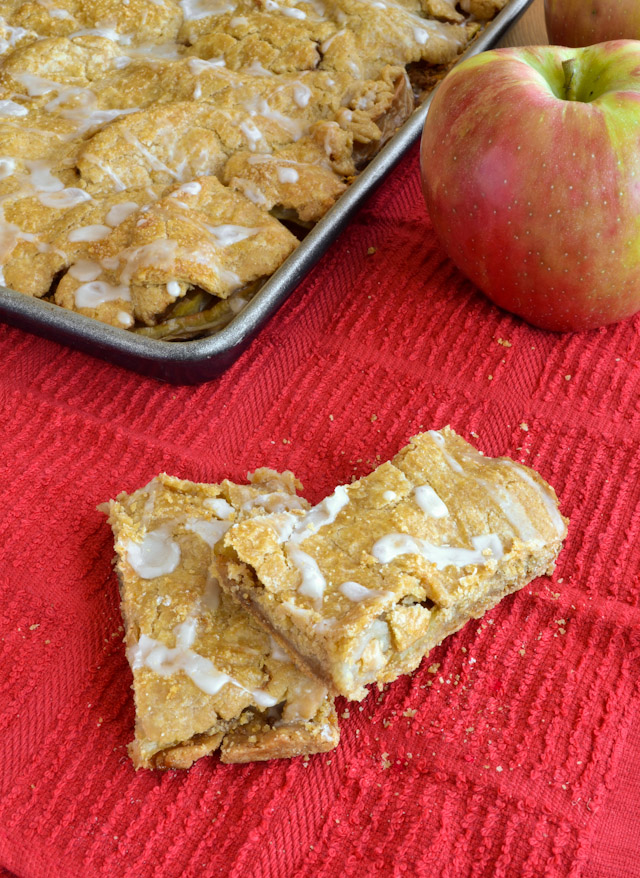 It's been two weeks since we returned from the farm and we're still making our way through all our apples. Yesterday was a landmark day in that we finally managed to fit them all in the fridge. Our crisper is full to the brim and we have apples spilling over each shelf. We've been keeping our grocery shopping to a minimum as to not disrupt the current organization of the fridge. Even at our rate of eating 2-3 apples per day, we realized that we're still not making much headway.
I realize that this may sound a little complain-y, but I don't mean to be. In a few months, we'll miss these apples especially when I have to resort to going back to the grocery store to pick up some tiny, flavourless ones probably shipped in from somewhere in the States.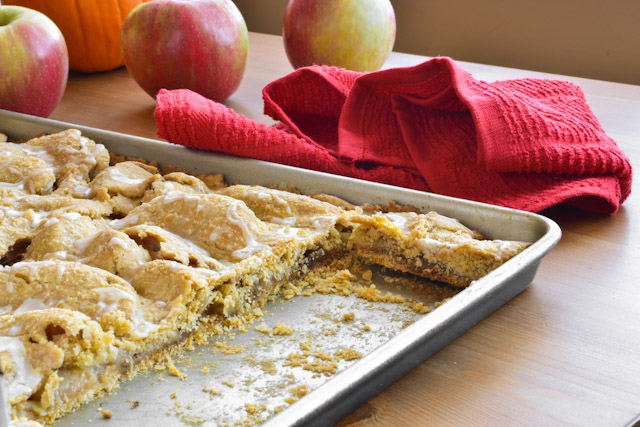 So after two weeks, with all these delicious apples taking up valuable real estate in our fridge, I knew it was finally time to bake something. This first apple recipe is another Grandma recipe, which I'm sure you all gathered from the title, and has been a long-time favourite in our house. With golden, flaky crust and sweet baked apples, these bars are very much like traditional apple pie. The secret ingredient is the crushed Corn Flakes cereal which adds a nice little crunch. Even if you like your apple pie warm, these bars are even better the next day once the flavours have settle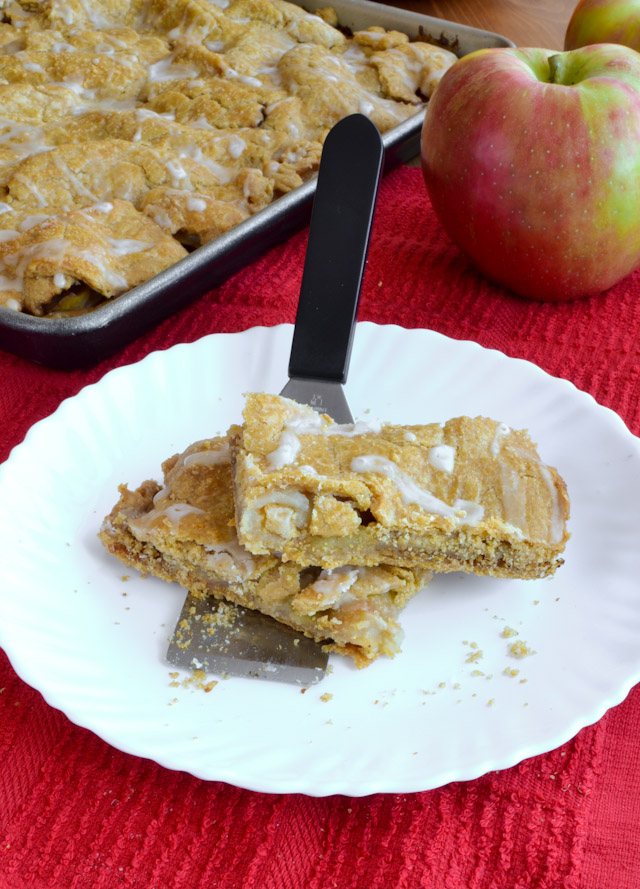 Based on these photos, I realize that the apple to crust ratio looks a little off and I think it's because I ended up using a larger cookie sheet than my Grandma normally uses. The directions says enough apples to fill a cookie sheet and I cut up enough apples for two layers which, prior to baking, looked like more than enough. Next time I plan on upping it to three layers to see how much of a difference it makes.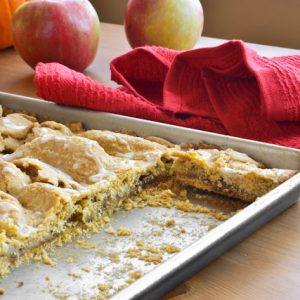 Grandma's Apple Bars
Ingredients:
1 1/3 cup shortening
3 1/2 – 4 cups flour
1 egg, separated
2/3 cup milk
1 cup crushed Corn Flakes
Roughly 4-5 sliced apples – enough to fill a large cookie sheet
1 cup sugar
1 tsp cinnamon
1 tsp lemon juice
Glaze
1/2 cup icing sugar
1/2 tsp vanilla
Water
Directions:
In a large bowl, cut shortening into flour with a pastry blender. In a measuring cup, add egg yolk and enough milk to make 2/3 cup. Add egg mixture to flour mixture and stir with a wooden spoon until dough forms. If you find the dough to be too wet, add the extra 1/2 cup of flour.
Divide the dough in half.  Roll half of the dough to fit a large cookie sheet.
Sprinkle the crushed Corn Flakes over dough on the cookie sheet.
Slice apples and lay on top of Corn Flakes.
Preheat your oven to 375*F.
In a small bowl, mix together sugar, cinnamon and lemon juice. Sprinkle mixture over top of apples.
Roll remainder of dough and place on top of apples. Pinch sides. Beat egg white until stiff and spread on top of dough with a pastry brush.
Bake for 1 hour until the crust is a golden brown.
Remove from oven. While the bars are cooling, mix together a glaze of icing sugar, vanilla, and a bit of water. Sprinkle on top of warm bars with a spoon.
Cut bars with a knife or a pizza cutter. Bars can also be frozen.
To all my Canadian readers, happy Thanksgiving!