Traditional Bread Stuffing (Grandma Kay's Recipe)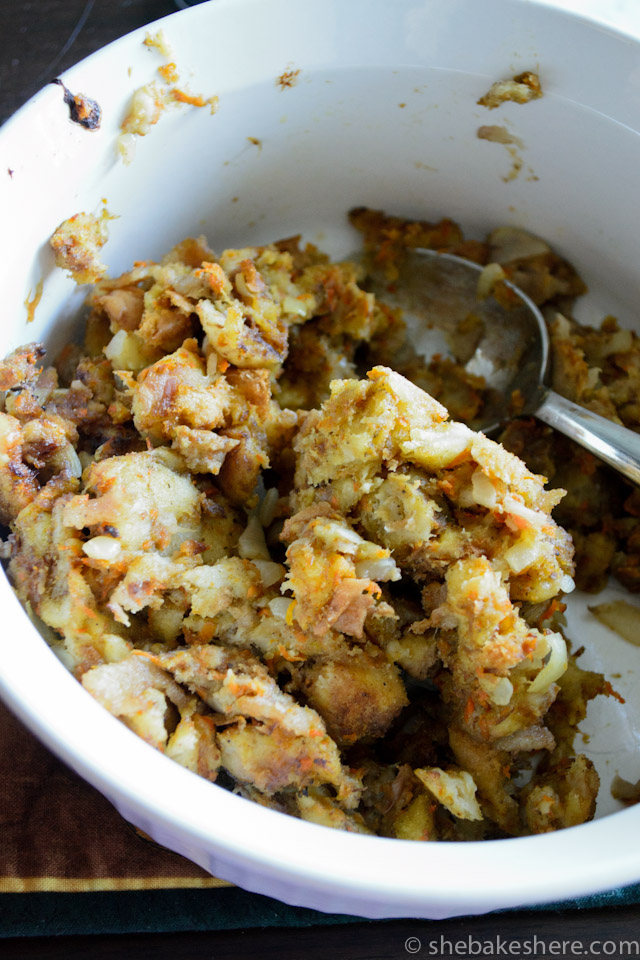 I realize that this may not be considered "the best time" to post a stuffing recipe, what with Canadian Thanksgiving come and gone and American Thanksgiving over a month away. But as the temperature continues to drop and the evenings get cooler, I know this stuffing will still make a nice hot side dish to go alongside a Sunday roasted chicken or weekend glazed ham. Just because Thanksgiving is over for us Canadians (and is still on the horizon for those south of the border) doesn't dismiss the fact that snow and winter are on their way. Now may actually be the best time to stock up on comfort food ideas for the long cold months ahead.
In all honestly, though, I did originally plan to remake and take photos of this recipe at some time at the end of the year. But it worked out that I was the first person to finish my supper (lupper?) on Thanksgiving and I couldn't pass up the opportunity to use my camera in the natural daylight. You may notice that the staging in these photos are a little rough and all of the food is awkwardly piled on one side of the dish. But that day I was fueled by turkey, gravy, and determination, so nothing was going to stop me. Plus I like to think that the holidays are not so much about getting things perfect as they are about eating good food and spending time with the people you love.
This stuffing a family favourite and one of my Grandma Kay's tried and true perfected recipes. It's been dubbed as "Grandma's famous stuffing" and when I'm with my family, there is almost never any leftovers. If by small chance one lonely scoop does survive, someone usually eats it for breakfast the next day, straight out of the container while standing in front of the open fridge. We're classy and secretive that way.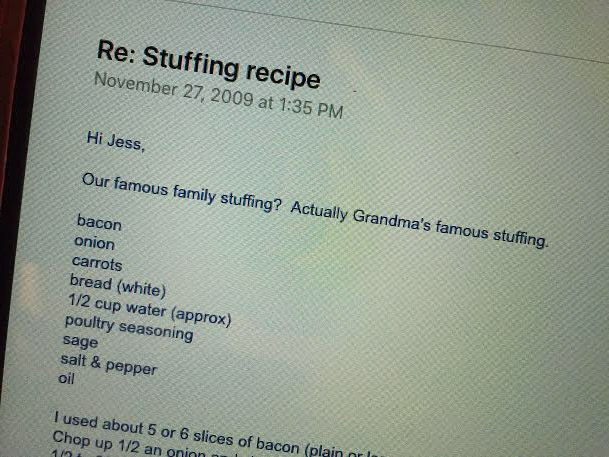 The first time I made this stuffing on my own was back in 2009. I had grand plans of cooking a turkey meal for myself and Trevor so I asked my Mom to email me the recipe (see above photo). I remember noting how small the ingredients list was and how quickly it all came together over the stovetop. Definitely, a major bonus when you consider the juggling act that is getting all different elements of a holiday dinner to the table.
Just as a side note, I wish I could gloat and say that my first turkey was a success and that's when Trevor realized he needed to marry me, pronto. But as luck would have it, that first turkey did not work out and it came out dry, dry, dry. Call it first timer's bad luck or a finicky apartment oven, but the Sacred Turkey Gods were not paying attention to me that year.
But that's okay because the great thing about turkey is that you don't have to wait until Thanksgiving or Christmas to try making it again. Just like this stuffing recipe, which can be enjoyed at any time as a nice side dish to accompany your homemade meal.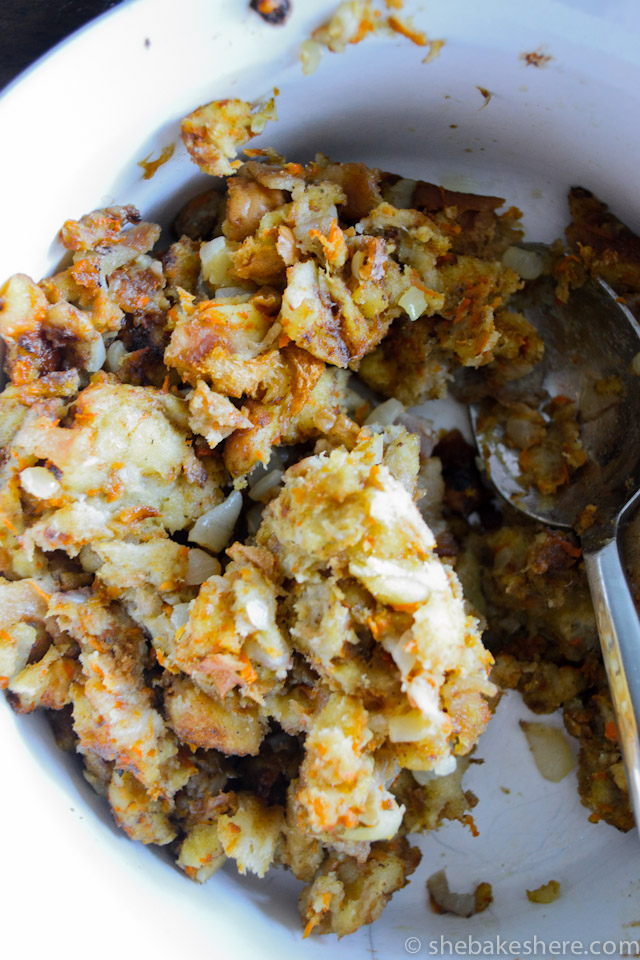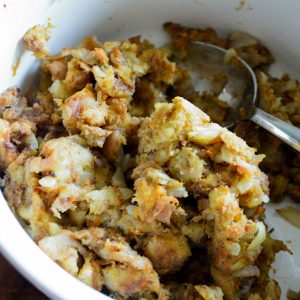 Traditional Bread Stuffing (Grandma Kay's Recipe)
Ingredients:
5-6 slices of uncooked plain or less-salt bacon
1/2 large onion
1 large carrot
1/2-3/4 loaf of white bread
1 tsp vegetable oil
1 tsp poultry seasoning
1/4 tsp ground sage
Salt & pepper
1/2 cup water
Directions:
Finely chop up onion, slice bacon into small strips and peel and grate the carrot. Tear bread into small, bite-sized pieces and set aside.**
In a large pot, heat vegetable oil on high heat and fry bacon and onion until the bacon is nearly cooked and the onion is translucent. Lower heat to medium, add the shredded carrot and stir until well combined.
Cook for a few minutes more and then add bread, poultry seasoning, ground sage and a shake of salt and pepper. Stir gently to mix, taking extra care that the bread does not burn at the bottom of the pot. Gently pour half of the water over the mixture and stir together until the bread is moistened. If the bread appears a little dry, feel free to add a touch more water. (Note: unless your bread is very dry, you will not likely need all the water as this will make the stuffing soggy).
Continue cooking for 5 more minutes on the stove until the bread is nicely browned, stirring often so the bread does not stick. If you will be stuffing a turkey, you can remove the pot from the burner and let the stuffing cool for a minute or two for easier handling. There should be enough to stuff an 8 – 10 lb turkey. Any extra stuffing can be roasted in the oven. During the resting period after the turkey has been cooked, I like to remove the stuffing from the turkey while it's still hot and roast the stuffing in it's own dish for an additional 10 minutes to crisp it up a bit.
If you will not be stuffing the turkey, the stuffing can be toasted uncovered in the oven in an oven-safe container at 350*F for 15-20 minutes.
*Total cooking time will vary depending on if you will be stuffing a turkey. Stuffing tends to one of the last things I make as this recipe comes together fairly quickly and only needs the occasional stirring.
** The holidays can be hectic and some prep can be done the night before so that you won't be chopping a lot of different things while trying to get supper on the table. If I know I will be juggling a bunch of different dishes, I usually will chop and store the uncooked bacon and onions together in the fridge the night before. The bread can be torn up and saved in a plastic bread bag until it is ready to be used. Don't worry if the bread is a little stale, I find that this recipe works best with bread that is a day or two old rather than a fresh loaf.