Coconut Lime Shortbread Cookies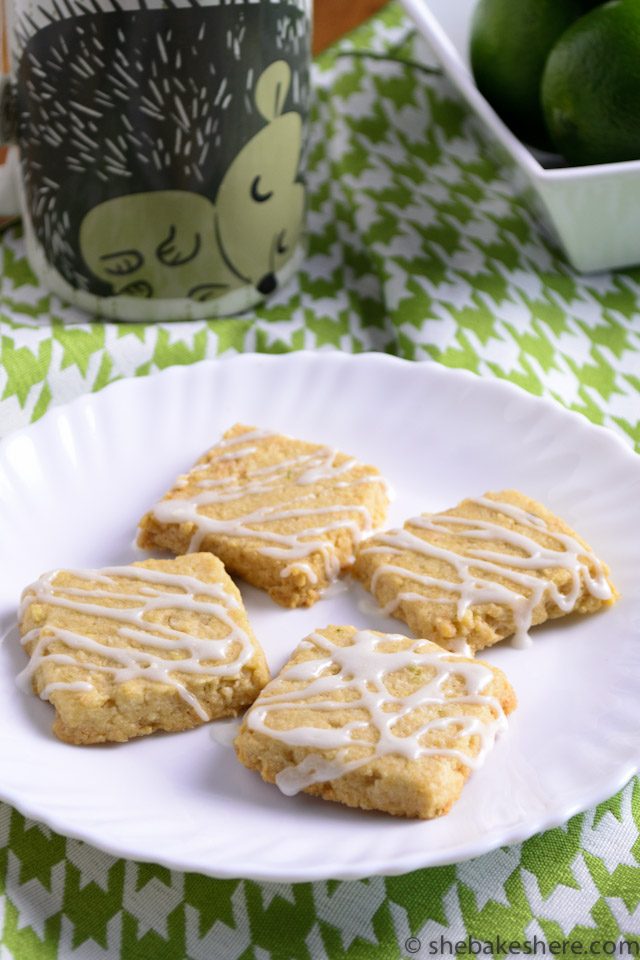 Nothing says last minute like pulling out a cookie recipe just two days before Mother's Day. I'm nothing if not a procrastinator. Luckily, this recipe comes together really quickly and if you're in a bind over what to make your Mom for Mother's Day, may I recommend whipping up a batch of these coconut lime shortbread cookies and serve them alongside a pot of hot tea? While it may not be breakfast in bed, you can at least let your Mom sleep in. I'm sure she'll appreciate it.
I haven't been doing much of my own baking for the last couple weeks, so it was nice to get back into the kitchen and dust off my poor, neglected Kitchen Aid mixer. I recently got a couple new-to-me cookbooks (Gatherings by Jan Scott & Julie Van Rosendaal, and It All Begins with Food by Leah Garrad-Cole), so a lot of the food that we've been eating as of late has been recipes from other food bloggers. It was nice to have a mental break from testing my own recipes and truly get back to just being in the kitchen to make food to eat rather than having it feel like work.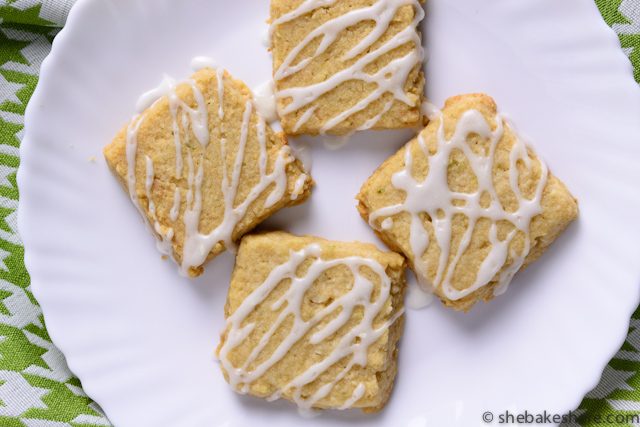 Another big help has been all the fresh produce that has been appearing at the grocery store and farmer's markets. Right now, all I seem to want is fresh vegetables and salad all the time. I'm trying to go with the flow on this right now because no one ever felt terrible from eating too many vegetables, haha! I'm sure I'll grow tired of it soon enough, but right now I'm trying to take advantage of this feeling as much as possible.
While I am all about fruit and vegetables right now, I did sneak in a couple of these cookies before packing up the rest and taking them to work with me. Having homemade cookies around is way too tempting, so thankfully my colleagues don't mind eating the rest for us.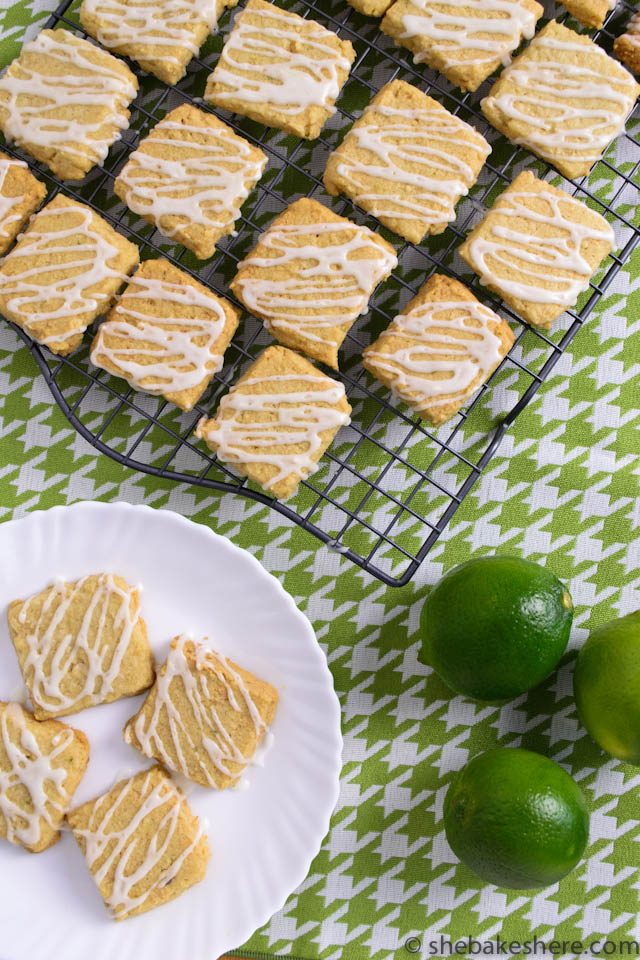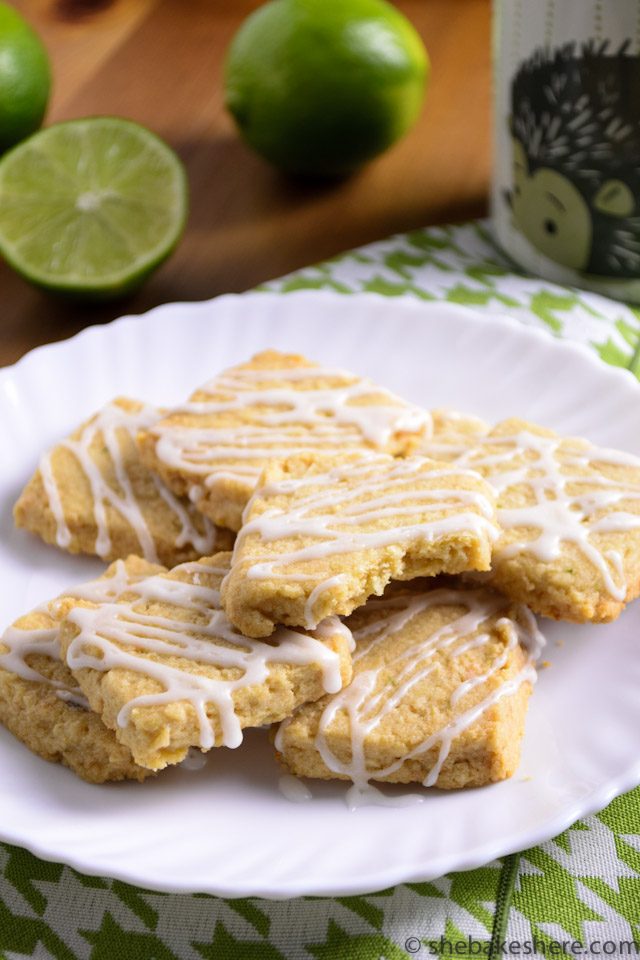 Since it's a shortbread recipe, I'm going to preach the rules of using real butter. It's butter that gives shortbread that rich flavour and crumbly goodness that we all know and love. Save yourself the hassle and please, please, please use real butter. The flaked coconut in this recipe will give the cookies a bit of a nutty, chewy texture, but I really found that I enjoyed it especially with the tang of the lime glaze. Be sure to use fresh lime juice to give it that extra omph. Real butter, coconut and fresh limes. Your Mom will be proud.
Coconut Lime Shortbread Cookies
Ingredients:
Cookies
1 cup butter, softened
1/2 cup powdered icing sugar
1/2 cup unsweetened coconut (medium flake)
2 tsp fresh lime zest
1 tsp vanilla
2 cups flour
1/4 tsp baking powder
1/4 tsp salt
Lime Glaze
Juice of 1 fresh lime (approx 2-3 tbsp)
3/4 cup of powdered icing sugar
Directions:
Preheat oven to 300*F. Line your baking sheets with parchment paper or a silicone baking liner.
Cream together butter and powdered icing sugar. Add unsweetened coconut flakes, fresh lime zest, and vanilla and beat until well combined.
In a separate small bowl, whisk together flour, baking powder, and salt. Gradually add the flour mixture to the butter mixture and stir until just combined.
Using a rolling pin, roll out the dough between two pieces of wax paper until you have a shape that is roughly 1/3 inch thick. Cut into squares and space each cookie about one inch apart on the baking sheets. Bake for 18-20 minutes until the middle of the cookies are set and the edges are a light brown. Let the cookies cool on a wired rack.
While the cookies are cooling, mix together the lime juice and powdered icing sugar to make the lime glaze. If the glaze is too thin and spreads too easily, feel free to add a couple more spoonfuls of powdered icing sugar. Drizzle the glaze over the cooled cookies and serve immediately.
It should go without saying, but the number of cookies you end up with will depend greatly on the size of your squares. I shaped mine to be about 2 inches and managed to get a little over 40 cookies. Use a ruler or a straight edge to help with the lines.