Toasted Coconut Chocolate Chip Cookie Dough Fudge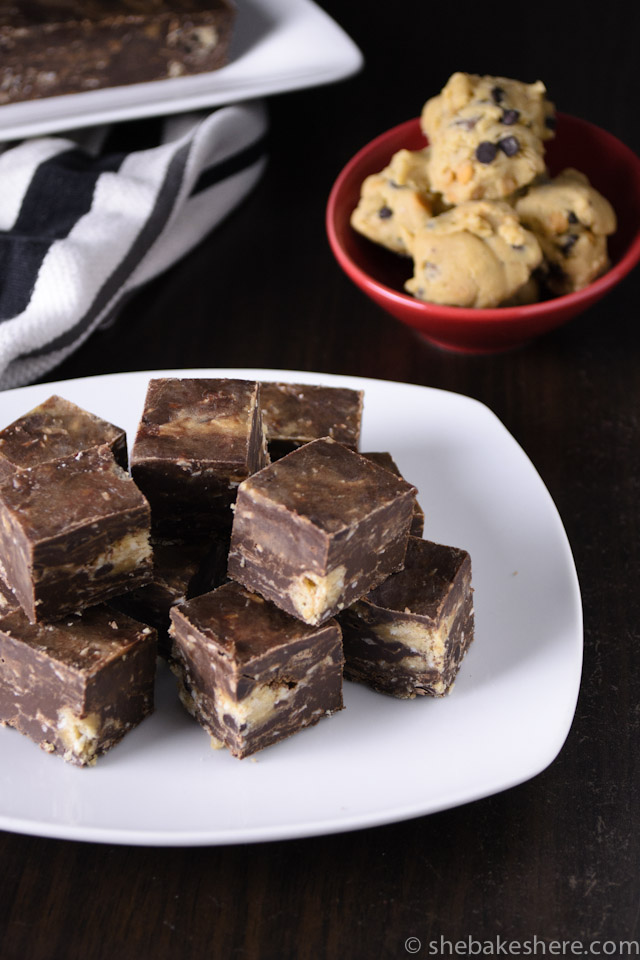 I'm pretty sure this toasted coconut chocolate chip cookie dough fudge is everything I ever wanted in a dessert. As a chocolate-loving adult, it incorporates everything I love – rich milk chocolate, toasted coconut and chocolate chip cookie dough. And if you think you are too old to enjoy cookie dough in all it's unbaked glory, one bite of this fudge will definitely change your mind.
When I was a teenager, I bought my fair share of homemade chocolate fudge from the local Christmas Market in my little hometown in northern Saskatchewan. As much as I now love living in a big city, I do miss the small-town charm of Christmas Markets filled with friendly neighbors and local vendors. I've visited and purchased presents at a couple of the markets in Toronto over the past few years, but sometimes the crowds can be quite suffocating (think crowded, delayed subway – ugh). Thankfully with this recipe, I can get my fix in the comfort of my home and it also gives me the opportunity to enjoy a few pieces and then give the rest away to friends and co-workers.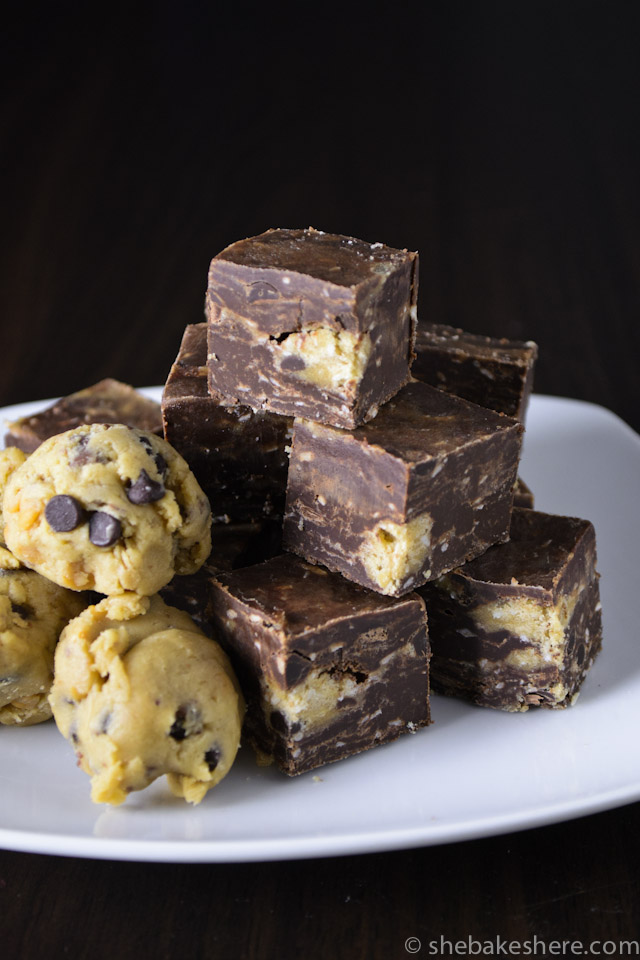 As much as I dislike dealing with crowds, I'm going to make an attempt to visit the Toronto Christmas Market at the Distillery District with my sister in a couple weeks. One of my first memories after moving to Toronto was attending this very market. The evening we visited was particularly cold and I somehow managed to convince Trevor to join me on the ferris wheel and, of course, there was a moment when the ride stopped our car right at the very top. I remember watching my breath fog around us in the cold air, peering across the vast, endless city lights in the downtown area, and wondering what this new place had in store for us. And then just like that, the moment was over and the ride jolted and started it's descent to bring us back down to the ground.
That was six years and while so much has changed in our lives, I still try to keep up the tradition of visiting the Distillery District during this time of year. Whether I can still convince my husband to jump on the ferris wheel again is another story.
Hope you enjoy this recipe!
Toasted Coconut Chocolate Chip Cookie Dough Fudge
Ingredients:
Cookie Dough
2 1/2 tbsp unsweetened coconut flakes
1/4 cup butter/margarine, softened
1/2 cup brown sugar
3/4 tsp vanilla
1/2 cup flour
1/8 tsp salt
1/3 cup mini chocolate chips
Chocolate Fudge
300g milk chocolate
150g unsweetened chocolate
1 can (300mL) sweetened condensed milk
Directions:
Line an 8×8 inch or 9×9 inch square pan with parchment paper. This will make it easier to lift the fudge out of the pan once it has chilled.
In a small non-stick pan, gently toast coconut flakes on medium heat for 3-5 minutes, stirring occasionally until fragrant. Remove the pan from heat and set aside to cool.
Cream together butter/margarine, brown sugar, and vanilla until smooth. Add flour, salt, toasted coconut flakes and mini chocolate chips and stir with a wooden spoon until combined and a soft dough forms.
Over a piece of plastic saran wrap, shape the cookie dough into a small rectangle that is roughly 1/2 inch thick. Wrap the rectangle in another piece of plastic wrap and place on a baking sheet in the freezer for 35 minutes to harden.
While the cookie dough is freezing, roughly chop the milk chocolate and unsweetened chocolate into small pieces. Combine the chocolates and sweetened condensed milk in a saucepan and melt over very low heat, stirring constantly, until the chocolate is melted and the mixture is smooth. Remove from heat and let stand for 5 minutes to cool slightly.
Take the frozen cookie dough slab from the freezer and roughly chop into small squares. Gently stir the cookie dough pieces in with the melted chocolate fudge.
Add the fudge and cookie dough mixture to the parchment-lined pan and smooth the top, making sure that the corners are all filled and the edges are even with the center of the pan. Cover and refrigerate for at least 3 hours.
To serve, lift the chilled fudge by the sides of the parchment paper and place on a flat cutting board. Run a sharp knife under hot water, dry the knife and promptly cut the fudge into small bite-sized squares. Note, you may need to run the knife under hot water and dry a few times to ensure clean cuts.
To store, place in an air-tight container and refrigerate for up to 2-weeks.
Note: this recipe makes one square pan, approximately 40-50 pieces depending on how small you slice them. This fudge is quite rich, so I recommend bite-sized pieces if possible.
Adapted from Canadian Living Holiday Baking Magazine – Winter 2014