Honey Peanut Butter Puffed Wheat Bars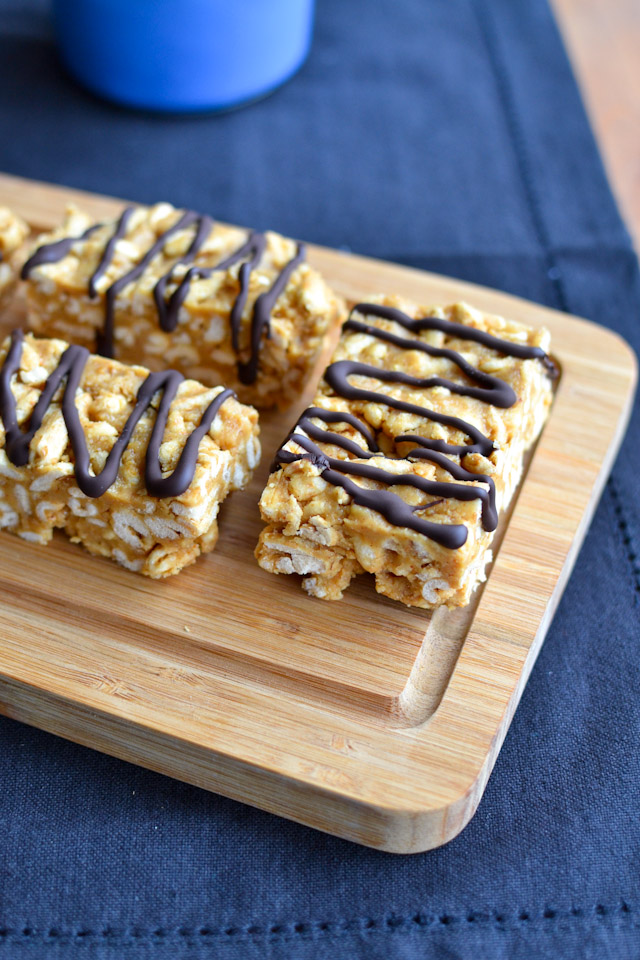 Back in the fall, I purchased some 100-calorie peanut butter chocolate bars from Costco as an easy, portable purse snack. These bars was especially handy because I take a zumba dance class on Wednesday nights and I'm always famished on my hour-long bus ride back to our apartment. Being only 100-calories though, the bars never satisfied me after my workout so I wasn't really that sad once we finished the Costco-sized box a few weeks ago.
Or so I thought. Lately, I couldn't stop thinking about them. The calorie content may have been pretty miniscule for a post-workout snack, but the taste and the texture was something I couldn't get enough of. It reminded me of a soft peanut butter puff wheat square with a hint of chocolate. Growing up, I loved homemade puff wheat squares, but I stopped making them a couple years ago when I read about corn syrup being pretty much one of the worst things you can put in your body (thanks Jillian Michaels). Since then I've completely sworn off baking with corn syrup, even though I know that I can't completely avoid eating it (like in the 100-calorie bars).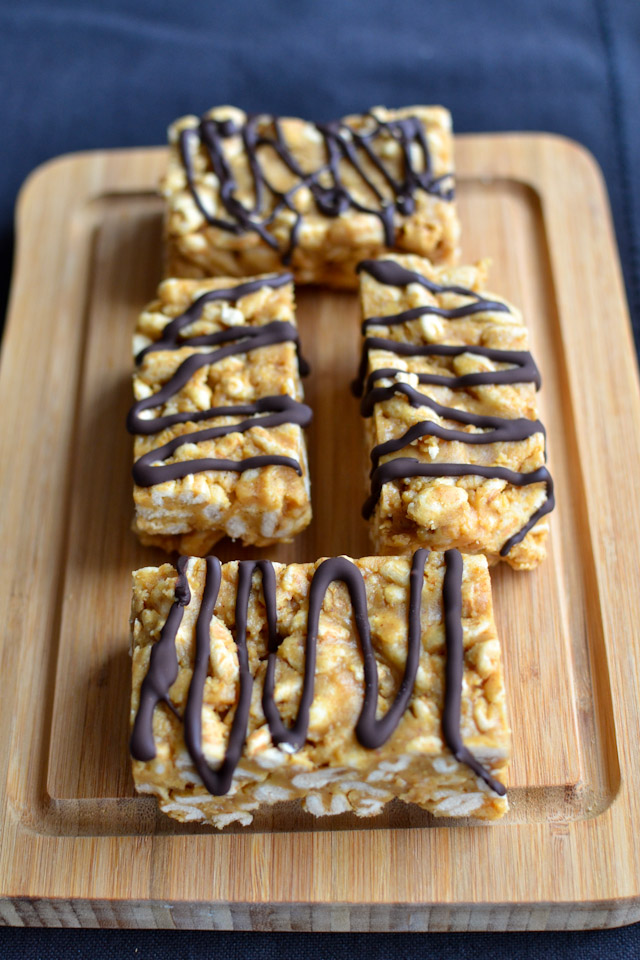 Once I realized that I couldn't stop thinking about these bars, I took it upon myself as a challenge to see if I could recreate the peanut buttery taste and soft puff wheat texture of the bars without resorting to corn syrup. To mimic the stickiness that would act as glue for the puff wheat cereal, I substituted melted honey and a touch of maple syrup for flavouring. To up the nutrition, I used a smooth natural peanut butter, although you are welcome to use the crunchy variety for some added texture.
The end result? The bars are not quite as sturdy as regular puff wheat squares, but the texture was exactly how I remember and I could not be more pleased with my new post workout snack. Now if only I can get them to last until next Wednesday…….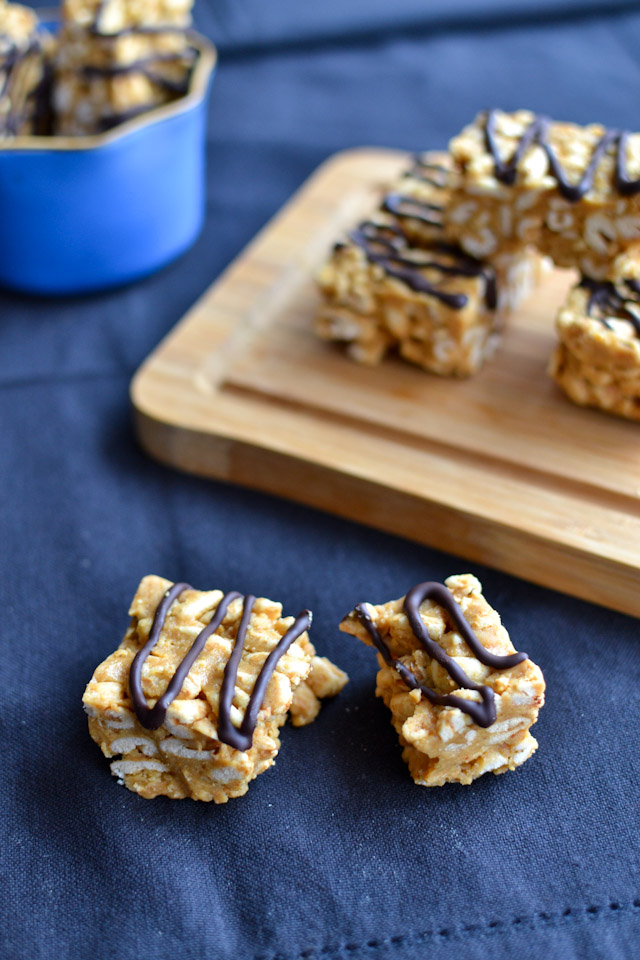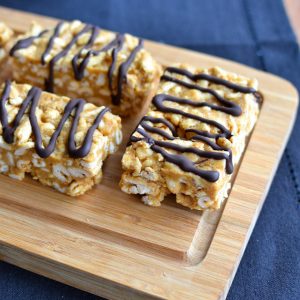 Honey Peanut Butter Puffed Wheat Bars
Ingredients:
1 cup natural peanut butter
2 tbsp real maple syrup
1/4 cup melted honey
3 – 3 1/2 cups puff wheat cereal
1/4 cup chocolate, melted
Directions:
Line a 9×9 inch square pan with parchment paper. In a large bowl, stir together peanut butter, maple syrup and honey with a wooden spoon.
Stir in puff wheat cereal and mix until the cereal is lightly coated. Using the back of the spoon, press the mixture evenly into the square pan.
Pop the pan in the freezer for 25 minutes until the bars have hardened.
Grab hold of the parchment paper and gently lift the bars out of the pan. Using a sharp knife, cut the bars into even rectangles. Drizzle with melted chocolate. I used a plastic sandwich bag with a small corner cut out.
Store bars in an airtight container in the fridge.