Quinoa Brownies with Chocolate Date Icing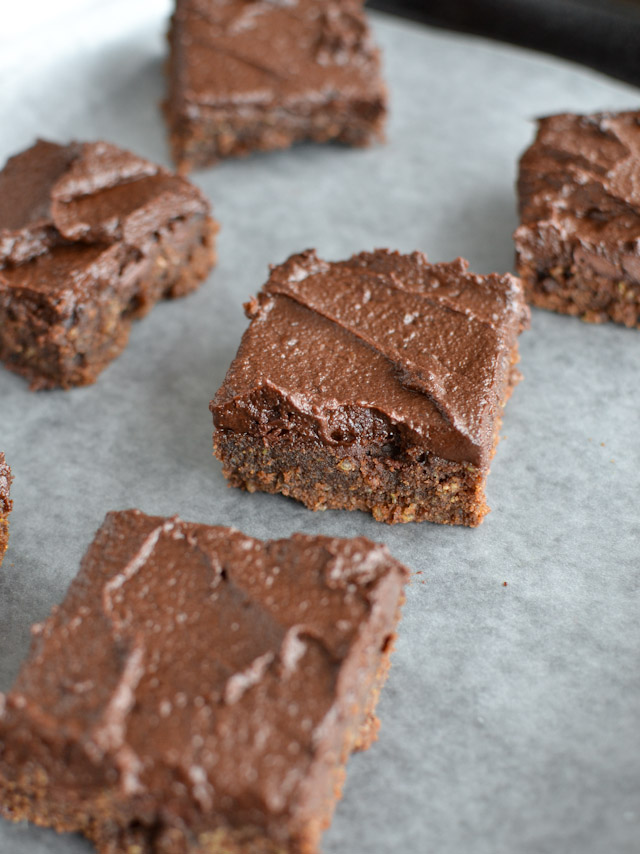 Ever since I purchased my new, fancy-pants 11-cup Cuisinart food processor, I've been on a chopping, slicing and pureeing crazy spree. In the last two weeks, I've made falafels, granola (3 batches), homemade veggie burgers and chopped a variety of vegetables for homemade soup. To say that this upgrade was a well-needed purchase is an understatement and I'm thrilled now to be able to make things that my previous 3-cup little baby processor couldn't handle. A few of the items on my to-make list include hummus, homemade peanut butter for Trevor and another batch of these quinoa brownies.
Some of you may remember last summer when I made my chocolate espresso quinoa cake and if you compare the ingredients list from that cake to these brownies, they don't appear to be that different from each other. Where I think these brownies really shine is the crazy addictive chocolate date icing. Rather than using powdered sugar, I used medjool dates, which are naturally sweet and full of potassium and fiber. Ever since I had my first medjool date, I've had to keep a package hidden somewhere in my fridge for when I'm craving something sweet.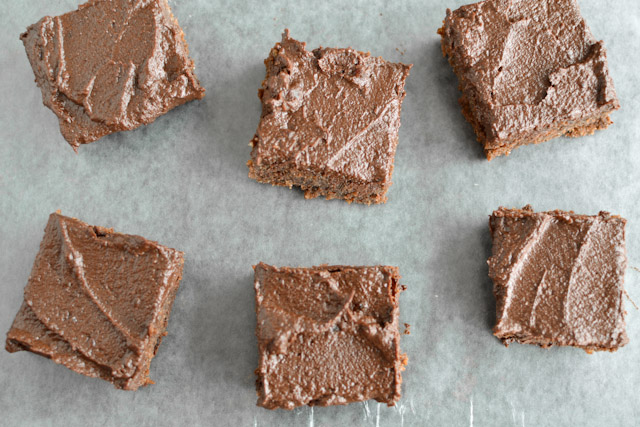 Pureed medjool dates in baking isn't a new concept, but it was definitely one of the many things I daydreamed about finally trying when I was in line with my new food processor in my cart. Once the pits are removed, it helps to soak your dates in boiling water for at least 10 minutes to soften before pureeing them with cocoa powder, vanilla and a dash of salt. If you use good-quality cocoa powder, this can really add to the chocolatey goodness. Everything is better with good quality cocoa powder.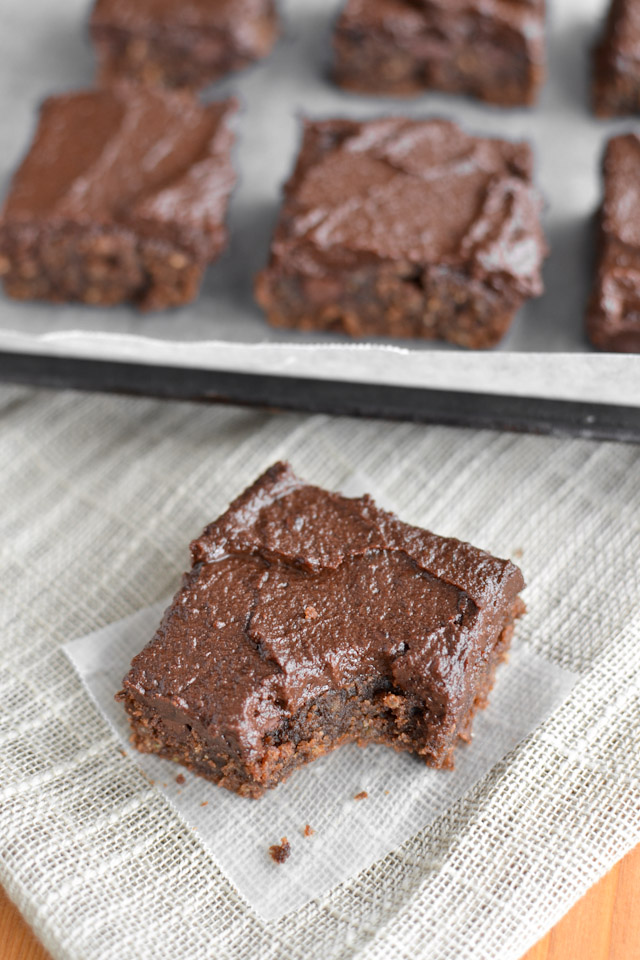 If you are not used to the taste of dates, the first bite of these brownies may throw you off, but I promise that this chocolate date icing will grow on you. I'm normally not a fan of icing on my brownies, but this recipe made me a changed woman. Now I'm imaging the other things to pair it with, like maybe making enough to pipe on a birthday cake. I'm not a big fan of chocolate cake either, but hey, I'm game to try anything now!
Quinoa Brownies with Chocolate Date Icing
Ingredients:
Quinoa Brownies
1/2 cup + 2 tbsp melted coconut oil
1 cup brown sugar
3 large eggs
1 tsp vanilla extract
3/4 cup cooked quinoa
3/4 cup whole wheat pastry flour
1/3 cup cocoa powder
1 tsp espresso powder
Dash of salt
1/2 cup chocolate chips (optional)
Chocolate Date Icing
1 cup medjool dates, pitted
1/2 cup boiling water
1/4 cup + 1 tbsp cocoa powder
1/2 tsp vanilla
Dash of salt
Directions:
Preheat oven to 350*F and line an 8×8 square pan with parchment paper.
In a small bowl, mix together whole wheat pastry flour, cocoa powder and salt. Set aside.
In a separate larger bowl, whisk together brown sugar, eggs and vanilla extract. Add quinoa and melted coconut oil.
Gently fold dry flour mixture into the wet mixture. Pour the brownie batter into your prepared square pan and sprinkle with chocolate chips (if using).
Bake for 30-35 minutes until the middle is set and a toothpick comes out clean. Remove from the oven and let cool on a wired rack.
While the brownies are cooling, begin preparing your chocolate date icing. Remove pits from the majool dates, soak in boiling water for 10 minutes and then process in a high speed food processor until creamy. Add cocoa powder, vanilla and salt and process until smooth. Spread icing over cooled brownies before slicing into squares.