Mini Fruit Pizza Cookies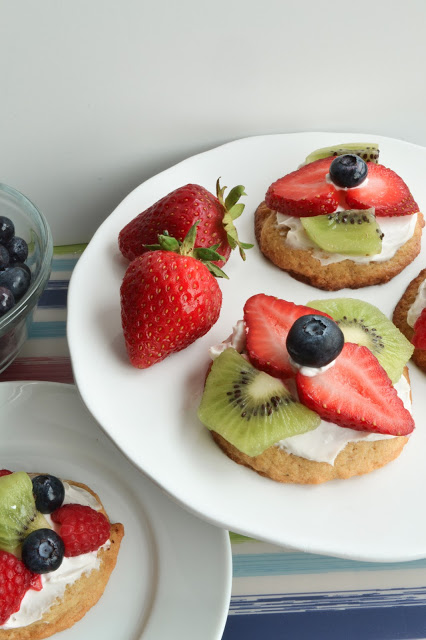 This week, I bring you….mini fruit pizza cookies! And I can already hear the murmurs through the crowd: "So wait, is this a mini fruit pizza or is it a cookie?"
It's been a few days since we made and enjoyed them and I'm still trying to figure this out. When they taste this good, it's best not to ask trivial questions.
The simplest way to describe these as a plain cookie slathered in cream cheese icing and covered in sliced fruit. Like a fruit pizza, only in nice individual sized portions that you don't have to slice. Everyone gets their own cookie (or two or three) and they are super portable to take to a party where you can just put them on the table and you won't have to worry about asking for a plate and utensils.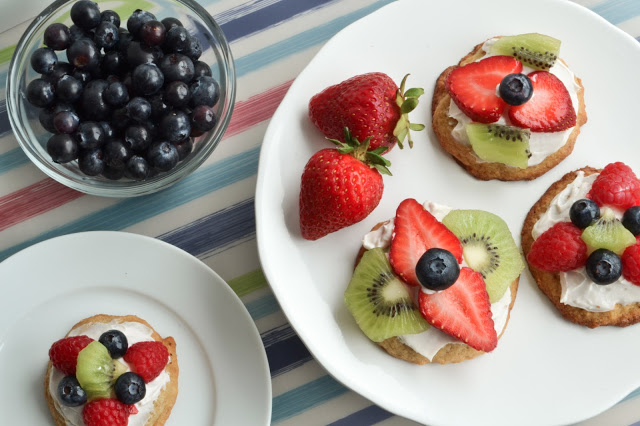 If you want to get even more creative at a party, you could have a
make-your-own-mini-fruit-pizza bar and everyone could decorate their own cookie with their preference of fruit. No more asking for the slice without kiwi or picking off the blueberries and sliding them onto your brother's plate. I've done neither, but I'm sure this is common practice to some.
Sadly all these mini-fruit-pizza bar ideas were flooding through me after we already decided on our wedding menu, but I wanted to share the recipe because it's still great idea for a party nevertheless. Instead of serving cake at a kid's birthday, you could take a slightly healthier route and have each child decorate their own fruit pizza. You don't even have to limit yourself to fruit, you can add marshmallows, chocolate chips, sprinkles, nuts, a little chocolate drizzle – the sky is the limit!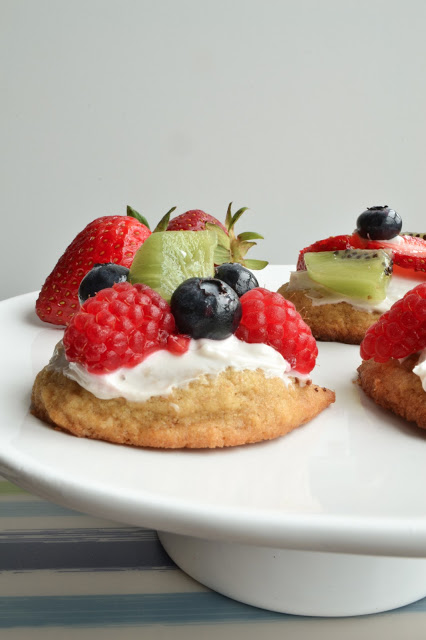 We decided to be boring though and in the true spirit of a traditional fruit pizza, we stuck with plain old sliced fruit. Of course, since the berry season is so short, you will never find me saying no to fresh strawberries, blueberries or raspberries. Bring on all the Vitamin C!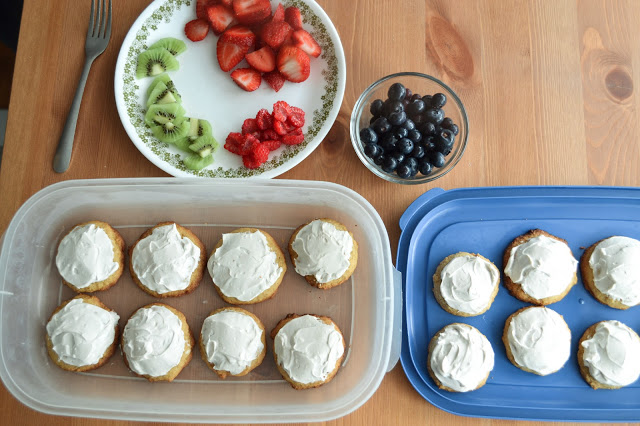 Mini Fruit Pizza Cookies
Ingredients:
Cookies
1/2 cup butter/margarine
1/2 cup confectioners sugar (powdered icing sugar)
1 egg
1/2 tsp vanilla extract
1 1/4 cups whole wheat pastry flour (all purpose flour will work too)
1/2 tsp baking soda
Dash of salt
Icing
4oz cream cheese (I used Tofutti Milk-Free Better than Cream Cheese)
1/4 cup confectioners sugar (powdered icing sugar)
1/4 tsp vanilla extract
Variety of sliced fruit (blueberries, raspberries, strawberries, etc)
Directions:
Preheat your oven to 350*F and prepare your baking sheets with parchment paper or baking liners.
Using a mixer, cream together butter/margarine and confectioners sugar. Add egg and vanilla extra and mix until smooth.
In a separate bowl, whisk together flour, baking soda and salt. Add dry ingredients to the wet ingredients and mix until just blended.
Drop in tablespoon-sized mounds and flatten with a fork. Bake for 7-8 minutes until the edges are a golden brown. Remove promptly from the oven and cool completely on a wired rack.
Cream together cream cheese, confectioners sugar and vanilla extract. Spread the mixture over cooled cookies and decorate with sliced fruit. If not eating right away, chill in the fridge prior to serving.