A Review of Favourite Japanese Candy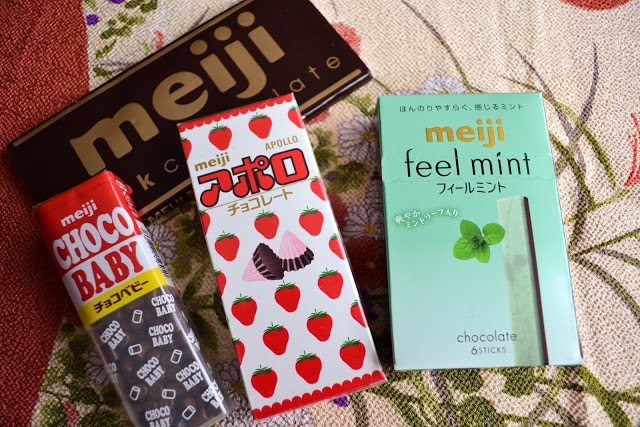 Just in time for the Halloween season, I thought I would give a quick run-down of some of my favourite candies I stocked up on during my three weeks in Japan. Most of these items can be picked up in Japanese or Chinese grocery stores in bigger Canadian cities for 3 or 4 times the price I paid for, so in a few weeks time I'm sure I will be mourning the loss of these goodies and the prices I paid for them.
Above is some of the chocolate available in Japan. I found Japanese chocolate to be less sweeter than Western chocolate, with a more enhanced cocoa-flavouring. I could not get enough of the plain Meiji milk chocolate bars which, in only in texture, is the same as a Hershey milk chocolate bar. Supporting my love of mint, I also picked up the Meiji Feel Mint cool tasting chocolate sticks. The strawberry Meiji chocolate cones (middle) and the Meiji Choco Babies are chocolates I've enjoyed since I was a little kid and I was happy to stock up on. Choco Babies are little nubs of unsweetened dark chocolate and the strawberry chocolate cones taste similar to that of Neapolitan ice cream (at least according to Trevor). Each chocolate was less than a dollar in Japan, whereas in Canada I've seen them priced from $3-$4 each.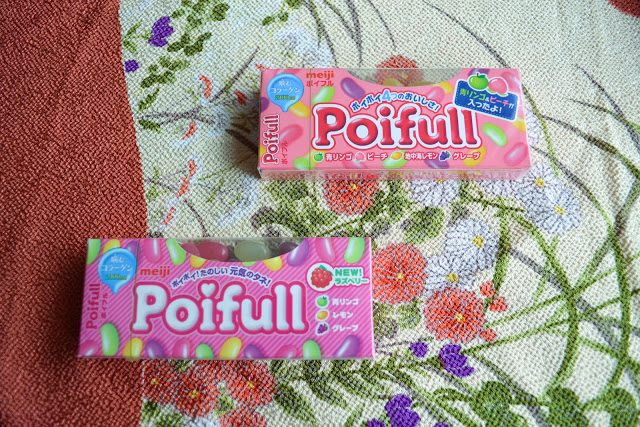 Poifull are a candy I almost forgot about until my Mom starting buying them at every Japanese convenience store we stopped in at. Roughly $4 in Canadian stores, these fruit-flavoured little candies (similar to a jelly bean) are a mere 100 yen (roughly a $1.25) in Japan. The inside texture is chewy and soft like gummy candy and the fruit flavouring in much more real and intense than any Jelly Belly I've ever had. I'm not ashamed to say that on our last night in Japan, my Mom and I cleaned out a local store's supply to take back with us.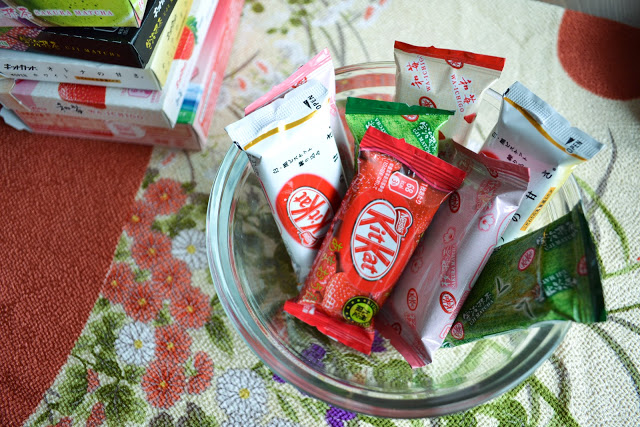 One candy that Japan is known for is their different and elaborate flavours of Kit-Kat bars. I brought home five flavours of strawberry, raspberry, green matcha (two kinds) and white chocolate, but this barely scratched the surface of kinds that I later would find in Toyko airport, such as apple, wasabi, royal milk tea, and blueberry cheesecake. The flavours I picked up have not disappointed, but one only has so much suitcase room.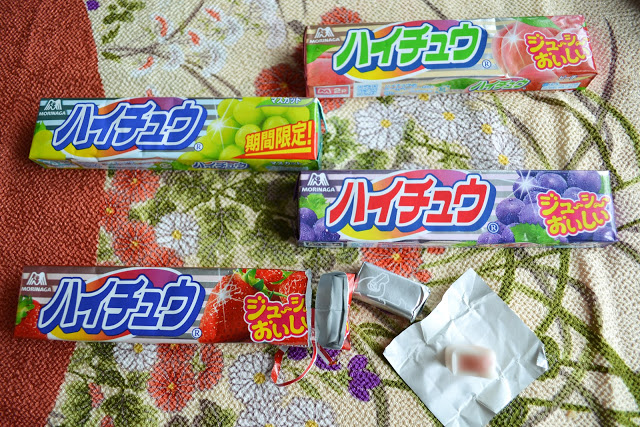 A running joke in my family is that I love Hi-Chew candies so much that I've been known to polish off entire bags when left unsupervised. During our trip, every time we stopped at a store that had them in stock, my Grandma would jokingly point them out to me. These chewy taffy candies are slightly similar to that of Starbursts, but pack much more of a fruit-flavoured punch. Roughly $3 each in Canada, I paid around 88 yen for each in Japan (a little over a Canadian dollar) and picked up one in every flavour available.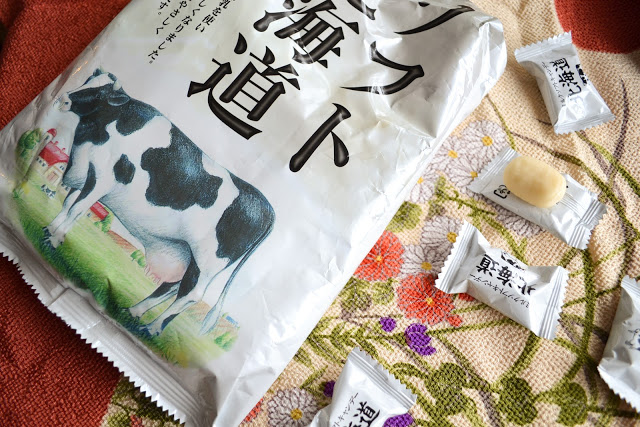 These soft and chewy milk candies, a favourite of my Mom's, were the hardest item to find and it wasn't until we were in the duty-free section of the Tokyo Airport that we were able to purchase them (a large bag, no doubt – woo-hoo!). There are many different brands that make chewy milk candies, but we always find ourselves coming back to this one. Similar to a caramel, these milk-flavoured soft candies melt in your mouth and are individually wrapped for travel convenience.
If you are interested in seeing more of the Japanese candy I've been enjoying, you can follow me on Instagram, where I've been posting photos
as I go through my suitcase-sized amount.
Disclaimer:  This is candy I purchased myself in Japan with my own money. This review is not affiliated with Meiji or any other candy brand seen on this post. All thoughts and opinions are my own.