Healthy Peanut Butter & Granola Bars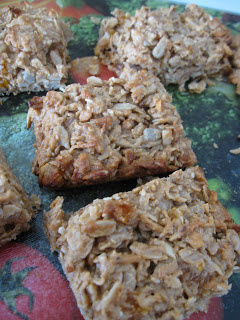 Between Trevor and I, we buy a lot of boxed granola bars. They are a nice quick snack when we're busy and forget to eat and they fit nicely in my purse or his bag whenever we spend the day downtown. They come in all kind of awesome brands, sizes and flavours.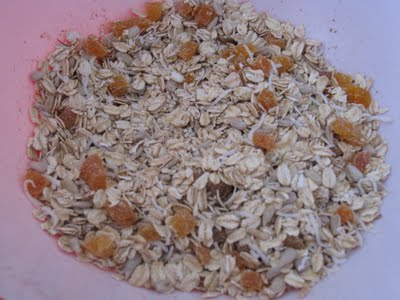 The only drawback is the obvious amount of corn syrup and unnecessary sugar that one little manufactured bar contains. The thought of it almost turns me off of packaged granola bars for good.
But then back-to-school sales hit and I can't deny their prices for a cheap and easy snack.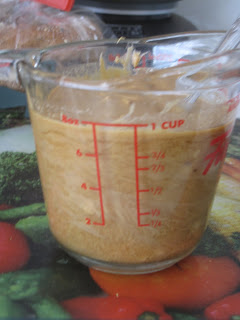 This is why I was inspired to make my own. I turned to the internet and couldn't believe the amount of recipes there were for a simple google search of "homemade granola bars." It was hard to sort through them for what I wanted, as I noticed many fell into one of two categories. One was the "raw granola bars" which contained a lot of agave nectar (which I don't have) and chia seeds (which I just ran out of). The other category was recipes in more of a granola "cookie" idea than a hearty bar. These recipes called for butter and corn syrup – wasn't that what I was trying to avoid?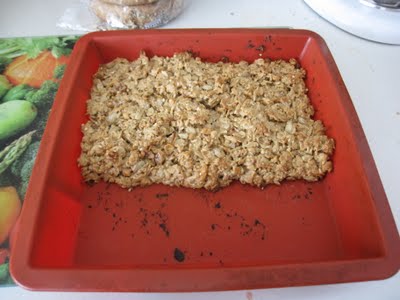 I finally, finally found one recipe that I had all the ingredients for and passed the no-agave nectar and no-butter test. I made a few changes noted in bold, but the recipe resulted in a crumbly bar and didn't make as many as I hoped it would. They stilled turned out delicious, although I think next time I will add more rolled oats and peanut butter to fill up the rest of the pan and help them stick together.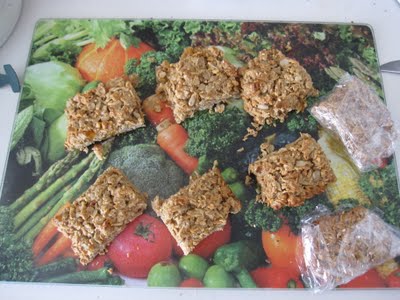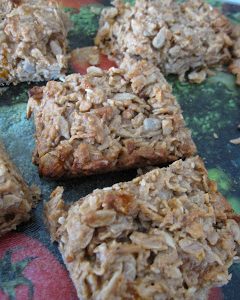 Healthy Peanut Butter "Granola" Bars
Ingredients:
1/4 cup honey
1/2 cup crunchy peanut butter
1/2 tsp vanilla extract
1 1/4 cup traditional rolled oats
1/2 tsp ground flax seed
1/4 cup dried apricots, chopped
2 tbsp unsweetened/shredded coconut
2 tbsp raw sunflower seeds
2 tbsp sesame seeds
Directions:
Preheat oven to 350*F.
Mix peanut butter, honey and vanilla in a microwave-safe bowl or measuring glass and microwave on high for 45 seconds until mixture is melted.
In a separate bowl, mix rolled oats, ground flax seed, dried apricots, coconut, sunflower seeds and sesame seeds. Combine peanut butter mixture to dry mixture and mix well.
Pat mixture down in an 8-inch brownie pan (it will be sticky) and bake for 10-12 minutes until edges are golden.
Let it cool for 15 minutes in the pan before transferring to a wire rack to cool completely. Cut into desired bar sizes.
To store, wrap individually in plastic wrap or place in plastic storage container between pieces of parchment paper (to avoid bars from sticking together).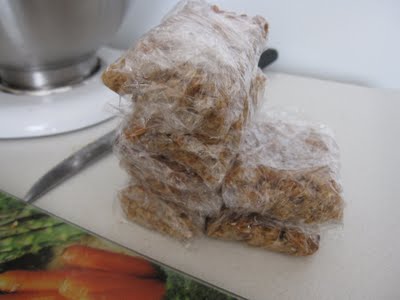 The great thing about making homemade granola bars is that the possibilities are endless. Next time, I'll try adding dark chocolate chips or more dried fruit. I heard somewhere too that trail mixes are an awesome addition to homemade granola.
Since I wasn't too pleased with how many bars this recipe created (in the future I may have to double the recipe), I searched the internet again and found a perfect recipe on one of my favourite healthy recipe websites, Oh She Glows. While these were baking, I also whipped up a batch of Ange's Healthy Banana Cranberry Oat Bars, only I used raisins instead of cranberries. Check out her site for more awesome healthy and vegan recipes.