Whole Wheat Chocolate Covered "Digestive" Cookies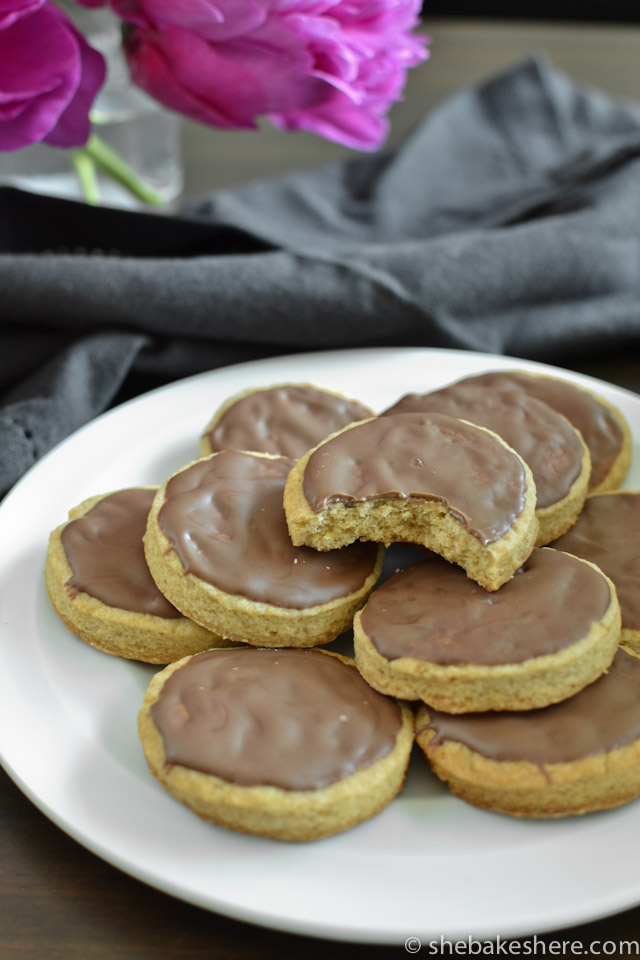 Hello! I was going to start by saying how I can't believe it's already June, but we're actually nearing the end of the second week of the month. Hopefully, the rest of summer slows down. My balcony garden is starting to show some promise (Instagram photo here) and already there's so much seasonal food I want to stuff my face with. Recently an urban farmer's market set up shop across the street from our condo building and yesterday I had to resist the urge to purchase multiple baskets of local ruby red strawberries. We have an out of town trip planned for this weekend, part of which involves a visit to my favourite market ever (!!), so I'm trying to make sure the fridge is nice and empty before we leave.
Now that the weather is warming up, I've been enjoying cold food for most of my meals. Overnight oats, cereal topped with chia seeds and fresh berries, crunchy salads and wraps, and all the green smoothies my blender can handle. But as much as I love fresh local produce, I also like to have something on hand that satisfies my sweet tooth. That's where these cookies come in.
We're big fans of chocolate covered digestive cookies. They go great with coffee, tea and we enjoy them at any time of year. During the warmer months though, the only way we can store them without having them melt everywhere is by sticking the box in the freezer. I'm not complaining though because as someone who likes her chocolate cold, a slightly frozen, snappy chocolate covered digestive cookie is totally my jam. We've gotten so used to doing this that now eating one at room temperature feels wrong.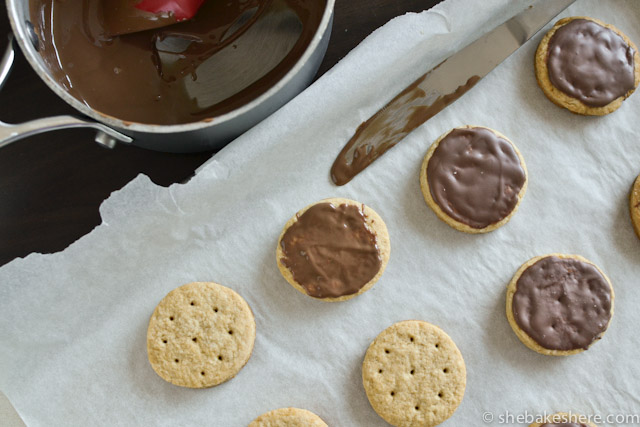 I'm hesitant to call my version "digestive" cookies because I rolled them a little thicker than I would have liked. The ones we buy from the store are thin and snappy and these were more like a thick shortbread. I'm not too confident with my rolling pin skills and I still rely on using my cookie slats to ensure an even thickness. Next time I make these, I'll just have to wing it without the slats and see what happens. Either way, roll these cookies a little bit thinner than shown in the pictures and you'll be good to go.
The chocolate is easily my favourite part and I'm pretty sure I'm going to start spreading melted chocolate on everything now.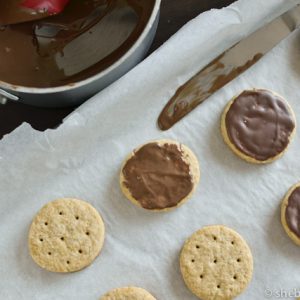 Whole Wheat Chocolate Covered "Digestive" Cookies
Ingredients:
Cookies
1 cup all-purpose flour
1 cup whole wheat pastry flour
1 tsp baking powder
1/4 tsp sea salt
3/4 cup brown sugar
1/2 cup cold butter/margarine
1/4 cup milk (I used almond milk)
Chocolate Coating
100 gram bar of dark or milk chocolate
1 tsp coconut oil
Directions:
Preheat oven to 350*F and line your baking sheets with parchment paper or a silicone baking mat.
In a large bowl, whisk together all-purpose flour, whole wheat pastry flour, baking powder, sea salt and brown sugar. Using a pastry cutter, cut in cold butter/margarine until the mixture is coarse and the butter/margarine pieces are pea-sized. Add milk and mix until a rough dough forms.
On a well-floured surface, knead the dough a couple times until it is smooth and elastic. Flour your rolling pin and roll the dough until you reach a desired thickness*. Cut out shapes with a round cookie cutter and place on prepared baking sheets. Pierce the cookies with a toothpick before placing them in the oven.
Bake for 12-15 minutes until the cookies are golden at the bottom. Cool on a wired rack while you begin prepping the chocolate.
In a small saucepan or double boiler, gently melt chocolate and coconut oil over very low heat and mix until smooth. Line another baking sheet with parchment paper. Spread the melted chocolate over each cookie and place in the freezer to harden. Store cookies in an airtight container in the freezer or fridge to keep the chocolate solid. Chocolate will soften at room temperature.
*I used 1/4 inch boards (from my decorative cookie days) on either side of my rolling pin to ensure that the dough was the same thickness all the way through. However, next time I will roll the dough a little thinner to a 1/8 thickness.
**I also had quite a bit of melted chocolate leftover which I stored in the fridge for future use.