Cinnamon Raisin Scones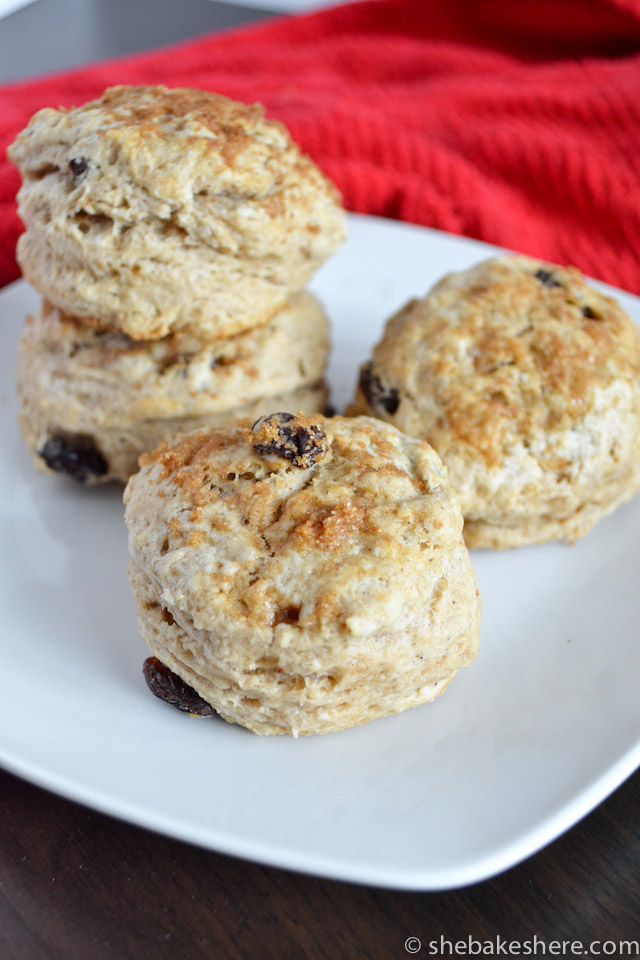 Happy Easter Weekend!
No holiday-themed recipe this week. Normally I would get really bummed out about not being able to "time" my recipes properly in accordance to the upcoming holidays, but this time I actually have an excuse. Right now, Trevor and I are making our way to the airport for our big Easter weekend trip. Vague much? I guess you'll have to keep an eye on my Instagram for more clues.
This little mini vacation has been a long time coming for us. Since we didn't travel anywhere for Christmas, we've both been feeling a little stir-crazy. Does that happen to anyone else? We booked this trip back in January during what I thought was one of the coldest weeks of winter (little did I know that February was still coming for us). Now that the weather is a tad warmer, I'm excited to tie up my running shoes and go explore and eat my way through another city.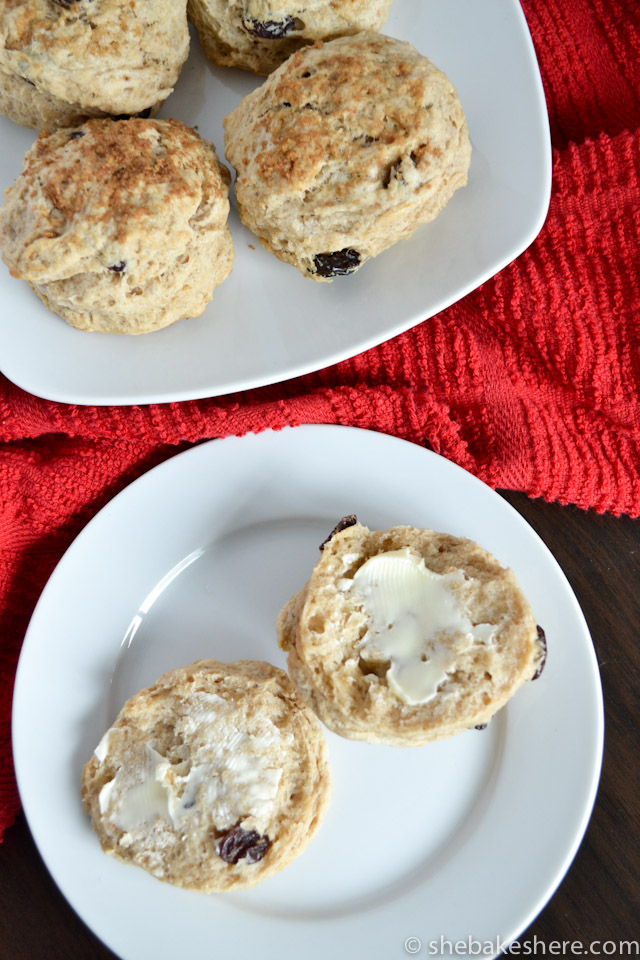 Although this scone recipe doesn't have much to do with chocolate bunnies or mini eggs, I think it would be a lovely side addition for Easter breakfast. Between the two of us, Trevor and I managed to polish off all 15 mini scones within a 3-day period. I'm not sure if my lack of will-power around baked goods is anything to brag about, but I just couldn't help myself. It's been a long time since I made scones, especially light and flaky scones like these. The cinnamon/sugar topping is optional but very much recommended.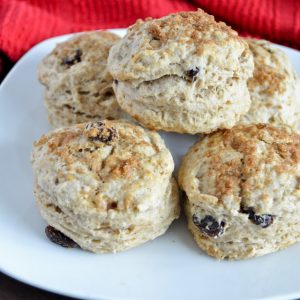 Cinnamon Raisin Scones
Ingredients:
1 cup

all-purpose flour

1 cup whole wheat pastry flour

1/4

cup

brown

sugar

3

tsp

baking powder

1 tsp cinnamon
1/2 tsp nutmeg

1/4 tsp fine sea

salt

1/2

cup

cold

butter/margarine

1

egg

3/4

cup

almond

milk

1/4

cup

raisins
Optional Sugar/Cinnamon Topping
2 tbsp brown sugar
1 tsp cinnamon
Directions:
Preheat oven to 400*F. Line a baking sheet with parchment paper or a silicone baking mat.
In a large bowl, whisk together all-purpose flour, whole wheat pastry flour, brown sugar, baking powder, cinnamon, nutmeg and sea salt. Using a pastry cutter, cut in the cold butter/margarine until the mixture is coarse and the butter/margarine pieces are pea-sized. Stir in raisins.
In a small measuring glass, beat the egg. Add in the almond milk and whisk until the egg and liquid are combined. Reserve two tablespoons of the liquid and set aside. Pour the remaining egg and almond milk mixture into the flour bowl and stir with a wooden spoon until no flour is visible.
Turn the dough onto a floured surface, lightly dust with more flour and knead 10 times. Pat the dough into a large circle and use a small round cookie cutter to cut out 15 round scones (you may need to gather all the scraps and shape into another circle).
Place the scones on your prepared baking sheet and lightly brush with reserved egg and almond milk mixture. If you wish to make the sugar/cinnamon topping, combine brown sugar and cinnamon in a small bowl and using your fingertips, lightly sprinkle the mixture over each scone.
Bake for 14-16 minutes until the scones are set and the bottoms are brown. Remove from the oven and let cool on a wired rack. Enjoy plain, with jam or with a slab of butter/margarine.