Whole Wheat Blueberry Cornbread Muffins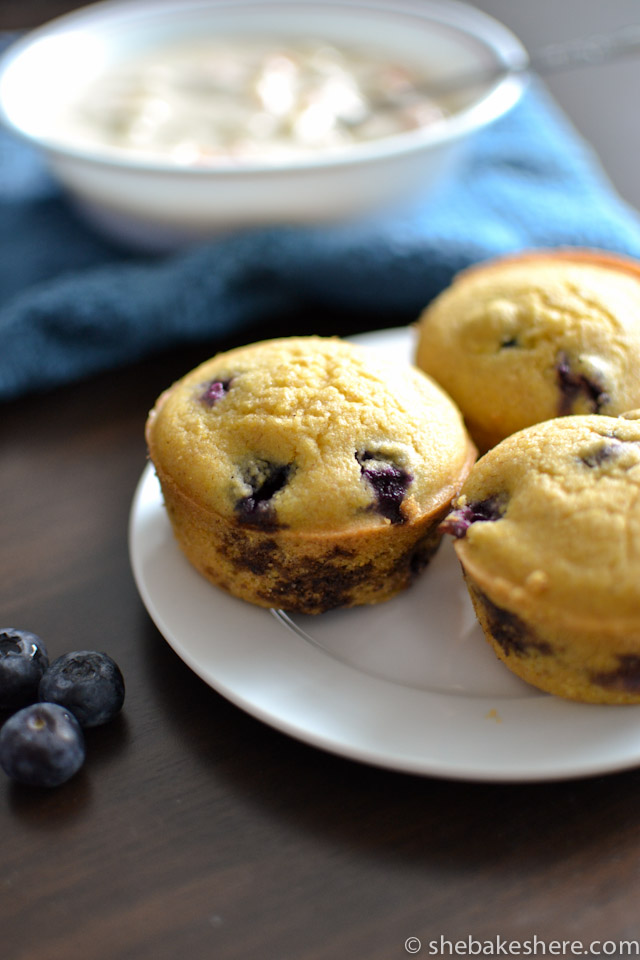 Comfort food #ALLtheTIME is still happening and right now we're up to our ears in homemade soup, hearty stews and all the fresh bread imaginable for dipping. As much as I'm not a fan of this time of year, what with the cold weather, snow and having to constantly scrape salt off my boots, I can't deny that all this warm, cozy food sort of makes up for it.
I'm still using my new bread machine on a semi-regular basis, but last week I thought I would pull out my good old muffin tin and make some cornbread muffins. I can't say I was a huge fan of cornbread before I started this blog, but since moving to Toronto we've become slightly obsessed with Whole Food's cheddar jalapeno cornbread (this is despite Trevor's lactose intolerance). We don't visit a Whole Food store very often, but when we do I usually pick up a couple extra to stash in the freezer. They freeze wonderfully and are the perfect side with all this comfort food we've been eating lately.
For my first time making these muffins, I chickened out on using cheddar and jalapenos and decided to take more of a dessert/snack route by using up some leftover blueberries. Blueberries may seem like an unconventional choice for cornbread, but I really enjoyed the burst of sweetness tucked inside the golden crumbly goodness of these muffins.
These muffins may be a tad sweeter than your typical cornbread recipe, but as you can tell from the photos I still enjoyed them with a steaming bowl of homemade chicken stew.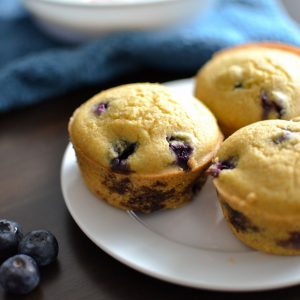 Whole Wheat Blueberry Cornbread Muffins
Ingredients:
1 cup cornmeal
1 cup whole wheat pastry flour
1/3 cup sugar
2 tsp baking powder
Dash of salt
1 cup almond milk
1 tsp apple cider vinegar
1 egg, beaten
1/4 cup vegetable oil
1 cup blueberries
Directions:
Preheat your oven to 400*F. Line your muffin tray with paper liners or lightly coat with a non-stick baking spray.
In a large bowl, whisk together cornmeal, whole wheat pastry flour, sugar, baking powder, and salt.
Measure almond milk in a small bowl or measuring cup and add apple cider vinegar. Set aside to curdle.
In a separate bowl, beat egg and mix in vegetable oil and almond/vinegar mixture. Create a well in the flour mixture and add wet mixture. Using a spatula, stir until just combined. Gently fold in blueberries. Make sure there are no pockets of flour in the batter.
Fill muffin tin 3/4 full of batter and bake for 16-18 minutes until the tops spring back lightly when touched. Remove from the oven and let stand for 3 minutes before gently removing with a butter knife. Let cool on a wired rack and enjoy!