Chocolate Banana Bread Waffles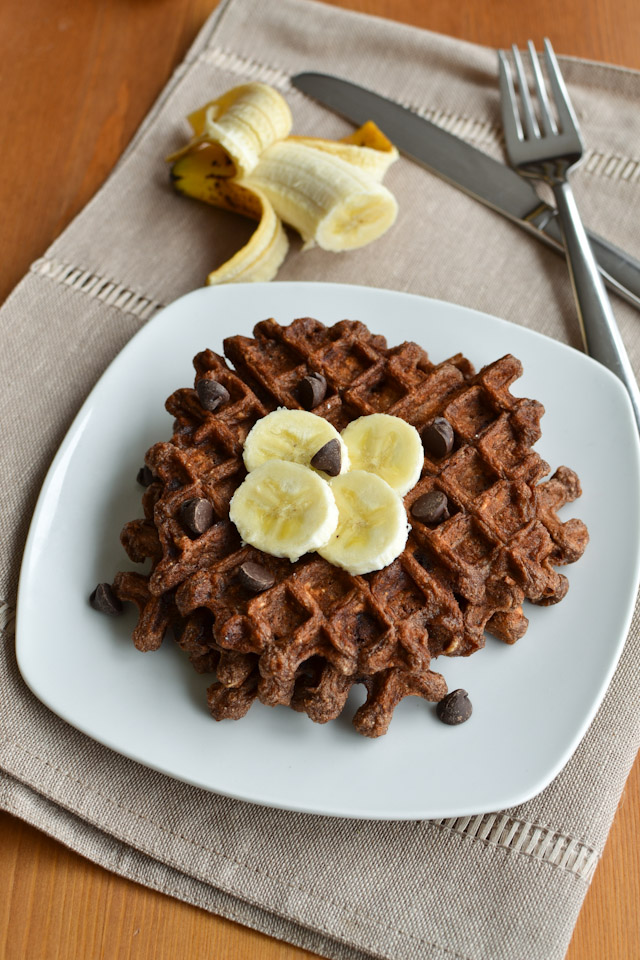 "All you need is love. But a little chocolate now and then doesn't hurt."
― Charles M. Schulz
This first month of 2014 can best be summed up as writer's block. I have no idea why it's been such a struggle to write this month, only that all of my posts would have been published much sooner without this sudden huddle I've had to face. For some reason as of late, when I sit down to write, my mind goes completely blank. And then when I do start typing, it becomes a mumble-jumble of thoughts and ideas with no real structure and then I turn into the Queen of Random Ideas and Run-On Sentences.  I've completely run out of new ways to say "delicious" that now I feel like it's easier if I just call a recipe "awesome."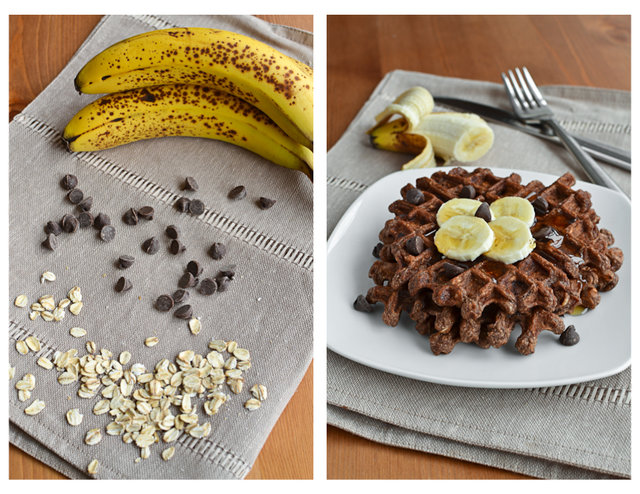 Hopefully with February just around the corner, this writing issue will pass and then I can move onto more important things. I definitely have a lot to talk about, it's just lately been a struggle to find the best words to express it.
For the next few weeks until Valentine's Day, I'll be posting a small series of chocolate recipes made completely without dairy. I'm talking no cow's milk or butter or margarine. For the longest time, I believed that ALL chocolate had milk in it and was pleasantly surprised to realize that this isn't true at all. Some of my favourite food blogs like Chocolate Covered Katie and Angela's Oh She Glows bake with chocolate and they are both vegan. You just have to know what you're looking for and always read, read, read the ingredient labels.
One of reasons I want to do this series is because Trevor is lactose-intolerant and some times it can be a struggle to find something to bake that we can both enjoy. I don't use regular milk because we never buy it, but I will on occasion bake with butter or margarine and of course, milk chocolate. Another reason for this series is because we are slowly approaching Valentine's Day and I thought it would be fun since I'm not that creative with decorating cutesy heart shaped treats. In fact, most of the recipes under my "Valentine's Day" tag are from 2011!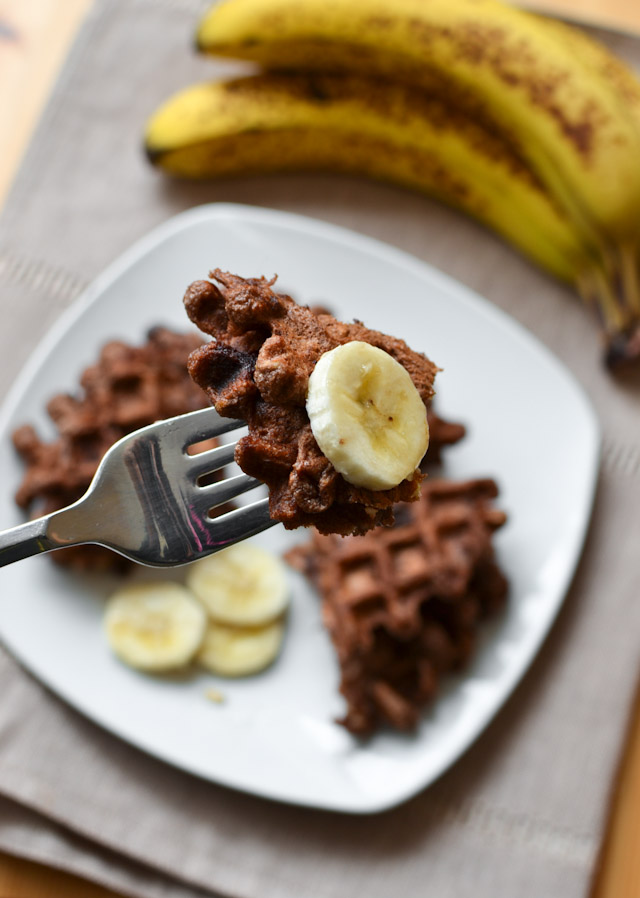 These chocolate banana bread waffles may not scream "Valentine's Day," but this recipe makes the perfect amount of waffles for two to three people so it would be a nice breakfast for a couple or a small family. This recipe also doesn't call for any fancy ingredients so it's very likely that you already have everything in your kitchen. Everyone always has a couple ripe bananas to use up and what better way is there than to use them up in waffle recipe that is so delicious, it will knock your chocolate-loving socks off?
Plus, what is more romantic or wonderful than the heavenly smell of chocolate banana bread in the morning?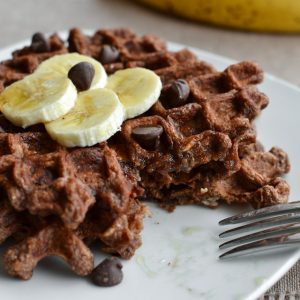 Chocolate Banana Bread Waffles
Ingredients:
2 large ripe bananas
2 1/2 tsp baking powder
3/4 cup almond milk
1 egg
1/4 cup regular oats
1/4 tsp salt
3/4 cup + 2 tbsp flour
1/4 cup cocoa powder
1/4 cup dairy-free dark chocolate chips
Directions:
In a large bowl, mashed bananas and add baking powder. The mixture will expand slightly and this is normal.
Stir in almond milk, egg and salt. Measure and mix in oats and salt.
Add flour, cocoa powder and chocolate chips, stirring gently until just combined. Do not overmix.
Prior to heating, spray your waffle maker with a non-stick cooking spray. Follow the instructions on your waffle maker to cook the waffles. To make smaller waffles, use 1/4 cup batter rather than 1/3 cup.
Top cooked waffles with your choice of fruit or maple syrup.
Also, a big thank you to EatInEatOut Magazine for featuring She Bakes Here as one the bloggers in the Blogger Spotlight section of their Winter 2014 Issue. Check out their digital magazine for more recipes and some fantastic Canadian food bloggers.